Since many people who eat food are not aware of National Donut Day -- that glorious fake holiday that lands on the first Friday of June -- we took it upon ourselves to let you in on it, in the most delicious way possible: via a crawl that sees you dominate like 20 donuts in a single day. And since it's equal parts Dodgers-era Americana and experimental art scene, it turns out there's no better place to do that kind of crawl than in Brooklyn.
Dun-Well Doughnuts • 222 Montrose Ave
The journey begins at Dun-Well Doughnuts, which is catty-corner from the Montrose L stop in what is apparently Williamsburg, though I'm pretty sure that two years ago when I lived nearby it was only "East Williamsburg", and 10 years ago it was probably still "Bushwick".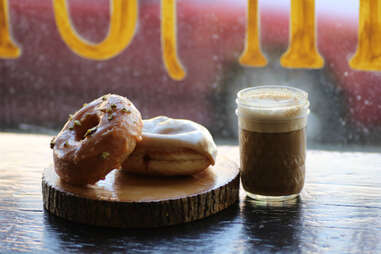 The Dun-Well offerings are pretty surprising, like the orange-pistachio and PB&J donuts tenderly stacked above, plus avocado-chocolate mousse, and the Easter special Cadbury Creme Egg donut. But what's arguably the most shocking thing about Dun-Well is that everything in the shop is vegan -- including the owners, Dan and Chris. Apparently, donuts are the only thing in the world that don't need meat to be good.
Here's Chris. He and Dan opened up the joint in December 2011, despite the fact that neither of them had any pastry background. Horror stories from the early days of Franken-donut experimenting include forgetting to use any sugar at all and a recipe that produced donuts that sunk to the bottom of the fryer and tasted like stale dinner rolls even after a "glaze" of chocolate syrup. But after months and months of trial-and-error, they nailed a winning formula that's been hailed as the city's best donut by the Daily News, and even won them Food Network Canada's Donut Showdown. You should probably start watching Food Network Canada.
Peter Pan Donut & Pastry Shop • 727 Manhattan Ave
Hop on the Montrose L, transfer to the G at Lorimer/Metropolitan, and get out at the Nassau stop about 15mins later to hit up Peter Pan Donut & Pastry Shop. It will do the opposite of making you young forever.
Opened in 1961, the Greenpoint stalwart predates the Girls crew by at least six months. Regardless, I think Lena Dunham would likely agree that this $1 cream and crumbled red velvet cake-topped donut may be the donut of the generation. Or at least a donut. Of a generation. Also, that we both like donuts.
Dough • 448 Lafayette Ave
Take the G a couple stops South to Classon to get to Dough, a Bed-Stuy bakery that opened in 2010 and is known for its unique gourmet goods.
We're talking black currant with white chocolate, popcorn glazed, and even mojito-flavored -- all pictured above -- not to mention the soon-to-be-unleashed milk chocolate and orange blossom ganache-filled donut with an apricot glaze topped with candied cardamom. Thankfully, all of their edibles pair excellently with BLOWNG MINDS. Follow them to find out what's new on the menu.
7th Avenue Donuts & Diner • 324 7th Avenue
You've got a bit of a ride on the G over to 7th Ave, so if you've got a hankering for a donut-binge disco nap, take it now. Soon you'll arrive at 7th Avenue Donuts & Diner, located in the only place outside of Amish Country where it's acceptable to name your baby Phinnaeus or Jasper in the 21st Century: Park Slope.
This neighborhood institution's been cutting, pumping, and glazing their donuts by hand 24 hours a day, seven days a week, for 40 years. Terry, the owner, took me back into the kitchen to show off the above Hobart mixer. It disappointingly didn't have any slutty frosh, but whatever -- it's been there since day one of operation. When asked about the craze surrounding Dominique Ansel's cronut, Terry seemed pretty confident that its hype would go on for a while but, ultimately, fade. After, like, 350,400 straight hours of non-stop, unadulterated donut deliciousness, you probably wouldn't be fazed either.
The best part? You get a baker's dozen for only $8.65. This box that looks like Tetris for fat kids? ONLY $8.65.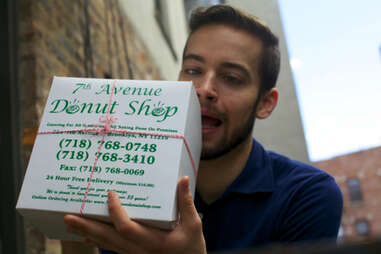 Then, things got a little hazy…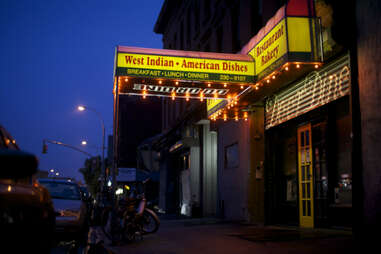 Do or Dine • 1108 Bedford Ave
... but, when I awoke, it was nighttime, and I was standing outside Bed-Stuy's Do or Dine, which opened in 2011, off the Bedford-Nostrand G. I would've questioned this unsettling rift in the space-time continuum, but whatever, 'cause: food.
The brainchild of a bunch of "Michelin-starred runaways", as Soul Asylum the Michelin Guide New York City 2013 describes them, Do or Dine's notorious for its daring culinary moves, like the marrow/escargot/corn Bone, Slugs & Hominy, and The Spherickle Back -- the orb-like pickleback pictured above.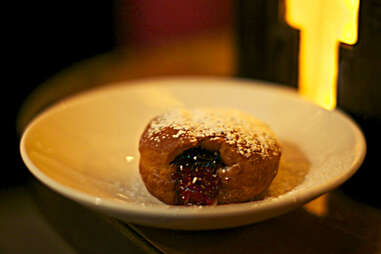 But the crowning gem of this rebellious resto's gotta be the foie gras doughnut, which is too delicious for words -- seriously, the most accurate description would be something like, "FWAAAAEEH", or "GRUUUGHHHHURRR", which is about all the reason you need to get out and get d-nutting. Happy Donut Day!!