Putting together probably the three best things this world has produced (beer, food, and The Goonies), Nitehawk, Brooklyn's premiere booze-allowing cinema and home to the "Beer Dinner and a Movie" series, recently honored that most Fratelli-filled of childhood wonders with a four-course Goonies meal. Each was paired with a Capt. Lawrence brew, and also with a particular scene in the movie so viewers could "experience the edible sensations while watching the action unfold".

And now, you can do it at home. Scroll down to see what the dishes were, plus a fun little reference-GIF of where in the movie they should be consumed, then click through the slideshow above to get the recipes for each. Or, you know, just go watch The Goonies

Dish: The Truffle Shuffle: hen-of-the-woods and truffle arancini with lemon aioli Beer: Captain Lawrence Sun Block Scene: You know this -- just serve it when Chunk does his thing.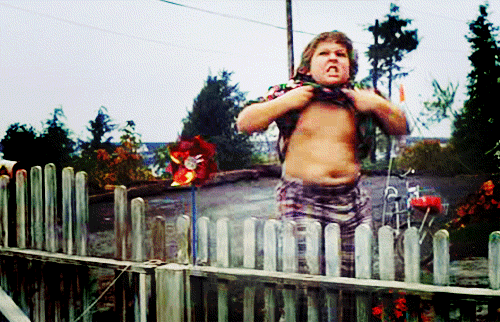 Dish
: Mama Fratelli's Veal Scallopini: veal tongue, Pepsi-braised apples, and a Marion berry demi-glace
Beer
: Captain Lawrence Golden Delicious American Tripel
Scene
: Mama Fratelli informs The Goonies that the only thing they serve is tongue.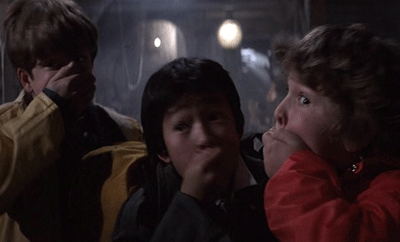 Dish
: Baby Ruth Tamale: pork, peanut, masa, chocolate mole, and savory caramel
Beer
: Captain Lawrence Smoked Porter (they had a special "Sloth" pilot beer for the actual dinner)
Scene
: Chunk and Sloth bond over a shared love of Baby Ruths because, come on, they're great.
Dish
: Captain Chunk: fresh baked chocolate chunk cookies and peanut butter ice cream
Beer
: Captain Lawrence St. Vincents Dubbel
Scene
: Chunk and Sloth save the day, and he informs the team of his new title.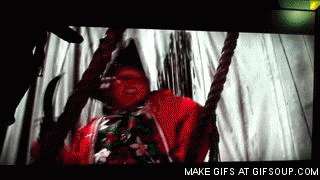 Recommended Video
The Post-Credit of 'Thor:Ragnarok' May Confirm the Sad Fate for This Character
Truffle Shuffle

Mushrooms
2 pieces hen-of-the-woods mushroom
1/2oz rosemary, chopped
2tbsp extra virgin olive oil
salt and pepper

1. Heat butter in pan until melted
2. Add rosemary
3. Pull apart hen-of-the-woods and add to pan
4. Cook until tender
5. Season to taste

Arancini
1 onion, finely diced
1 garlic clove, minced
5 1/2oz field mushrooms, chopped
10oz risotto rice
2/3 cup white wine
3 cups vegetable stock
2tbsp truffle oil
salt and pepper
all purpose flour
1 egg
3/4oz grated Parmesan
5 1/2oz crushed panko

1. Sautee garlic and onion in pan until soft
2. Add mushrooms, cook until soft
3. Add rice, stir until mixed
4. Add white wine, cook until absorbed
5. Add stock 3-4oz at a time until fully absorbed into rice
6. Stir in truffle oil
7. Season to taste
8. Take off heat and allow to cool
9. Mix breadcrumb and Parmesan
10. Roll risotto mix into golf ball-sized balls
11. Coat in flour, then egg, then panko mix
12. Fry for 5-6mins until golden brown

Lemon Aioli
2 clove garlic
1/4tsp salt
Zest of 1 lemon
1 cup mayonnaise
Juice of 1/2 lemon

1. Crush garlic salt and lemon zest together until a paste
2. Mix in lemon juice
3. Add mixture to mayo
4. Place on top of arancini
Mama Fratelli's Veal Scallopini

Scallopini
10 piece thinly sliced veal tongue (substitute eggplant for vegetarians)
salt and pepper
4oz extra virgin olive oil
3 cups very fine bread crumbs
1/4tsp pepper
1/4 cup finely chopped parsley
1 egg
all purpose flour

1. Mix bread crumbs, pepper, and parsley in bowl, set aside
2. Lightly season veal tongue with salt and pepper to taste
3. Coat tongue in flour, then egg, then bread mixture
4. Heat oil in pan
5. Add breaded tongue into pan, cooking each side until golden

Pepsi-Braised Apples
1 can Pepsi
1tbsp butter
1/2 red onion, thinly sliced
1tsp cracked black pepper
1/4tsp salt
4 granny smith apples, 1/4 inch sliced

1. Melt butter in pan
2. Add red onion and pepper, cook until tender
3. Add Pepsi, allow to simmer until reduced by half
4. Mix apple and salt
5. Put apples into pan, cook until tender

Marion Berry Demi
1 1/2 cups demi-glace
1 pint Marion berry (subsitute blackberry if you don't live in Oregon)
2tbsp red wine
salt and pepper

1. Blend 1 1/2 cups of Marion berry in food processor and strain through mesh
2. Stir in red wine
3. Heat demi in pot
4. Add Marion berry/wine mixture
5. Reduce until desired consistency
6. Add remaining whole Marion berries
7. Season to taste
Baby Ruth Tamale

Pork Mole
1 carrot
4 stalks celery
3 white onions
4 cloves garlic
2tbsp salt
1 bay leaf
1 pork shoulder
4 tomatillos
1 1/2tbsp sesame seeds
6 dried pasilla peppers
1/2 canned chipotle peppers
1 cup toasted almonds
1/2 cup red raisins
1tsp cinnamon
1/2tsp toasted black peppercorns
1/2tsp toasted star anise
1/2tsp toasted cumin
1/2tsp toasted coriander
1/2tsp toasted clove
5oz bitter chocolate
pork stock (substitute vegetable stock for vegetarians)

Pork
1. Roast onion, carrot, celery, and bay leaf in large pot
2. Add pork shoulder, with salt
3. Cover with water and cook until pork is tender and pulls apart
4. Remove from broth, strain juices and put aside

Mole
1. Toast and grind spices
2. Rehydrate peppers and raisins, separately, in hot water until soft
3. Char tomatillos
4. In large pot, over medium high heat, saute peppers. After peppers have charred and the oil changes color, add in spices, onion and garlic. Saute until soft and translucent.
5. Add in charred tomatillos, chipotle, almonds, and stock
6. Cook over medium heat until everything is very, very soft.
7. Remove from heat and puree in vita prep, strain through chinois
8. Return to pot and reduce to consistency
9. Season, and slowly whisk in chocolate
10. Allow to cool and mix shredded pork, set aside, saving 2 cups for topping

Tamales
10 dried corn husks for tamales
1/2 cup chopped roasted peanuts
4 cups masa harina
2tsp baking powder
1tsp salt
1 1/3 cup lard (substitute vegetable shortening for vegetarian)
3 1/2 - 4 cups reserved pork stock

1. Place corn husks in warm water
2. Combine masa, baking powder, salt, and peanuts
3. Slowly add pork stock until dough-like consistency
4. Whip lard until fluffy
5. Slowly add masa mixture to lard until combined
6. Spread thin layer of masa mix onto middle of each tamale
7. Put one line of pork mole down the middle of the masa
8. Fold tamales
9. Put finished tamales into steam pot vertically and cook for an hour to an hour and a half

Savory Caramel
2 cups chicken stock
1/3 cup fresh lime juice
1/2 cup sugar
2 cups heavy cream
1/4tsp salt
1/4 cup chopped cilantro

1. Add stock, lime, and sugar in saucepan
2. Reduce until caramel
3. Slowly add heavy cream
4. Reduce until 2 cups
5. Cool then mix in salt and cilantro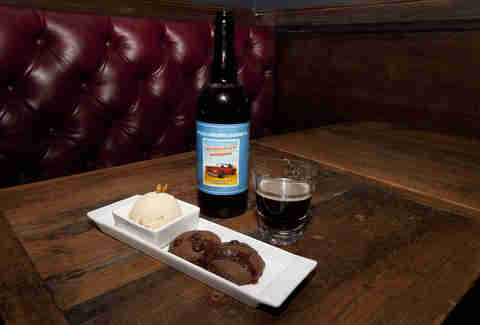 Captain Chunk

Chunky Chocolate Cookies
4 1/2 cups flour
2tsp baking soda
3tsp cornstarch
1tsp salt
1 1/2 cups melted butter
1 cup brown sugar
1 cup granulated sugar
2 eggs
2 egg yolks
4tsp vanilla extract
2 milk chocolate bars, broken coarsely

1. Blend flour, baking soda, cornstarch, and salt
2. Whisk sugars, and butter until consistent
3. Whisk in eggs, yolks, and vanilla
4. Combine with dry ingredients
5. Add chocolate chunks
6. Chill in refrigerator for 2hrs
7. Roll into balls
8. Bake at 325 for 12mins
9. Cool on baking racks

Peanut Butter Ice Cream
1 1/4 cups smooth peanut butter
3/4 cup sugar
1 1/2 cups whole milk
2 cups heavy cream
1tsp pure vanilla extract
(1/2 cup chopped roasted peanuts for chunky)

1. Mix peanut butter and sugar until consistent
2. Add milk and mix until sugar is dissolved
3. Mix in cream and vanilla
4. Mix in ice cream maker
5. Place in freezer for 3hrs

Previous Venue
Next Venue
Venue Description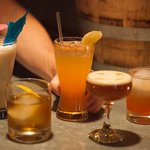 1. Nitehawk Cinema
136 Metropolitan Ave, Brooklyn, NY 11249
Williamsburg's Nitehawk Cinema changed the movie-going game when it opened in 2011. Not only did it relieve L Train film buffs of venturing into Manhattan to see an indie flick, but it combined the movie experience with actually enjoyable food and alcohol. The theater seats here are equipped with tiny tables and menus; during the movie, you write your order on a notepad and a waiter comes by to collect it. The New American selection includes fried chicken sandwiches, fish tacos, and flatbreads, plus specials crafted to honor the headlining movies. Even if you aren't in the mood for a movie, it's worth showing up to Nitehawk: the street-level Lo-Res Bar is outfitted with a large curving bar and tables for sipping and snacking.