The craziest (and maybe best) ice cream in all of Brooklyn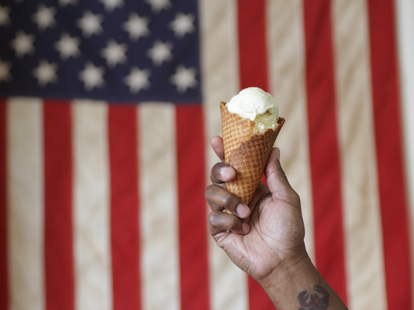 America loves ice cream, and Brooklyn loves getting weird with tasty food (amongst other things), so OddFellows -- the ice cream parlor from former wd~50 pastry chef and current Lady Jay's/ Empire Mayo proprietor, plus husband/wife partners Mohan and Holiday Kumar -- is the next logical step in Williamsburg's frozen treat scene, thanks to a completely in-house creation process and crazier flavors than the guy with the clock on his neck.
They make everything in-house, right down to the cones (the waffles ones come out warm), and get all their cream from Battenkill Valley Creamery. It takes just 10hrs from cow to delivery, so the ice cream you'll be getting tomorrow is still in the cow right now and, when it's pasteurizing, it apparently gives off an incredible smell that had the owner wistfully discussing green pastures.
So, you're probably like, "Whoa dude, udder to mouth in 10hrs is great but I was promised weird flavors." Well, this creamy caramel-y number is actually the Chorizo-Salted Caramel number, where essence of chorizo has made its way into both cream and caramel. Step it up, Goya.
They've got other concoctions like Cornbread and Buttermilk Honey Blueberry, but we're staying meaty with the Maple-Bacon made with bacon-fat-infused maple ice cream topped with bits of candied bacon and pecans.
The space is a whimsical ode to ice cream stands that everyone knows and loves, but, like the ice cream, it's got some weird to it...
... like ice cream Jesus...