The Great GoogaMooga can be a lightning rod for criticism, and worries over it turning into a lightning rod for actual lightning (and some stuff about messing up the grass) forced the festival to be shut down on Sunday. But one thing that can't ever be criticized is the food, so luckily we stopped by Saturday to shoot all the best dishes, plus some attractive Mooga-goers, Muggsy Bogues, and a guy in a pig mask.
Recommended Video
OITNB's Jackie Cruz Takes 6 Shots, Gets Tipsy, Talks About Dream Role
The Chihuahua Dog from Crif Dogs: a bacon-wrapped beef and pork dog with avocado, sour cream, and marinated beets on the side.
Here they are, fresh out the frier.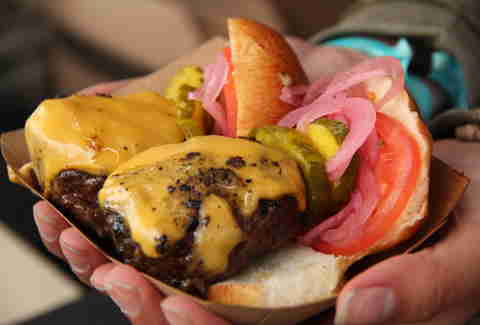 DuMont Burger & Shakes Sliders: beef with house marinade on brioche buns with American, house-made pickles, tomato, and onion.
Porchetta's slow roasted pork loin is wrapped in pork belly, stuffed with garlic, sage, rosemary, wild fennel pollen, Sicilian sea salt, and black pepper, and then roasted for 6-8hrs and served on ciabatta.
And now, it's ready for its close-up.
Yes, you are observant. That's bacon, from Bacon Land.
Here's some whiskey bread with cultured butter and strawberry rhubarb pink pepper jam from Gwynnett St.
DBGB Kitchen and Bar's Käsekrainer on a Kaiser roll with ramps, onion, and mustard.
One of the crowd favorites: the Truffle Burger with house-made truffle cheese and truffle glaze from impending LA import Umami Burger.
The Porky Melt from Pork Slope comes with a cheddarwurst patty, caramelized onions & yellow mustard on marble rye.
A Porky Melt fan steeling himself for more Porky Melt consumption.
And the girls that pig-head guy was "smiling" at.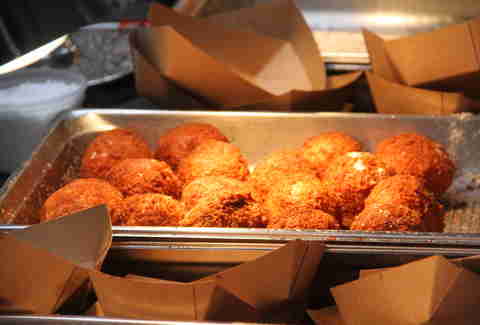 Here's some arancini from Eataly.
And what said arancini looks like cracked open.
And what a cheeseburger looks like cracked open.
Free-range buttermilk-dipped fried chicken strips with honey dijon and BBQ sauce from Dirty Bird To Go.
Roberta's went old-school, and did this charcoal grilled Medieval Pork with sour cream and salsa verde, on a stick. No forks here!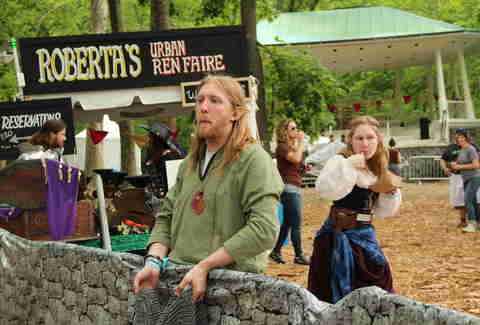 Seriously, they went Medieval.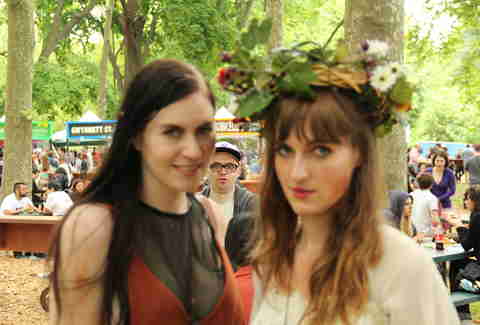 Best photobomb since everyone messed with Lancelot after he bought that Polaroid.
Back to reality, and the pork and broccoli rabe sausage with pickled mustard seed from The Spotted Pig Haus.
The kielbasa with giardiniera from The Spotted Pig Haus.
Well, one form of reality, at least.
The Egg Beggley Jr. with two fried eggs, onion, potato, kale, hash, chimichurri, and zero fake eyebrows, from Northern Spy Food Co. That's an Arrested Development joke, so it's not gross.
The Meatball Shop's BBLT: spicy pork balls, bacon, lettuce, and tomato on ciabatta with arugula, apples, chives, and apple cider vinaigrette.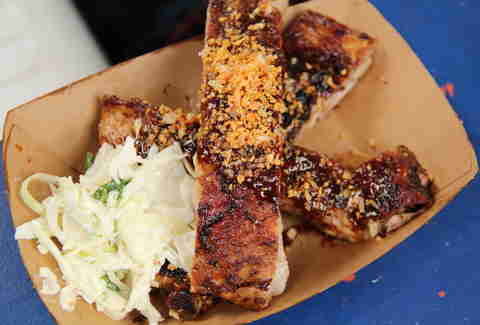 Spare ribs with Asian BBQ sauce and coleslaw from Pig & Khao.
Our intrepid photographer eating the spare ribs with Asian BBQ sauce and coleslaw from Pig & Khao.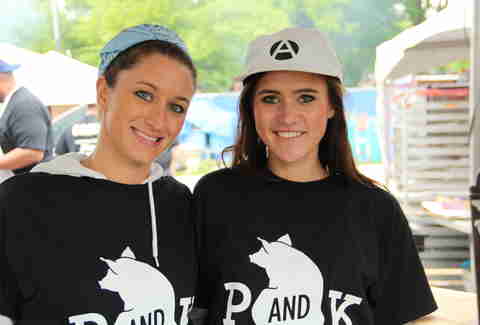 Two Pig & Khao workers pretending like they didn't just watch our intrepid photographer eating spare ribs with Asian BBQ sauce and coleslaw from Pig & Khao.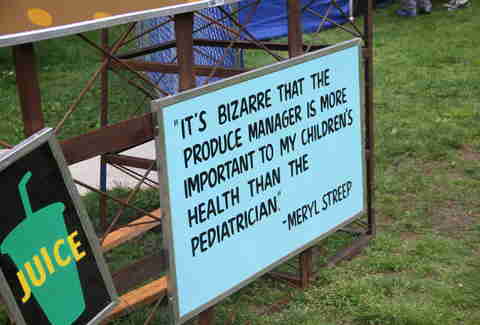 Seafood break! Here's the fried soft shell crab sandwich with mayo negra and shaved iceberg lettuce from Vinegar Hill House.
Half a split-grilled Maine lobster served with hot drawn butter from The Lobster Place.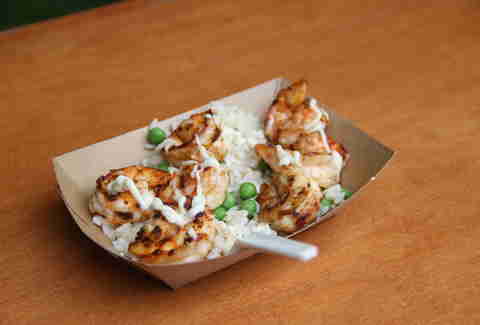 Grilled shrimp from the Little Wisco gang.
Ok, back to the meat, specifically The Works: a juicy cheeseburger with white and yellow cheddar, plus all the trimmings, from Burger Joint.
The girl on the right also said, "Thanks for the love."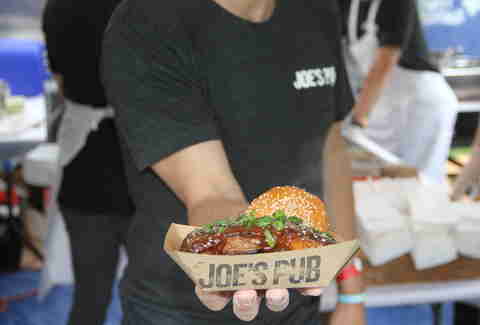 Joe's Pub's Sweet n' Sour St. Louis Ribs are rubbed with spice, slow-cooked for 6hrs, glazed in Asian-inspired sauce, and finished with sesame seeds and scallions.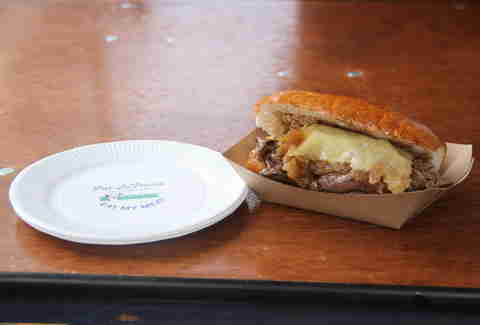 Pat LaFrieda's original filet mignon sandwich: 100% black Angus, hand-cut beef, Vermont Monterrey jack, sautéed sweet vidalia onions, and beef au jus on a toasted french baguette.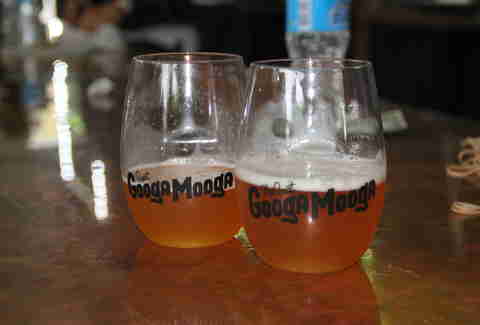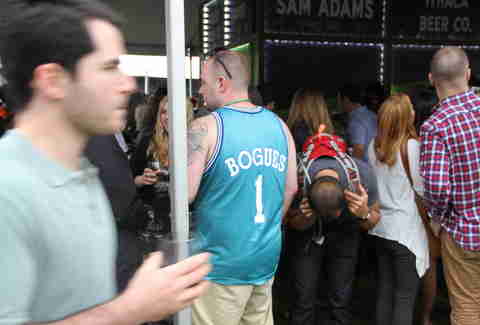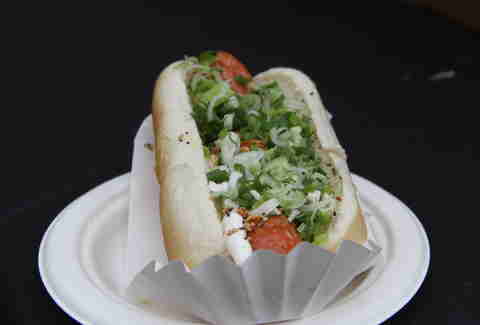 This is the smoked beef and pork dog with schmear of cream cheese, everything bagel seeds, and scallions from Crif Dogs.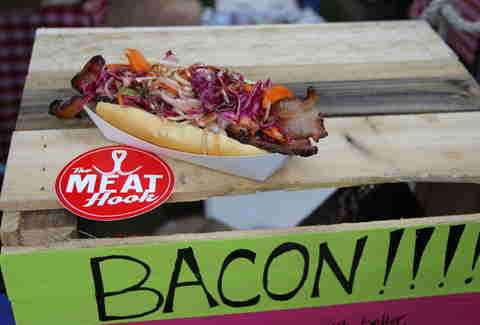 BBQ bacon sandwich with house-cured and smoked bacon on a roll, with spicy slaw and BBQ sauce from The Meat Hook.
Pinoy corn slider with bagoong, mayo, queso puti, toasted garlic from Jeepney.
Phat Thai Thamadaa with thin rice noodles cooked in rendered pork fat with tamarind, fish sauce, palm sugar, peanuts, dried tofu, dried shrimp, preserved radish, egg, garlic chives, bean sprouts, and chili powder from Pok Pok Phat Thai.
These guys love Frank Zappa.
Triple jerk chicken (leg and thigh) grilled with Miss Lily's jerk marinade from Miss Lily's Jerk Hut.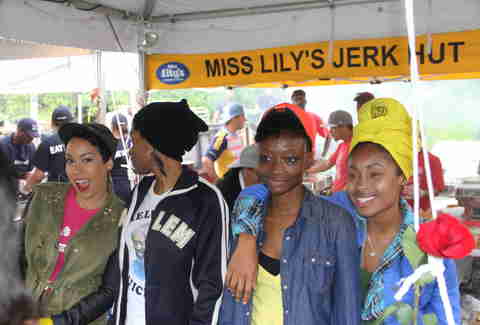 And the ladies who brought it to you.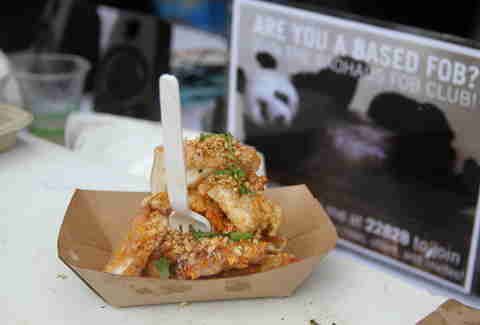 Fried coffin bao bread stuffed with double fried all-natural chicken, chili condensed milk, crushed peanuts, Taiwanese red sugar, and fresh cilantro from Baohaus.
This one doesn't even have meat in it!! The La Mamasita arepa from Caracas Rockaway has grilled wild mushrooms, roasted corn, Venezuelan chile "aji dulce", Cotija, sweet plantains, and avocado.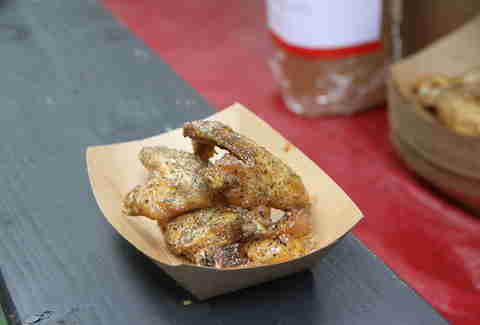 Japanese-style tebasaki wings from Kasadela.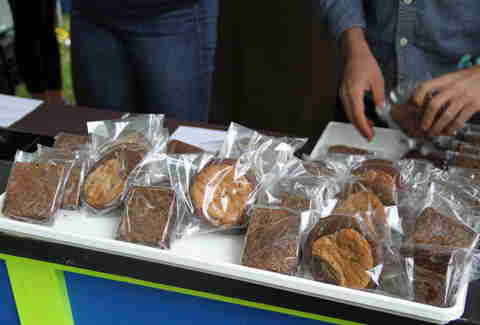 Time for dessert: the Brookster brownie from Baked has a chocolate chunk cookie baked inside and a salted caramel-infused Sweet & Salty Brownie on the outside.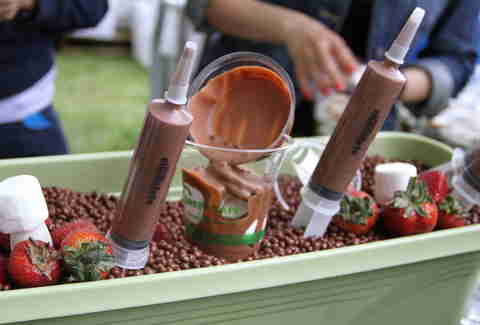 Then there's the dark chocolate fondue with fresh strawberries, marshmallows, and shortbread drops, plus milk chocolate ganache-filled syringes from Max Brenner Chocolate Bar.
Crack Pie, compost cookies, cornflake marshmallow chocolate chip cookies, blueberry & cream cookies, and birthday truffles all from Momofuku Milk Bar.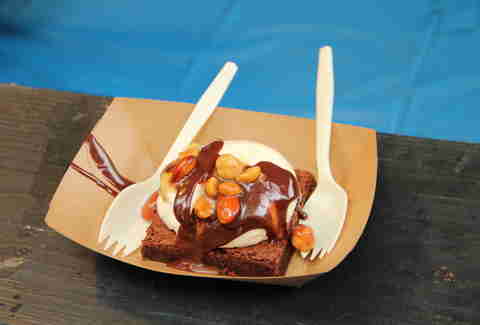 The Guinness stout brownie: Bailey's ricotta crème, Jameson whiskey chocolate sauce, and beer nut pralines from Robicelli's.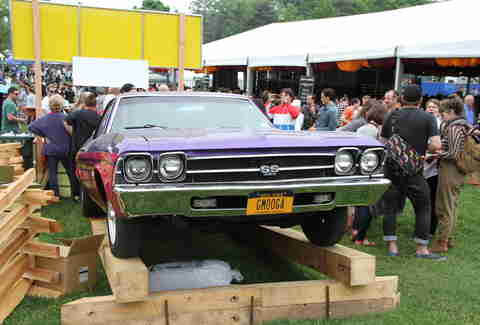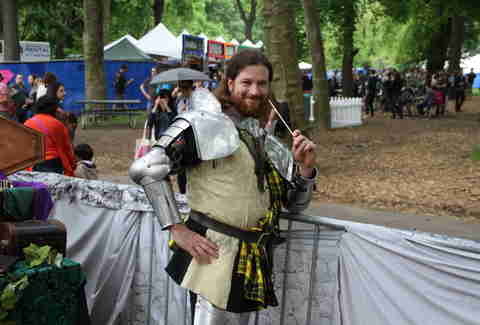 "See you next year, ladies... but only the kind who actually hold the prestigious Medieval title."