Dogfish Head and Brooklyn Brine invent the beer & pickle restaurant
After first collaborating on a pickle (the Hop Pickle made with 60 Minute IPA), the respective teams at Brooklyn Brine and Dogfish Head have gone brick-and-mortar with Pickle Shack. Given their mutual inclinations towards exciting, inventive eat-and-drinkables (moon dust beer, bourbon barrel aged pickles, garlic beer, beer designed from archaeological digs... ), you can expect some surprises from this modern Gowanus canteen with an open kitchen and a garden out back. And yes, they will involve beer and pickles.
You can grab a table in the front parlor, but the stronger move is clearly pulling up a stool at the yellow pine bar and ordering one of the many, many Dogfish Head brews on tap, like their Punkin Ale, American Beauty, or 90 Minute IPA, as well as...
... a lineup of next-level, non-Dogfish crafts like Lil' B from Evil Twin, Vielle from Colorado's Crooked Stave, and Local Option's Dampf Loc, as in, "you're a Loc to order so many beers here".
For those feeling a little more adventurous, they have this contraption, called a Randall, that attaches to one of their tap lines. Basically it infuses a beer with whatever craziness they're working with that day, like pickling spices, coffee, fruits, more hops -- essentially whatever they've got their hands on and think will blow some minds and/or palates.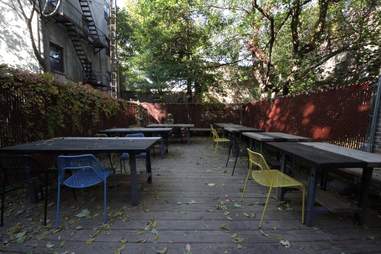 Also feel free to take it out back for a most-Brooklyn-y afternoon of leisurely beer enjoyment.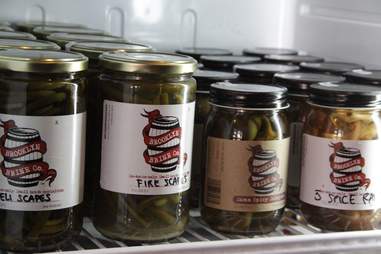 The food is pickle-centric (and yes, vegetarian) -- with a big selection from the Brooklyn Brine factory right around the corner -- that includes some not-otherwise-available "beta tests", like these extra-hot "Fire Scapes" and five-spice ramps.
And don't worry, they made sure to nail the fried pickles. They start with slices of those beer-infused Hop Pickles, coat 'em with just the right amount of cornmeal and IPA batter, then fry 'em up and serve them perfectly crisped and with a sour & tangy preserved (read: pickled) lemon aioli that serves as the perfect counterbalance.
Their sandwich game will make you forget about the lack of animal protein, starting with the Sloppy Joe of veggie dishes: their Branson Pickle sando. It's a take on an old English pub classic that's stuffed with aged cheddar, grilled onions, and a chutney-like spread made from turnips, apples, mustard, Hop Pickles, and loads of other goodness, all brewed for hours in a stout.
A good way to start or finish, the cheese plate is loaded with... wait for it... all kinds of pickles from the factory, including seasonal experiments and old standbys. Just make sure you have a beer to go with it.