Welcome home, and now we're going to devour your pizza: Motorino returns to Brooklyn
After shutting the doors on its previous BK location in 2011 because its building was apparently structurally unsound (go Williamsburg!), pie great Motorino is back in their original 'hood, this time on the South side of Williamsburg with a bright cafe-esque space working with tall pressed tin ceilings, pizza paraphernalia and Virgin Mary statues along the walls, and a small bar upfront.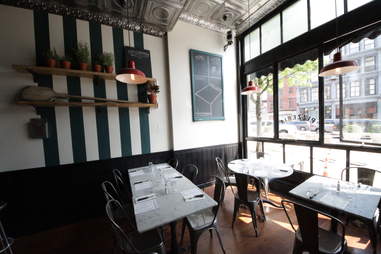 Grab a sunny spot up front and get ready for a most satisfying eat-a-thon.
They've got some new eats to show you, like this. Remember that big calzone up top? Well first of all these photos barely do justice to the size of the thing -- you will be impressed and possibly astounded, even if you are in fact a P'Zone. Secondly, it's filled with nearly 14oz of delicious porchetta.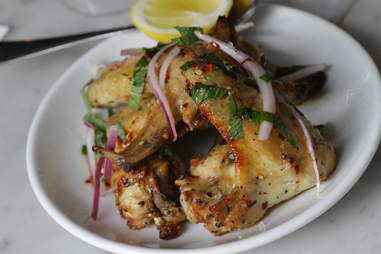 You may not think to order the chicken wings here, but you'd be wrong. These roasted bad boys are touched up with lemon, olive oil, mint, and little crunchy gems of sea salt.
Let's not forget why we're all here in the first place, though: Chef Mathieu Palombino's top rate 'za, often considered some of the best in the city. The BK location's whipping up pies like this Pugliese joint topped with stracciatella, broccolini, spicy sausage, garlic, chili flakes, and pecorino.
And then there're meatballs. You know you want some meatballs.