Modeled after its Portland brother, Whiskey Soda Lounge Ny intends to do two things: 1) offer a place to grab a drink for people waiting on line for the Christopher Mintz-Plasse-popular Pok Pok down the street, and 2) act as a standalone place to grab whiskey, Pok Pok's famed wings, and other bar bites, while hoping this place doesn't also get so mobbed that another spillover establishment is needed.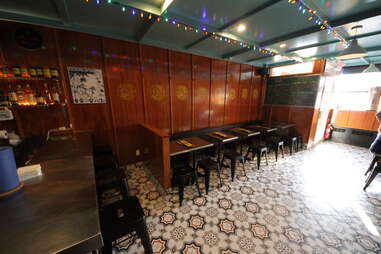 What little design there is reflects what you might imagine a Thai dive bar boasts: Muay Thai photos line one wall, a single TV sits on another, Christmas lights dangle from the ceiling, and there's a chalkboard for the tap list and daily specials.
For some, the primary goal here will be to become an interesting conversationalist while they wait. While the cocktail list is largely the same as it is over at Pok Pok, a couple tweaks and additions made their way over here, like this Salted Lime Vodka Collins, essentially made with exactly what it says: Thai-salted lime, vodka, lemon juice, and soda. Other great news: beers on tap are exclusively from those mad Danes at Evil Twin.
Since it would be pretty silly to have a whiskey soda lounge without the whiskey, they've got an ever-growing list, including pours like Michter's Small Batch, Macallan Fine Oak 15yr, and...
... the Thai "whiskey" Mekhong, which is really more of a spiced rum, but so what, just go with it. The way they do it in Thailand is to pour just a touch of this in with soda water, then enjoy them all day long.
Food, on the other hand, is almost completely different, and focuses on Aahaan Kap Klaem, which, for our seven readers who don't speak Thai, basically translates to "drinking food". Which means you can expect things like these not-quite-like-the-ribs-you've-had-before sour cured ribs that're deep fried and served with fixin's like peanuts, ginger, cabbage, and chilis. (Ed. note: be super-careful with those chilis, and start with TINY bites.)
Known lovingly as "MSG Beef", this is Jin Tup: flank steak with a touch of salt and just a touch of MSG, which quite literally gets pounded with a sledgehammer and served with a "Northern Thai chile-galangal dipping sauce". As for that MSG, Pok Pok king Andy Ricker wants to set the record straight: it's an all-natural flavoring made with beets, seaweed, and more, and the four pounds of deep-fried General Tso's chicken are what make you feel like crap after eating Chinese food, not the MSG.
This thing is all over Thailand where people are drinking on, and usually hanging from, a dude's cart as he peddles them on the street. It's charcoal-toasted dried Thai cuttle fish that's passed through their "squid press" (note to self: buy squid press), and served with spicy and sweet dipping sauce. And if none of that is for you, remember: the wings.