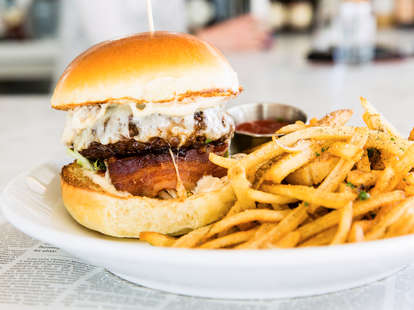 Dry Aged Beef Burger from The Whelk

| Cole Saladino/Thrillist
Dry Aged Beef Burger from The Whelk

| Cole Saladino/Thrillist
For one of my final Burger Quest trips, I felt it was necessary to go to the place where it all began: Connecticut, aka the Nutmeg State, aka The State of Poor Cities and Rich Towns, aka The Birthplace of the Burger. Unlike most of my trips to single cities, my burger eating in Connecticut was literally all over the map, from Westport and Norwalk, to New Haven and Meriden, all the way up to Hartford and Manchester. With the help of my dear friend and former magazine food editor (and Connecticut native) Schuyler Bailey, I toured the state and ate eight burgers in less than 24 hours. Plus it was Saint Patrick's Day.
In case you're new to my rankings, here are some guidelines: If the restaurant had multiple burgers, I tried to order its signature burger, or if that was too outlandish and stunt-y, the closest to a classic cheeseburger. If it came with options, I always picked American cheese and grilled onions. If you think I missed a place, please go to Trinity College in Hartford and find my old dorm room in Elton and ask whomever is currently living there to pass me a note when I make my pilgrimage back to hear The Accidentals spring concert. Until then, here are the best burgers in Connecticut:
8. The Original Burger with cheese and tomato
New Haven, CT
There are many places in America that claim to have invented the burger as we know it, but only Louis' is recognized by the Library of Congress, SO THERE OTHER PLACES. I went to college 30 minutes from Louis' and often spent days walking around Yale's campus pretending to be on my way to an intellectually rigorous English class, so I'd visited the hamburger origin story before, but not in almost 15 years.

The things you remember about Louis' -- those crazy classic toasters and the cramped feel -- all came flooding back when we walked in. As this was St. Patrick's Day, a bunch of construction guys were huddled in a corner polishing off burgers before they headed to a pub across the street. "Let the Car Bombs begin!" one shouted as he walked through the door.

Anyway, as you might expect, there have been several improvements made to the burger world since Louis invented it. The meat was moist but not very flavorful, the white toast was flimsy and soggy on the bottom, the cheese spread was mostly tasteless. The tomato just kind of sat there, listless and sagging. No other condiments were offered. My friend Schuyler put it perfectly as we sat in the little nook staring at each other over bites: "I recognize and appreciate the history of this place/burger," she said. "But I think I'm more into the modern versions."

As we walked out, we could hear whoops and shouts from the Irish pub across the way. Apparently, the Car Bombs had begun.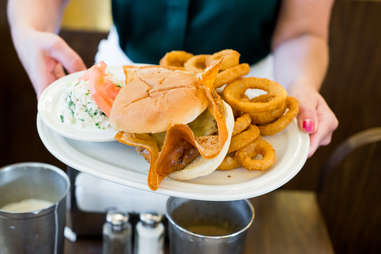 7. Cheeseburger
Manchester, CT
Louis' Lunch may win the actual historical award, but Shady Glen has its own nostalgia thing going on. It feels like you've been transported back to that diner from Back to the Future (so, um, an '80s recreation of the '50s?). The staff is decked out in retro-outfits. There is a spinning chandelier-type deal advertising ice cream. There is a somewhat alarming giant mural of creepy elves finding ice cream treasure on a beach. There are "cod fillet rolls" for $4.60 and "cheesefurters" for 15 cents less. But the cheeseburger is the real star here.

The cheeseburger is famous for its cheese skirt, made from many extra cheese slices that are hardened on the griddle (much like the burger at the old Squeeze Inn in Sacramento). Everything else about the burger is just sort of OK: The thin diner-style patty had good griddle but was relatively dry with a tight grind, suggesting it was pre-formed; and the buttery toasted bun got soggy and greasy. I have to admit that salty cheese crust added some nice texture and flavor to the burger, even if the lone pickle couldn't provide much acid counter to balance it out.
6. Prime Burger with American & grilled onion
Norwalk, CT
I learned that people unironically call this area of Norwalk "SoNo." This troubles me greatly, but I am moving on, because we must discuss the burger. Prime is a fast-casual regional burger chain, mostly found in Southern CT. The burgers are hand-packed with a loose grind and look very handsome, but there are cracks in that aesthetic armor. For one, the meat, though cooked perfectly, was under-seasoned and lacking salt. The bun wasn't toasted enough so the bottom started to fall apart, and the lettuce was so big and bulky that it shifted the other toppings around wildly (NOTE TO EVERYONE: Shred your damn lettuce so this won't happen!). The flavor elements were there and the composition was fine, it just lacked any real oomph to move it higher on the list.
5. Steamed Cheeseburger with lettuce, tomato, onion, pickles, mustard/mayo
Meriden, CT
Outside of central Connecticut, not many people have heard of the working class town of Meriden. But if you follow the burger news, the name rings out. Mostly because Meriden is the home of the steamed cheeseburger, as invented at Ted's. Next to a salon and a sex shop in Meriden sits K LaMay's, the young upstart challenger to Ted's steamed cheeseburger throne.

A couple of years ago, Thrillist named K LaMay's the best cheeseburger in Connecticut, so I'd been dying to try it. And the burger was good. You could tell the grind was fresh, and -- as is usually the case with steamed cheeseburgers -- the meat was quite moist. Clumps of hot sharp Cheddar curds pooled in the corners, dripping off the burgers as we dug in. There were a few issues though. First, the bulky bun was untoasted (one of my biggest pet peeves) so the bottom immediately got soggy. And second, the meat, while moist, tended to lose moisture rather quickly. Good? Yes. Best in Meriden? Well, KEEP READING TO FIND OUT.

*cuts to commercial*
4. Southside Burger  
Darien, CT
We got to Jimmy's around 5pm on a Friday, on St. Patrick's Day, and it was jumping off, Darien-style. Which is to say, lots of folks in Vineyard Vines and Patagonia vests fresh off the Noroton Heights train were getting a little loose before heading back to relieve the nannies. The menu is post-Good Food Revival Movement upscale tavern fare (from ahi tuna tacos and a quesadilla turkey burger to center-cut filet), which means it better have a damn good burger. Luckily it does.

The grind on the well-seasoned meat was loose. The patty had good, pure meaty flavor, and the char and temperature were perfect. Although I prefer American for its optimal meltability, the white Cheddar added a bit more tang. My one small complaint would be that the shoestring fried onions added a major salty element that wasn't really counterbalanced by much acid in the way of pickles or special sauce, or an aggressive mustard. Nonetheless, this is an extremely serviceable burger.
3. The Classic Burger
Hartford, CT
I went to school in Hartford, and the first Wood-n-Tap opened a few miles from campus my senior year. After I was arrested for "inciting a riot" at a Third Eye Blind concert during Spring Weekend (somehow this is a true story) and put in jail, the first place I went was Wood-n-Tap. So clearly I've got a lot of history here.

I honestly thought the burger wouldn't stand up in the 14 years since I last had it, but I have to admit it did. It was likely the most well-balanced of all the burgers I had, with the mustard, mayo, pickles, and diced onion all acting as the proper counterbalance against the American and charbroiled beef. The meat itself was well-cooked and salty, just slightly dry at the edges, and the brioche bun was fresh and springy, though a little bit thicker than I would've preferred. Regardless, it's a very good bar burger.
2. Dry Aged Beef Burger
Westport, CT
When the burger at The Whelk first came out, I was sure I wouldn't like it. It was too big. The bun was too thick. There was too much mayo. No one wanted to hear me complain. Then I bit into it. The dry-aged beef had a certain funk to it, which played really nicely with all the other elements here. The meat was thick but perfectly cooked and juicy. There was a lot of mayo but it had an onion-tang and meshed nicely with the sweet pickles to balance out the creamy Bella Bantam cheese and the funky meat. The brioche managed to not be cloying or too-croissant-esque (though it did start to flake on top). The bacon was also good, but added an extra element of salt that the burger didn't really need, because, man, this thing's meaty flavor can hold its own.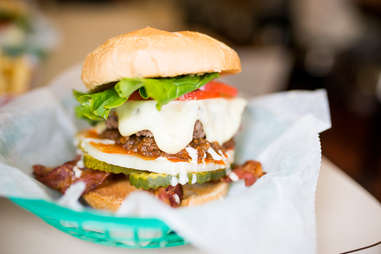 1. The Everything
Meriden, CT
Sitting at the counter, watching the cook at Ted's cram meat into little trays like he was making meat muffins was one of the most underrated experiences of this entire Quest. And biting into that burger at the end was up there too. Ted's is the OG in the Meriden steamed-cheeseburger game, having been around since 1959. The place is small, mostly just a long countertop. We ordered "The Everything," which is a steamed cheeseburger with all the fixings, and -- as we sat waiting -- I started to form a narrative in my head about how this old-school joint was yet another CT legend that we needed to pay homage to but had maybe been surpassed by the newer generation. I was wrong.

The burger came out moist as you'd expect, but with much better composition than the one at K LaMay's. Ted's uses a mild Cheddar that pulled almost like mozzarella and had that subtle nutty flavor that helped balance the acid from the pickles, mustard, and onion. The loose grind of the meat felt pure, and the salt and pepper added the proper seasoning. There was no real trick to it, but all the elements fell exactly into place. And if you can still manage to do that after 59 years, you deserve to be called the best burger in Connecticut.
Sign up here for our daily NYC email and be the first to get all the food/drink/fun New York has to offer.
Kevin Alexander is Thrillist's National Writer-at-Large and Chief Burger Critic. Don't go to Third Eye Blind concerts with him, but do follow him to freedom/Twitter @KAlexander03.