Welcome to Cheap Eats NYC, where every week, we'll be highlighting an incredible NYC meal for less than $10. Know of a great all-you-can eat Indian buffet, under-the-radar burger, or other cheap eat in the five boroughs? Let us know in the comments!
Recommended Video
Papaya Kings Serves the Most Reliable, Classic Hot Dogs on the Upper East Side
California transplants who bemoan NYC's absence of "real" Mexican food should be required to visit Tortilleria Mexicana Los Hermanos, a part-tortilla factory, part-Mexican cantina off the Jefferson L stop in Bushwick that offers $2.50 tacos made with tortillas that taste like they're straight from an LA taco stand.
The building that houses the BYOB restaurant is broken down into two sides: on one side, a cantina, and on the other, a warehouse, where the tortillas are made in front of you on a conveyor belt. When you enter the cantina side of the building, you'll be required to write your order down on an index card, which you'll find lining the stainless steel counter. Hand that to the cashier, and make sure you indicate your order is to stay (eating here is half the fun). You can grab a table on either side of the building, but the move is to sit in the warehouse, where the roar of the conveyor line teases your upcoming meal. Make sure to stake out a table stocked with bottles of the house-made salsa, which you only need a few drops of to satisfy any spicy cravings.
Each taco comes with your choice of either chorizo, steak, chicken, pork, or beans, topped with a heaping portion of sour cream, cheese, lettuce, and tomato. But as satisfying as the fillings may be, what sets this place apart from other taco joints in New York (cheap or not) are those tortillas. They might be the freshest you'll get in the city, made just feet away and arriving piping hot and fluffy, with just enough crispiness to be sturdy. Be sure to order a few (or 20) extra to take home with you.
Sign up here for our daily NYC email and be the first to get all the food/drink/fun New York has to offer.
Previous Venue
Next Venue
Venue Description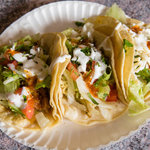 1. Tortilleria Mexicana Los Hermanos
271 Starr St, Brooklyn, NY 11237
Off the Jefferson L in Bushwick sits Tortilleria Mexicana Los Hermanos, a warehouse cantina that serves taquitos, tacos, tostadas, and quesadillas -- all filled with your choice of chorizo, steak, chicken, or pork, and all for an insanely cheap price. There are two entrances to the massive space -- on one side, there's the counter-serve kitchen, where you write your order down on an index card and watch the line cooks sizzle and fry your meat, beans, and cheese as the line inches towards the register. The second entrance is to the garage side, where booths and group-friendly plastic tables distract you from the warehouse's actual purpose of making tortillas. The place gets busy on weekend nights with a mix of Bushwick families and hipsters, a juxtaposition that makes eating here all the more fun.