An underground whiskey-and-steak atrium in Midtown
After 10yrs Downtown, the hit-making team behind the original Butter -- Iron Chef's Alex Guarnaschelli, Richie Akiva, and Scott Sartiano -- is extending their reach to Midtown with an underground atrium decked out in rich wood, an open wood-burning oven, communal tables, and plenty of dark corners where you can eat everything without anybody judging you. Also: holy sh** did you see this incredible cake??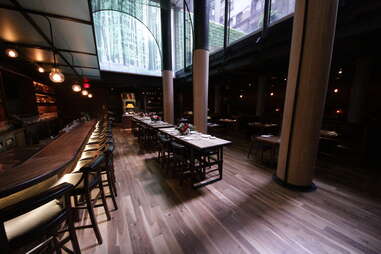 After making your way down the steps and past the raw bar (if you make it past the raw bar), you enter the main room, which looks out under (underlooks?) their garden, and is lit by a huge glowing forest scene, and canopied by a series of braided leather straps.
It looks a bit like modern art, but it's actually some really well-presented chicken liver mousse on matzo with schmaltz vinaigrette. And for those of you that don't know: schmaltz is chicken fat, which makes this maybe the best vinaigrette ever.
Pray (!) they have one of these on-the-bone Long Island monkfish-es left.
In addition to the Creekstone Farms tomahawk steak-for-two (or one if you man-up, son), they're also doing this perfectly grill-marked Berkshire pork chop with roasted shiitake mushrooms.
You were promised cake, and here it is: the very same chocolate layer cake the chef's Mom made for her every year on her birthday. They drip hot caramel over the top of it so it sizzles briefly and then freezes into this candle-like beauty.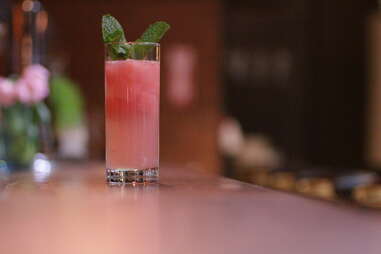 You can also expect a nice Midtown-appropriate drinking scene, with cocktails like this vodka, mint & watermelon joint, along with more than 50 types of whiskey.
And when the weather's appropriate ("Oh that's not hail? Just normal rain? Cool."), hit their appropriately lush upstairs outdoor garden and bar.