For the Ramirez Degollado family, running a restaurant empire in Mexico—and having a "matriarch of Mexican flavor" as a grandparent—naturally always led to the topic of one day branching out internationally. And with the debut of Casa Carmen this week, not only does the project mark the first venture outside of their home country, but also a new family chapter that's been years in the making.
Dedicated as an homage to their beloved 83-year-old grandmother and renowned Mexican cook, Carmen "Titita" Ramirez Degollado, Casa Carmen in Tribeca is a new Mexican restaurant from the brother duo and co-owners, Santiago and Sebastian Ramirez Degollado.
"The story of how our grandmother took over the business when she became a widow at 40 and managed to raise five children is very inspiring," says Sebastian (also the general manager).
As the matriarch to the popular Mexican restaurant, El Bajío, for the past 50 years, Titita gained international recognition for her masterful execution of flavors and dedication to traditional recipes sourced from Veracruz, Puebla, and Oaxaca. What started with humble beginnings in 1972 has now grown to 19 locations operating across Mexico City.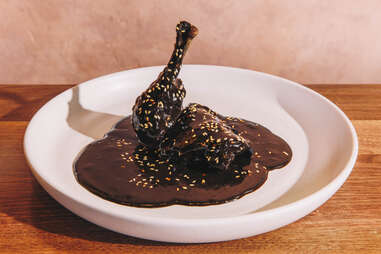 "I am truly honored that the new NYC restaurant is named after me," says Titita. "I feel very proud that my family's third generation wants to continue our journey in the business."
With two head chefs and a team of "mayoras" (esteemed elder women) overseeing the menu, Casa Carmen's traditional Mexican food centers around recipes learned from and perfected by Titita. "We strongly believe our grandmother´s cuisine and hospitality are unique and it gives us great satisfaction being able to share this with the world," says Santiago.
Highlights include signature dishes like the Tostada de Pato en Escabeche (pickled duck tostada with refried beans and lettuce); Empanadas de Plátano con Frijol (plantain empanadas with charred chipotle salsa); and Pescado a la Veracruzana (rotating selection of fish, güero peppers, olives, capers, tomato salsa).
For the beverage program, created by Santiago, expect agave-forward cocktails utilizing a wide variety of mezcal and tequila like the Mezcamaica (reposado, hibiscus, tajin), in addition to a wine list featuring selections primarily sourced from Valle de Guadalupe and Parras, Mexico.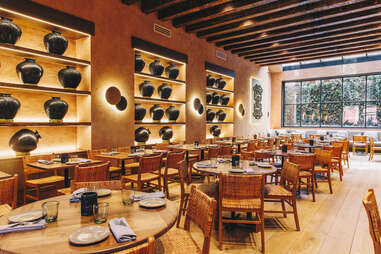 Designed by Mexican designer Luis Enrique Noriega (El Bajío), the 2,500-square-foot, 105-seat space is divided into a bar area and main dining room, and the interior's aesthetic draws inspiration from earth-toned, stucco-walled haciendas.
Casa Carmen is open daily for dinner service from 5 pm–11 pm. Reservations are available via OpenTable.