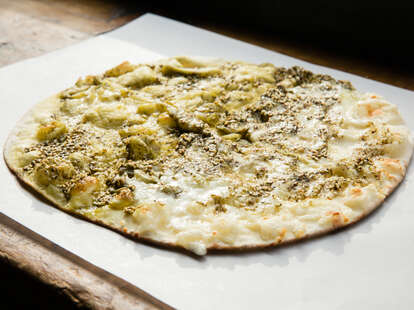 Cole Saladino/Thrillist
Cole Saladino/Thrillist
Welcome to Cheap Eats NYC, where every week, we'll be highlighting an incredible NYC meal for less than $10. Know of a great all-you-can eat Indian buffet, under-the-radar burger, or other cheap eat in the five boroughs? Let us know in the comments!

One of the best pizzas in the city doesn't come via Italy (or Detroit, or St. Louis) but from Lebanon. On the corner of Bleecker and MacDougal, just feet away from the rowdy bars packed with hordes of NYU students, is Manousheh, one of the few places in NYC churning out its namesake flatbread.
Manousheh is technically a breakfast dish in Lebanon, but that doesn't mean it can't be consumed at other times of the day. Each one of these circular flatbreads is baked to order in the cozy store's brick oven until it's puffy and slightly chewy. There are six different topping options available, but none involve your standard tomato sauce and globs of mozzarella.
Instead, the manousheh get topped with everything from thick and creamy labneh (strained yogurt) to a mixture of spiced ground beef, onions, and tomatoes. But the absolute standout is the Cocktail manousheh, which is slicked with a potent mix of olive oil, za'atar (the ubiquitous Middle Eastern spice mix of thyme, sumac, and sesame seeds), and jibneh, a soft and salty cheese -- all for just $6.
The large and filling flatbread arrives folded in half (like any good New York slice), fresh from the oven, in a sleeve of parchment paper. The za'taar is toasty and herbaceous but also has a punchy lemony flavor that balances it out. Combined with the melty (but not overly stringy) cheese, the dish is salty and warm in the most comforting of ways. The best part? The shop is open until 11pm most nights, so you can skip battling that line of overserved college students for your regular late-night slice.
Sign up here for our daily NYC email and be the first to get all the food/drink/fun New York has to offer.
Khushbu Shah is a senior food editor at Thrillist. Follow her often za'atar-coated eating adventures on Instagram @khushandoj.