Chef Gaurav Anand Adds to His NYC Portfolio with Baazi
The new Indian restaurant explores unexpected flavor combinations with visual flair.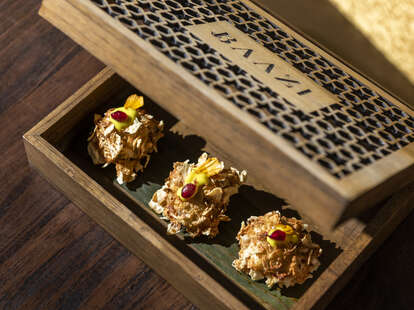 Indian restaurants across the U.S. have often been defined by familiar dishes like butter chicken, gulab jamun, and samosas—but at chef Gaurav Anand's latest venture, Baazi, the new Upper West Side eatery firmly deviates from this traditional approach. After experimenting with different cuisines and techniques, its exciting new menu introduces imaginative dishes without losing the roots of classic Indian flavors and spices.
Fittingly translating into "bet" in Hindi, Baazi is chef Anand's endeavor on creating a refined and eclectic concept of Indian food.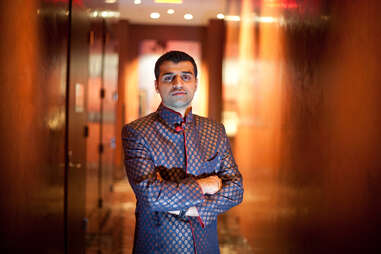 With over hundreds of Indian restaurants in NYC, his goal is to change people's perceptions through unexpected flavor combinations and visual flair. "Indian food doesn't have to be rustic and heavy, our menu is more sophisticated with layers of flavor," says Anand. "We want to push the creative boundaries and create a menu that reflects cooking inspired by travel and global influence."
Hailing from India twelve years ago, Anand arrived in the U.S. prepared to apply his culinary training of Indian fare. Since then, he's managed to build a local restaurant portfolio that currently consists of three spots—Moti Mahal Delux, Bhatti Grill, and the former Awadh which is now replaced by Baazi—as well as restaurants in New Delhi and Goa. In addition, he also has a high-end catering company that specializes in luxurious destination weddings.
When the pandemic hit, along with the entire restaurant and hospitality world, Anand faced constant industry challenges like declining business and ever-changing new mandates. So with the support of his landlord, he decided to transform the space of Awadh into an exclusive premises-only dining experience sans the option of takeout or delivery.
With influences ranging from Portugal to the Middle East, signature items include the Chicken Cafreal, a Portuguese Goan dish with cornish hen flambeed with iconic Old Monk Rum; and must-try orders like the Baghaar-e-Baingan, an eggplant dish prepared in the Middle Eastern style (smoked on the grill) paired with a spicy Hyderabadi sauce and completed with toasted coconut, peanuts, and bedgi chili, which is a testament to the blend of Indian and Middle Eastern flavor profiles.
Dish presentation is a part of Baazi's charm and the signature Papad Kebab is presented in a monogrammed Baazi box and made from a crispy, flaky lentil cracker crust with a 24-hour hung greek yogurt (plain yogurt from which whey has been strained out using a cheese or muslin cloth often used in Indian cooking) and saffron aioli.
"If you go to Hermes or Cartier, you are given your jewelry in nice packaging. Papad Kebab is Baazi's jewel," explains Anand. "Unique presentation is just as important as the taste because in the age of Instagram, restaurant goers expect more interaction during the dining experience."
Additional popular dishes include the Baazi Gobi made with cauliflower and chef's patented sauce prepared in-house; the Kasoori Methi Chicken Tikka with toasted fenugreek and smoked paprika; and desserts like the Jalebi Sandwich filled with sticky style fennel cake and masala chai ice cream. The menu also features a selection of beer, wines, and craft cocktails with an Indian twist like the Indian Summer containing mango pulp or the Mezcal Passion with a dash of tamarind.
Conceived by Design House Decor, Baazi's striking interior transports diners to Morocco and is rooted in a vibrant blue decor paired with intricate designs inspired by traditional Indian weddings and henna adornments.
Located at 2588 Broadway, Baazi is open from Sunday to Wednesday from 5 pm to 10 pm and Thursday to Saturday from 5 pm to 10:30 pm. Reservations are available via Resy.