I have always been the cook who wants to be the chef," Daniela Soto-Innes tells me.
I keep returning to this thought when making sense of the insane success of the 27-year-old chef-partner of the celebrated spots -- Cosme and Atla, in New York -- whom I reflexively compare myself with, considering we are nearly the same age, and I'm spending the day following her around as she leads a life that seems way more put-together than mine, and probably yours, too. (Atla is one of Thrillist's 13 best new restaurants in the country.)
She does yoga most mornings, in a former warehouse space turned studio where the teacher massages lotion into your neck as you're mid-downward dog. She takes her coffee out of those hip, clear, plastic glasses that are probably sold at the MoMa Design Store. She hangs plants housed in ropes from her apartment ceiling. She drinks a vinegar-spiked drink called switchel.
After a quick post-yoga shower, she changes into her uniform (black sneakers, black shirt, black leggings), pops a supplement called ashwagandha root (she hands me one, and of course I take it; Soto-Innes is the kind of person who could convince me to take any kind of pill, honestly), and reads her daily passage out of a meditation book. "Just because something is bad for you," she reads, "doesn't mean it's bad for someone else." She contemplates the aphorism, fidgets around the counter for her keys, downs a sludge-green smoothie containing all sorts of good-for-you powders, and runs out the door. I'm chasing her down the stairs to keep up.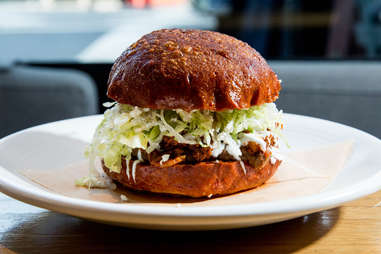 The lightning pace at which Soto-Innes lives -- and keep in mind, she hasn't even gotten to work yet -- is probably why, at 27, she counts an exhausting list of accomplishments: two restaurants with two and three stars from the The New York Times, a James Beard Award, and a spot on the World's 50 Best Restaurants list. Her advancement has been meteoric, ever since her first cooking job at 10 in her grandma's bakery in Houston (where she moved to from Mexico City at a young age). Soon after, she moved over to an Italian spot called Via Emilia, fibbing about her age (she said she was 15) to get the job.
"I was the teacher's pet," she recalls of those early cooking jobs. "My dad always taught me to make sure I was the right hand of someone -- like, whenever they need salt, the salt is already on the right. Being two seconds ahead, always." By age 19, she was a sous-chef at a Houston restaurant called Triniti. But it wasn't smooth sailing. "I failed badly. I didn't even know anything. I didn't know how to delegate," she says. Within six months she had burned out. "I was working seven days a week, I didn't have help. I didn't believe people should have to work so hard." When she ran her own kitchen, she thought, things would be different.
She returned to life as a cook, under the renowned chef Chris Shepherd of Houston's Underbelly -- a place where the menu changes every single day. It was Soto-Innes' job to constantly churn out innovative dish ideas. "I remember thinking, 'This lady is a force,'" Shepherd says. "She had this desire and drive and lust for knowledge. Her dishes were always a little bit harder."
Soto-Innes became one of the strongest talents in the kitchen. Then, a turn. After a chance meeting with her eventual partner, Enrique Olvera, at a dinner in New York, she went from butchering pigs at Underbelly to a much more junior position making mini meringues as a stage at Olvera's Mexico City institution, Pujol. "It was the worst," she says. "I remember being like, 'What the fuck am I doing?' but also knowing that I wanted to change who I was professionally, so I made sure I came across that way." So she put her head down and churned out little meringues. "I didn't want to be stuck. I didn't want to go back to Texas."
It took only a few months for Olvera to realize he had uncovered in Soto-Innes a rare gem. He asked her to be his opening sous-chef at his upcoming New York restaurant, Cosme. "I remember we once went to an event in Germany for 5,000 people," Olvera says. "She didn't speak German, but she was the one who organized the team of cooks there. She knows how to talk to people. She isn't afraid to jump into any endeavor. It was then that was I sure she could handle opening Cosme."
When I ask Soto-Innes, on the other hand, why she thinks Olvera chose her, she gives me an almost laughably humble answer: "I don't know. I think he thought I used to live in New York because I knew Johnny [Iuzzini, a mutual friend of her and Olvera's]." Soto-Innes has a tendency to credit anything but her talent as the reason she's gotten to where she is today.
Like how, with no experience as a restaurateur and little instruction from her boss, she turned a former strip club space on 21st Street into the Mexican fine dining restaurant that is now Cosme. "When I walked in, there were still poles everywhere," she says. "There was a fryer in the middle of the kitchen, food on the floor," and my personal favorite, "a sign on the refrigerator that said, 'Ladies, please no sex in the walk-in coolers.' That's our dry storage now." She Googled almost everything, "like, everything. How do you talk to an architect? What's an HVAC?" Eventually, of course, the restaurant opened in 2014 to practically universal praise for its flavorful duck carnitas, and whimsical corn husk meringues. Oh, and by the way, Soto-Innes was 24.
When Cosme opened, Soto-Innes didn't know who Pete Wells was. She wasn't familiar with the James Beard Awards. This may seem a little far-fetched, but all you need to do is watch when she won Rising Star Chef of the Year at the 2016 James Beard Awards, and it'll become perfectly clear that, yes, she most likely did not understand the sheer gravity of what winning a James Beard Awards meant. "I was hiding. I didn't want to go on stage because I was so embarrassed," she says of that evening. When she eventually went up to accept the award, "I yelled, 'A huevo!' which means, like, 'Hell, yeah!' in Spanish, but on the screen it said I was thanking my abuelo."
Even now she doesn't think much about the awards chase. She hasn't even hung up the World's 50 Best sign at Cosme yet. "[50 Best] has helped us get attention from talent, it has created opportunities for cooks to come forward," she says. "But it's just an opinion. It's nice to have positive opinions." She repeats: "But it's just an opinion."
Olvera and Soto-Innes are officially business partners now -- soon, they will have equal standing in their company, which includes Cosme in New York, an eventual Cosme in Los Angeles, and an all-day Mexican café called Atla in downtown Manhattan. It's the kind of effortlessly cool breakfast place that serves bright chilaquiles divorciados alongside coconut yogurt housed in a chic ceramic bowl. Not even a year old, the place has already spawned copycats seeking to mimic the restaurant's airy, gray-and-neon vibes.
Atla is where Soto-Innes' workday starts when I am trailing her. She kisses every single person working the front of the house, walks downstairs into the kitchen -- where catchy Spanish-language tunes are pumping through the speakers, and line cooks are swaying side to side -- and proceeds to kiss every member of the back of the house, too. One of her sous-chefs hands her a bowl of vegan chocolate mousse to taste. "A ver," she says, and instructs, "Less salt, more cinnamon."
She and her team are redesigning Atla's dinner menu. She mixes fermented chilies with oil, lime, sesame seeds, then tastes, adds more oil, and pours the mixture into the bottom of a ceramic bowl. She slices a hamachi-like fish into five paper-thin slices, splays them over the chili sauce, and finishes the dish with chopped cilantro stems. She hands me a spoon. I taste. It's good. So good, in fact, that two weeks later, I find myself sitting here in my apartment still thinking about the funky heat of the fermented chilies and the way it coated and soaked through every nook of the fish -- intense, spicy, and awakening.
The utter delight of Soto-Innes' food -- the wild colors of her avocado toast, the impossible lightness of her chicken soup, the vibrancy of her guacamole -- that is not what this story is about.
As a food writer, I have reported on dozens of New York chefs and spent time in many kitchens. And I can say there may not be another chef in the city running a restaurant the way Soto-Innes runs Atla and Cosme. No other chefs are dancing with their employees on the line, taking them to the farmers market to invent new dishes, giving them the space to create the restaurant of their dreams, not just hers.
For much of the interview, Soto-Innes won't even give me a firm answer on her title. "I am so over people trying to own things," she says. "There is not one chef coming up with dishes by herself. That's a lie. You can't execute an idea by yourself." She wants to present her cooks with the same avenues she had to succeed early. Like Valentina Brito, a 26-year-old line cook at Cosme who started only a year ago and helped to open Atla, after coming from Venezuela with zero kitchen experience. Or Hugo Vera, 27, now her chef de cuisine at Atla, who began as a stage at Cosme just a few years ago. "You just need to let go of micromanaging," Soto-Innes says, as she runs the pass, filling in for her sous-chef, who is still working on dessert for the new menu. "As long as you have a team that is equal, then you all grow together at the same time."
That means she'll be the first one to speak up when one of her cooks is being underpaid, because she remembers what it was like when she was making $5.75 an hour and couldn't afford a cookbook or sneakers. She knows this opinion is unpopular -- that it's worse for her company's bottom line, and it's not what other restaurateurs would probably do. But that doesn't dissuade her.
"I don't think she understands that there are limitations," Shepherd says. "She has this unspoken aura that breathes freshness and air into a kitchen. She picks people up and enlightens them. She helps people understand that they can succeed, and no one, whether they are a busser or a dishwasher or a cook, is forgotten."
Soto-Innes' early career was spent in kitchens where the chefs would curse constantly, burn cooks who made mistakes with tongs, and refuse to let their staffs challenge them. "That's not an ambiance where everyone can grow," she says. Given that most heavily awarded kitchens in New York are still run in the same militant way, hers is a pretty radical, forward-thinking perspective. But to Soto-Innes, it's just common sense.
Some cooks have a hard time adjusting to the Cosme and Atla environments, she says, especially the seasoned ones accustomed to a more buttoned-up workplace. The way Olvera sees it, though, we're watching the future in action. "Daniela represents a new generation of cooks, who understand that the fundamentals of cooking are important, but that cooking is a lifestyle, not only a profession," he says. "The industry will change and become more like the way she runs things: focusing on relationships with your cooks, and the importance of culture and team-building."
There's a phrase that Soto Innes' yoga instructor keeps repeating at the end of every class: We are the people we have been waiting for. "Instead of worrying about who will get the Michelin star," Soto-Innes reasons, "we should be aware of what's happening and what we can change while we are here."
Soto-Innes's kitchens are ones where people actually say "hi" to one another when they come into kitchens; where she can party with her cooks one night and discipline them on their technique the next morning; where chefs actually have time for their fitness and well-being. "It's not a fairytale environment," she says. "But we try and make sure that if a cook wants a coffee, they get a coffee. If they are hungry, they get something to eat."
Cosme and Atla are only two restaurants in a vast dining scene known for its hostility to quick change. But I can tell you that Daniela Soto-Innes is the chef New York has been waiting for. The beauty is that she hasn't even fully realized it yet.
Sign up here for our daily Thrillist email and subscribe here for our YouTube channel to get your fix of the best in food/drink/fun.