The Joseph Leonard team takes on Chelsea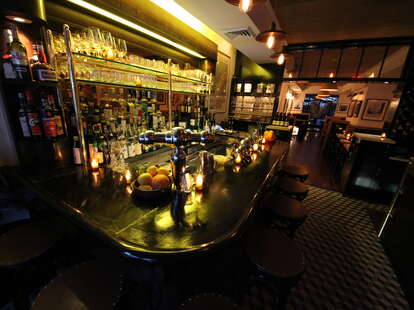 After dropping hotspots all over the West Village (Perla, Joseph Leonard, Chez Sardine...) the Little Wisco team has just expanded into Reasonably Large Chelsea with Montmartre, a narrow Parisian-hill-inspired two-story alley of a townhouse with a bar up front and a window in back overlooking their garden
Wood banquettes line the walls, which themselves wouldn't look out of place in a gallery, since, y'know, Chelsea
Famed hip-hop photographer Jonathan Mannion has curated the space with pics he took and numbers from his personal collection. Fear not of man in the gangsterish coat/hat combo
Head down the steps in the back and you'll be able to really impress people by telling them jardin translates to "garden"
You'll also be near this nook that looks out on the garden, or into the kitchen, where much-missed chef Tien Ho, formerly of Ma Peche, is working up his take on French eats and techniques. What that means for you: braised brisket, lamb neck w/ gremolata, and a pan-roasted fluke served in spicy chili butter with pieces of pulled crab meat
Make your way back up to the bar, where they're doing "serious cocktails" without taking themselves too seriously. Unless the reposado-heavy "Thass It!" is too serious for you, Señor Serious
To wit: the Mifflin Street Moonlight, which honors the famed (and sometimes tear-gassy) block party-hosting street the owner lived on in college. It features Meyer lemon vodka, Strega, ginger, and honey
Here's the All Day Long, All Day Strong, which is apparently "one of the owner's many catchphrases". It features peppermint tea-infused bourbon, Campari, Carpano Antica, and A1 bitters for "just a bit of smokiness", and will likely have you dropping things all over the place.