New York Chelsea's a popular UK soccer team, and a Clinton, but guess what? It's also an NYC 'hood packed with great restaurants that serve everything from pork sandwiches to vegan rigatoni. Not sure what you wanna gorge yourself on while you're here? Just consult our foolproof guide to the 11 best eateries in this part of town, and you'll be set for life. Or at least, for as long as you're in Chelsea. More Stuff You Will Like
153 8th Ave
There's a reason this place was in the running to be the best burger in the entire city, and it's not because people are vibing on the ursine decor. Customize one of the specialty burgers on the menu with exotic patty meats like bison, elk, and wild boar, or go rogue and build a tailor-made burger from the ground up to your exact specifications. Whichever you choose, just make sure it's got the special sauce inside. And ask for extra special sauce for fry dipping -- just do it.
Best Japanese: Juban
207 10th Ave
Sushi Seki on 23rd is a solid choice if you're looking for upscale sushi in the neighborhood, but the best Japanese comes from this traditional comfort food spot on 10th Ave. The dishes comes in small portions, which ends up being a good thing as you'll want to get one of everything on the menu. The fish is always fresh, and there are a number of great rolls and sushi/sashimi options, but be sure to also order some of the other sharable plates like skewers, raw-bar options, and fried rice (also note the seriously extensive sake list).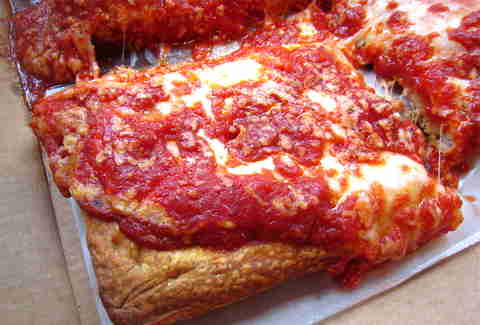 413 8th Ave
This family-owned pizza haven's been slinging doughy street slices in Chelsea since 1964 (four years before MSG moved here), and although the first 24 years of its life were spent serving "plain slices only," that mandate has since been lifted. Now, you can add a whole host of classic toppings to your pie or slice, from pepperoni, sausage, and meatballs to mushrooms, garlic, and fresh-roasted red peppers.
75 9th Ave
Admittedly boastful name aside, this place really does have the best tacos in Chelsea, and at a price point that also makes this your best cheap food option as well. Plus, although it can get pretty long, the line actually moves quickly, so you'll be out the door with your carne asada tacos in no time -- provided you don't inhale them before you get there.
85 10th Ave
It's tempting to dismiss this place as surviving solely on the star power of chef-owners Mario Batali and Joe Bastianich, but unlike plenty of other big-name restaurants, the food here is actually pretty spectacular. If you and your party are feeling particularly flush, you can splurge on the colossal, eight-course Captain's Menu tasting experience.
187 9th Ave
The intimate flagship location of this animal product-free powerhouse offers vegan delights -- like rigatoni in porcini cream and seitan scallopini -- that are actually delicious enough to appeal to meat lovers. Try out the chef's sampler first, then dive straight into the Moroccan tagine.
286 8th Ave #1
With one location in Chelsea, three in Astoria, and absolutely zero in Brooklyn, this artisanal bagel purveyor might not have the most accurate name in the world... but when the hand-rolled, kettle-boiled bagels are this delicious, who gives a crap about a name? Choose from a rotating selection of spreads, or just order a classic bacon, egg & cheese and damn the bloat-consequences to follow.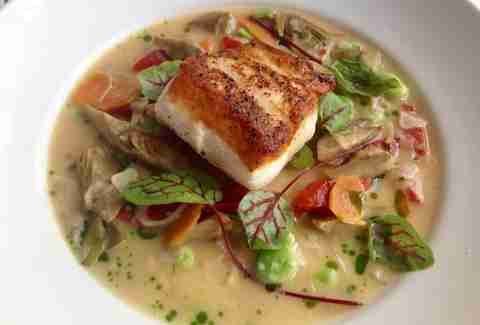 227 10th Ave
The Tasty Burger at Red Cat is indeed tasty, and it's one of our favorite under-the-radar burgers in the city, but there's more to eat here than grilled meat and Gruyere cheese: like, shrimp tacos and slow-roasted duck breast, for instance. On top of all this deliciousness, patrons can bring their own wine bottles (up to two per two people) to enjoy with their meal. Yes, there's a $35 corkage fee per bottle, but it all balances out if you're bringing some Two Buck Chuck.
171 W 23rd St
Places with the word "papaya" in the name have a proud history of serving up late-night hot dogs to boozy wanderers who aren't quite ready to call it a night at 3am, and this 24-hour Chelsea spot's no exception. Order yourself a chili-cheese dog, some fries, and a cup of mango juice, before woefully realizing you lost your wallet two bars ago.
Best sandwich (and bacon caramels!): Rocket Pig
463 W 24th St
There's technically only a single sandwich on the menu here, but it's one helluva sandwich: smoked pork, red onion jam, mustard sauce, and house-made pickles on a crusty ciabatta roll, with some "rocket pig hot sauce" on the side. You can also snag a bag of six bacon caramels for five bucks -- which is to say, you absolutely need to snag a bag of bacon caramels.
Best date spot: Salinas
136 9th Ave
Between the plush velvet seats, the fresh flowers at your table, and the dim, romantic mood lighting, this place will absolutely be your last-minute anniversary jam going forward. Sharable Spanish dishes like paella and tapas are perfect for breaking the ice with a new love interest, too, provided they're not into double-dipping. Actually, given your plans for the rest of the night, that's probably not that gross.
Sign up here for our daily NYC email and be the first to get all the food/drink/fun New York has to offer.
Gianni Jaccoma is an editor for Thrillist, and he's been known to double-dip every now and then. Follow his disgusting tweets: @gjaccoma.