You thought all of our ice cream and burger stand needs were sated by Shake Shack, but no! What we've truly been missing: a Dairy Queen, the seminal Illinois fast food-ery that has had an extremely limited presence in the NYC area (there's one in Long Island and there's one on Staten Island) -- that is, right up until NEXT TUESDAY when it opens its first location in Manhattan.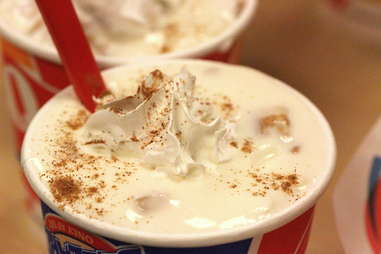 They'll have a flavor unique to this location dubbed the Big Apple Blizzard -- it tastes like they blended up the inside of a vending machine apple pie with soft serve and then mixed in some Cinnamon Toast Crunch. So, it's awesome.
They're also bringing back the S'mores Blizzard -- feel free to dip some fries in it if that's your thing (Editor's Note: it should be your thing).
Also, they really are that thick.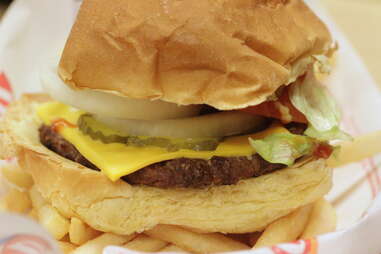 Some people (we're not saying you, but some people) don't even know that DQ serves anything other than ice cream, but they totally do! They've got a classic fast-food burger, with toppings that're a little more substantial than some competitors'.
Did you know that DQ owns Orange Julius? You can get that here, too.
Plus there's the case of ice cream cakes that you can take back to the office and be a hero since they've got those little crunchies that literally everybody loves.
Andrew Zimmer is Thrillist's NYC editor and he really enjoys flipping the Blizzards upside down a little too much. Follow him on Twitter and Instagram.