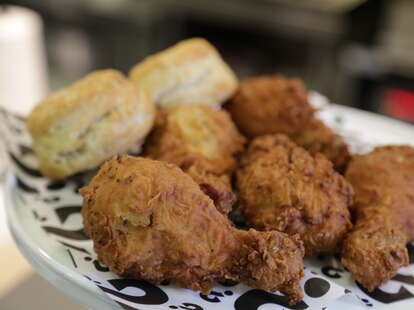 If you watch late-night television, or are a chicken enthusiast who nonetheless goes to bed really early, you may know that Questlove from The Roots makes such good fried chicken that he had a showdown with Momofuku head honcho David Chang on Late Night with Jimmy Fallon. Well, since then, he's been testing his top-secret recipe with everyone from rappers, to artists, to regular people lucky enough to somehow taste-test his chicken. And now, he's honed the good stuff enough to feel comfortable opening a restaurant put together in collaboration with Stephen Starr (Morimoto, Buddakan, Philly's Fette Sau...) in Chelsea Market.
So, this is kinda cool: they only do drumsticks, because Questlove hates breasts is a drummer.
They're taking the whole chicken and dumplings thing in a totally other literal direction, and filling Asian dumplings with essentially their version of side dishes, like one with Mornay and truffled egg, and another that's got a crab rangoon steez called the "Creme de la Crab".
These biscuits are insanely tasty. You can and should top 'em off with their next-level honey butter.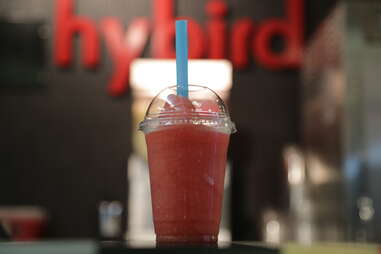 Loveslush Alert! Score one of these for a refreshing guzzle with your chicken or for a stroll on the High Line. This is the Watermelon Jalapeno slushy, but they've also got honey ginger lemonade.
Questolicious Cupcakes are another take on side dishes, including the cornbread stand-in "Miso Ho-ney" with honey-miso buttercream on a corn cake, as well as straight-up desserty joints like the Sexual Chocolate, on chocolate.