You no longer have to go to Midtown ever to hit up the game-changing clubby behemoth of a restaurant, because TAO's opened up a new branch beneath The Maritime Hotel that is staggeringly impressive with its temple vibe, signature buddhas, "skyboxes", and menu innovations like hand-pulled noodles (totally caught in action below), and cotton candy desserts. Get the full tour below:
Greeting you when you walk in are these fine ladies done-up by globetrotting street artist Hush... perhaps a subtle reminder that it's time to use inside voices.
Next you'll make your way through a wood slat-lined cave reminiscent of something out of an Indiana Jones movie, but with no body-crushing boulders. AS FAR AS YOU KNOW.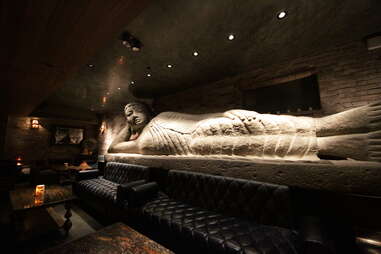 The main dining room's got two buddhas, the first one you see is giving zero f*cks...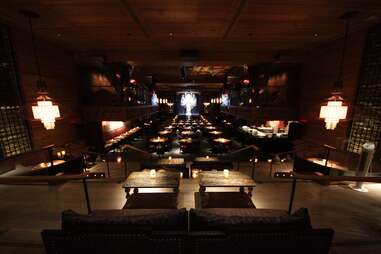 ... and the other, the Quan Yin, has about a billion (roughly) arms. It's located in a koi pond flanked by private tables at the other end of the massive dining room.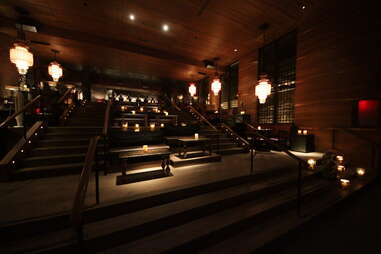 The steps down into the dining room actually double as awesome stadium seating, so it'll be just like going to the movies, but with cheaper food... zing!
Speaking of food, we wouldn't normally start with dessert, but this can't wait. It's strawberry/orange blossom creme topped with honey-milk powder and cotton candy. It's beautiful. And again, topped with cotton candy.


They're also unleashing a slew of new eats starting with noodles that're hand-pulled daily, just like this. Approximately 10 noodle-turns gets you chow mein, and roughly 20 gets you Shanghai noodles, if you're in the mood to DIY.
This otherworldy looking dish is the Shanghai Fried Rice, which wraps up roasted pork, shrimp, chicken, and pine nuts (oh, and rice) inside a thin egg crepe that then gets speared by garlic chives.
This sashimi platter packed with Alaskan king crab, two kinds of shrimp (ebi and Hawaiian blue), and go-to's like salmon and tuna, looks almost too good to eat. Almost.
This cashew chicken looks super comfy lying in its bed of taro.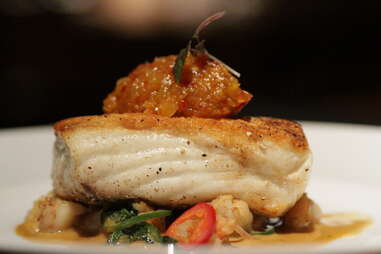 And there's always room for a nice cut of fish, like this pan-roasted halibut with pineapple sambal and red curry shrimp. Feel free to revisit that cotton candy now.