14 reasons you absolutely need to care about Toro and its boundary-pushing tapas
One of the season's biggest openings involving small plates is finally here. Revered chefs Ken Oringer and Jamie Bissonnette, who've done work at some of the finest and globe-trotting-est restos in Boston, have brought Toro and its deliciously convivial rustic stylings to NYC. Maybe you've never heard of these guys, and maybe you think, "I prefer to just order eight to 12 regular-sized entrees, and split those with nobody, because I am a MAN", but this place matters to you. Here's why:
1. Chef Ken Oringer has a serious amount of accolades under his belt: Best Restaurant in Boston from Food + Wine, Top 50 restaurants in America for Toro in Boston from Gourmet, Iron Chef America winner, and Best New Chef North East James Beard Award. So, you get the sense that he's pretty good.

2. The other guy, Jamie, has at least a million tattoos.

3. They have real ivy on the wall inside, which gets blasted with grow lights all day long. To keep it growing, mainly.
4. On the wall, there's a head from a Spanish fighting bull, which took them 10yrs to finally get their hands on. It's also fun to run with them.
5. The menu's going to change every single day.

6. Within that rotation will be delicious pintxos ("little snacks"), charcuterie ("little meat snacks"), and some larger plates like paella ("paella").

7. Those paellas will boast an absolutely crazy range of ingredients, from 40-day dry-aged beef, to rabbit and snails.

8. Before opening this resto, the team took an inspiration-seeking trip to Spain. Because of that, you'll be lucky enough to eat sea cucumbers, pig ears, and Percebes barnacles.

9. Those are not onion rings on those salt cod croquettes up above, they're tempura-fried lemon rings.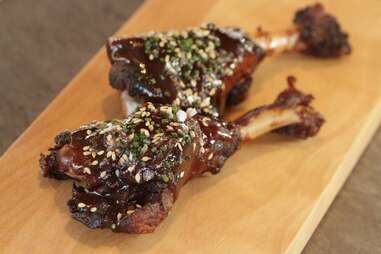 10. They describe the duck wing drumettes as almost a reworked Spanish version of Peking duck, thanks to sea salt, sesame seeds, and a quince glaze that Rosie Perez will pronounce just correctly enough to win $400.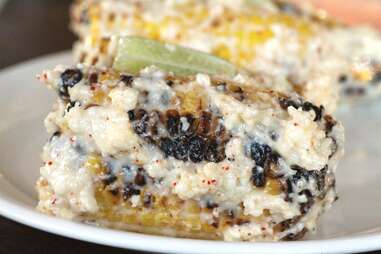 11. The grilled corn's got a real nice char, an abundant garlic-y Spanish mayo, Espelette pepper, and Cotija cheese, because you absolutely need Cotija cheese.
12. They do sangria on tap. Partyyyy! There's also an entire roster of gin & tonics.

13. Fact: Gin & tonics are huge in Spain. Spain is the largest consumer of gin in the world; according to Toro's head bartender, it's the "first and last thing you drink on a night out".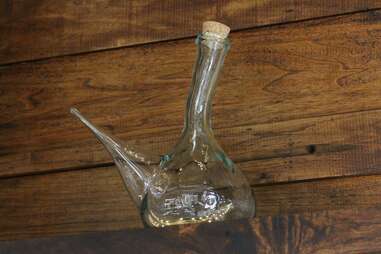 14. This is a Perron. They fill it with cava, and, when it's poured, it forms a spout so everyone can share the bubbles but nobody's lips will touch the bottle. Do it wrong and all the booze will touch your pants.