Real Texas BBQ, now in taco form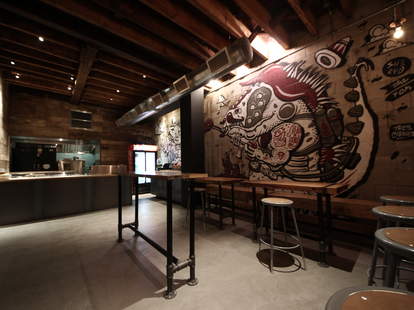 Look out, Sizzling Fajitas!!™, because Tex-Mex actually means something these days, thanks to Tres Carnes, which is melding BBQ and tacos in a fast-casual urban roadhouse complete with a "living art" mural -- which means artists will take turns re-doing it, not that it's of that Vigo dude from Ghostbusters II
The initial mural is a monster with a flamethrower burning a pig to the bone. So yeah, he's a better BBQ-er than you

Pitmaster Mike Rodriguez cut his teeth and lots of other things at Austin's famed Salt Lick BBQ compound. As the name suggests, he focuses on three meats, all smoked "low and slow over real Texas hardwoods", and toppable with everything from guac to radishes. This here is the "El Pollo Adobo", which gets hit with a wet rub of achiote, adobo sauce, lime, and spices

They've also got 16hr slow-smoked salt & pepper chopped brisket, and this porky beauty prepped in a "Texican" rub and "pulled hot"

Much like Rip Torn at this and every other moment, the guac is "coarsely smashed" and packed with garlic, lime, cilantro, and a tinge of BBQ smokiness

This creamy bowl of delicious charred corn, cilantro-lime mayo, crema, and cotija cheese is called esquites, and it's essentially a smoky version of the Mexican street corn you know and love, but in a bowl

You'll probably also want to nuzzle up to a Cock's Tail... michelada!... a special sweet and spicy mix with a touch of blood orange

Finish yourself off with a La New Yorkina-made Churro Doughnut dusted with "double-smoked" sugar and cinnamon and filled with crema de caramelo -- streeeeetch it fuera-fuera-fuera... you remember the commercials!