NYC Poke Favorite Chikarashi Opens Its First Full-Service Restaurant in FiDi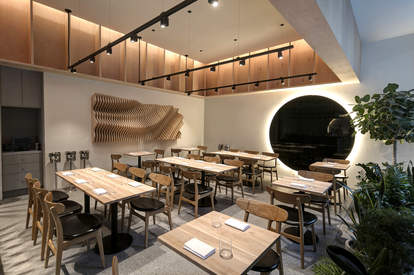 Chikarashi, Manhattan's favorite somewhat-spendy poke spot, has added a third link to its mini chain with its first full-service restaurant. Chikarashi Isso leapfrogs the brand from fast-casual to semi-formal, eschewing $14-$25 plastic bowls for a menu of shared plates that mostly land above its predecessor's price range. And you'll need a few to feel satisfied.
 
Tasting menus are always a wonderful way to experience anywhere that offers 'em. They often run upwards of $100 per person. Here, the eight-course chef's tasting costs $145, includes all the restaurant's fancy stuff like A5 Wagyu, kaluga caviar, and gold flakes, and it's your best bet if you've recently won the cash prize in an eccentric millionaire's haunted mansion sleepover challenge. Tack on a few tipples, plus tax and tip, and Isso is solidly in the splurge zone. But choose a couple of à la carte options like the veal cheek wontons ($28), plump, crispy blowfish tails ($19), or fragrant uni risotto ($27) and you'll still enjoy some of the best of what this chic addition to the Financial District has to offer for fewer dollar signs.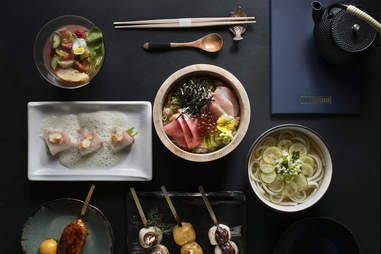 Shared plates

| Courtesy of Chikarashi
Skip the chef's adventure to curate your own and you'll have to miss the $75 beverage pairing, too -- but Isso's drink menu is a joy to peruse -- absent the takes on takes you'll see all over town. And cocktails like the $16 Kissu (gin, hibiscus, yuzu, egg white, bitters) and the $18 FiDi (bourbon, cherry, barley, shochu, vermouth, amaro) are all under $20: priced at a few bucks less than what you'll see at restaurants of a similar echelon. You'll even find some wine, sake, and sochu selections by the glass for under $15 and a few bottles poised around $50.
  
Chikarashi Isso's demonstrative attention to each of its dining experiences, both the long, lingering, luxurious tasting, and the standard (though still pretty posh!) bill of fare from which it borrows, ensure you won't feel like you're missing out if you budget for the (still not cheap!) latter. Blowfish is more exciting than gold leaf, anyway.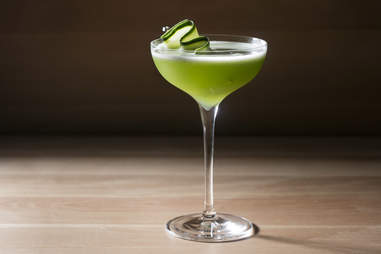 Gojira

| Courtesy of Chikarashi
The Chikarashi Isso Cheat Sheet
Est. December 3 | Financial District
A pricey seasonal chef's tasting with abundant à la carte options for a little less cash
The buzz: Executive Chef Michael Jong Lim (formerly of the now closed West Village hit Neta and preternaturally expensive Masa) helms the first full-service restaurant from popular poke destination Chikarashi. 
The vibe: The 30-seat dining room feels as exclusive as its prices would suggest. High ceilings and understated decor keep the small space breathable. It can skew a bit loud, but tables are spaced just far enough for it to register as ambient noise rather than din. An adjacent bar area that seats 10 is a comfortable place to wait for a table. 
The food: Menu items will change based on seasonal availability. Veal cheek wontons, crispy blowfish, and uni risotto were among the best recent à la carte offerings. Kimchi, tsukemono, and gochujang are made in-house, and much of Chikarashi Isso's produce comes from chef Lim's parents' Connecticut farm. 
Cost: An eight course tasting menu is $145 before drinks, tax and tip. À la carte plates range from $11-$68. Most cocktails are $16 and a smattering of wine and sake bottles among dozens of options can be had for $50-$100.
Sign up here for our daily NYC email and be the first to get all the food/drink/fun New York has to offer.