New York There's no question that Manhattan's Chinatown is changing, with a host of new restaurant arrivals adding fried chicken and acai bowls to the neighborhood's more traditional roster of dim sum and seafood. From standout noodle shops to a retro burger joint, here are 13 must-try spots between Allen and Lafayette, a mix of old standbys and new kids on the block. No Donnie Wahlberg, though.
Best rotisserie chicken: Papa Poule
189 Lafayette St In a city teeming with spendy roast chickens, this takeout-only spinoff of French cafe Maman brings the dish back to its humble roots. Michelin-starred chef Armand Arnal turns out an incredibly juicy rotisserie bird that's available whole, in sandwiches, or on top of salads. The sides are also top-notch, especially the caper- and dijon-dressed potato salad (when it's on rotation, that is). More Stuff You Will Like
  13 Doyers St You can't write a guide to eating in Chinatown without a nod to this OG tea parlor, which has been slinging dumplings and other dim sum favorites since 1920. Second-generation owner Wilson Tang took the helm in 2010 and breathed new life into the biz (everything is made-to-order), while also maintaining its retro charm.
  68 Forsyth St Bring your friends and order the aptly named "big tray of chicken": a Henan dish consisting of wide, hand-pulled noodles, bone-in chicken, and potatoes stewed in sauce spiked with chili oil and cumin. The noodle soups are standout, too, and since everything is insanely cheap, you can eat your way through the menu without spending a fortune. Continue Reading
  76 Mott St There's no shortage of noodle shops in this neighborhood, but there's only one that offers ramen. Tucked in a Mott St basement, this cash-only noodle den prides itself on creative bowls like spicy green curry and black pepper tonkotsu.
  144 E Broadway Come for the succulent potstickers, stay for the soul-warming bowls of hand-pulled noodles. You'll be so busy slurping pliant strands from the aromatic broth, you'll forgive the bare-bones service and the occasional dough-stretching smacks coming from the kitchen.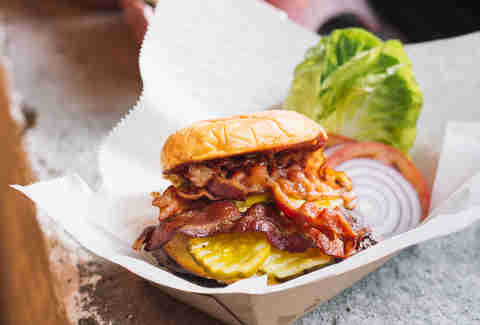 191 Grand St This throwback dinette -- an offshoot of Gotham West Market's Genuine Roadside -- offers excellent burgers, ahi tuna tacos, and brioche ice cream sandwiches courtesy of Oddfellows' pastry whiz Sam Mason. At night, you can head downstairs to the subterranean Liquorette for cocktails from barman Eben Freeman.
  28 Mott St Dinner and a show takes on new meaning at the Chinatown staple, where its namesake dish gets paraded through the dining room and skillfully carved tableside. The juicy slivers of meat and crisped-up skin are left for diners to roll up in roti-like pancakes -- a pricey splurge that every New Yorker should make at least once.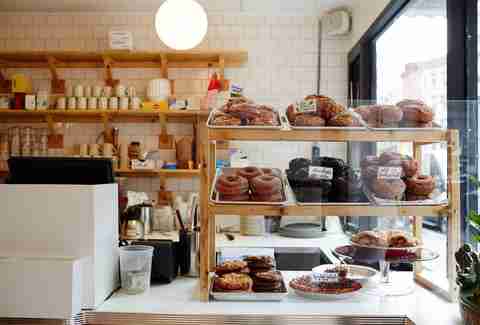 43 Canal St The food gods answered our fried chicken prayers when the famed Williamsburg chicken spot opened an outpost on the outskirts of Chinatown. All the BK favorites are on the menu, from the crispy fried bird to the luscious banana cream pie -- plus a Manhattan-only sourdough donut.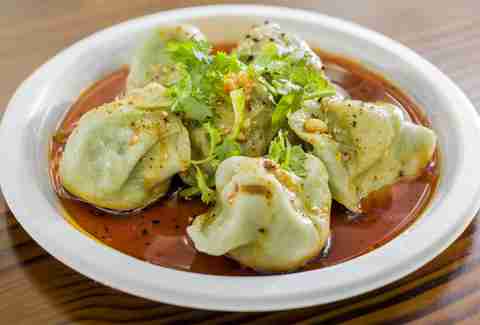 67 Bayard St No matter which branch of this Bourdain-approved chainlet you're eating at, the mouth-watering hand-pulled noodles and lamb burgers always satisfy. Here, it's conveniently located next to Chinatown Ice Cream Factory -- which you should definitely hit up after dinner, by the way.
Sign up here for our daily NYC email and be the first to get all the food/drink/fun New York has to offer.
Patty Lee is a reporter and editor who has written for Zagat, Time Out New York,
New York Daily News
, and Cooking Channel. She's been eating her way through Chinatown since birth. Follow her on Twitter and Instagram.