Hip Downtown Destination Chinese Tuxedo Offers Delivery for the First Time
The Doyers Street enclave continues to adapt after indoor dining is banned in NYC.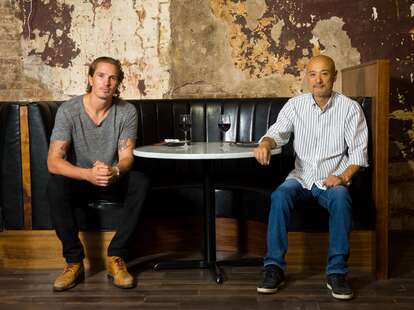 At the best of times, to run a successful NYC restaurant is to operate within a tenuous ecosystem. But factor in a pandemic, and it all grinds to a screeching halt. For the team behind Chinese Tuxedo, navigating this daunting reality in a community especially financially devastated due to COVID-19 could have been their undoing. But conquering the unexpected has been their approach right from the get-go.
Back in 2016, restaurateurs Eddy Buckingham and Jeff Lam joined forces with executive chef Paul Donnelly to open Chinese Tuxedo, a restaurant devoted to the East Asian cuisine that Lam (who was born in China's Fujian province and is Chinese American) and Buckingham (an Australian who was born in Singapore) revered during their time in global food metropolises like Shanghai and Sydney. With Donnelly originally from Scotland, to some, a trio of New York transplants bringing their elevated take on Chinese food straight into the heart of Chinatown might fly in the face of reason—but launching "a contemporary, ambitious-style Chinese restaurant from East Asia to New York," as Buckingham puts it, is exactly what they were aiming to do.
"When we speak about the culture of a town and what we love most about the city, a huge part of that is the dining room and the restaurant," observes Buckingham. "Chinese Tuxedo is an homage to the neighborhood, the street and Chinese food culture in NYC." Indeed, the restaurant's name was inspired by the original Chinese Tuxedo from 1897 (considered to be Chinatown's first fine-dining establishment), which was also located on the same Doyers Street, a notorious L-shaped street in Manhattan known to be the site of local gang wars in the early 20th century.
That homage became a visual triumph under fellow partner Jeff Lam, a general contractor by profession (Lam and Buckingham had worked together several years prior, when they opened a bar in Manhattan, and cemented their friendship over their mutual love of Chinese food). During a two-year renovation of the space, they unveiled hundred-year old pillars, columns accented with real gold, and 160-year old wall finishes which had retained their glorious patina—all vestiges from its time as a former Chinese opera house.
Inspiration for the interior was drawn in part from his roots, explains Lam: "The Chinese characters represented at the main entrance signify blessings and are reminiscent of the imperial architecture of China—we wanted to create a contemporary, New York version of that atmosphere through the doorway and theater-style interior."
The bi-level space also features a sunken dining room which opens up to towering tropical plants, nestled between dark leather banquettes and Carrera marble tables. The immersive setting was intentional: "The main area is outfitted such that it feels like you're watching a performance," notes Lam.
It was Buckingham who tapped Sydney-based chef Paul Donnelly to join the duo. Then head chef at the acclaimed Ms. G's, where he worked with award-winning Vietnamese chef and restaurateur Dan Hong, Donnelly also had stints at Japanese and Thai restaurants, including the Michelin-starred Nahm in Bangkok. "I was quite happy in my career and what I was doing, but I felt like I needed a new challenge. I wanted a breath of fresh air, something a bit new," said Donnelly, who arrived in NYC during the summer of 2016 to conduct market research. "After doing the tastings, I felt like the pairing of myself, Jeff and Eddy was a match made in heaven." Indeed, during the course of conversation, the three of them often finished each other's sentences and shared laughs, evidence of the easy friendship they formed which had strengthened through their partnership.
Donnelly's menu at Chinese Tuxedo both respects and reimagines the cosmopolitan East Asian dishes enjoyed by Buckingham and Lam throughout their youth, including: honey-glazed char siu pork and squid ink noodles with shiitake mushrooms; to inventive takes like the crispy eggplant paired with a Sichuan peanut-caramel glaze; and updated classics like the shrimp and lobster toast, which is among the restaurant's most popular items.
In less than four years, the trendy hotspot—which includes a buzzy cocktail bar downstairs called Peachy's (opened in 2018, it's temporarily closed until bars are permitted to reopen)—has garnered acclaim for its cuisine. But dining out in the time of COVID-19 has been entirely upended (understatement of the decade, we know). Chinatown was the first neighborhood in NYC to be seismically disrupted by the pandemic, due to xenophobia and fear that resulted in a sharp decline in business as early as February.
Forced to close in March, Chinese Tuxedo attempted a summer reopening when outdoor dining became the city's version of a block party on every corner—but with Doyers being among the narrowest streets in Manhattan, pivoting from a 130-head dining room to a barely-there outdoors space simply wasn't viable.
Fast forward to the end of summer 2020. Originally scheduled to open in the springtime but delayed due to COVID-19, the team debuted their new casual Southeast Asian spot, The Tyger in SoHo in mid-September. The menu called on chef Donnelly's experiences working in Bangkok and a variety of Asian restaurants within Australia. And the best part—it allowed them to bring back much of the staff from Chinese Tuxedo to work at the new spot.
Shortly afterward, Chinese Tuxedo reopened its doors after an eight-month hiatus on November 10. But the latest ban on indoor dining in NYC was recently issued, resulting in yet another pivot by the team. In lieu of onsite dining, diners can now order delivery of their menu for the first time ever exclusively through Thrillist's Ghost Kitchen, a special series of restaurants hosting two-week residencies from a ghost kitchen in SoHo, offering limited-edition takeout and delivery of their popular menu items from December 23 - January 1.
"The fact that a group like Thrillist, who recognizes that a huge part of what they're built on is all of these independent businesses, and it's time to support and give back by those who are able to do so—it has been very affirming," says Buckingham.
Indeed, because for New Yorkers, it is restaurants which often give us our sense of community. As vibrant, multifaceted havens which offer equal measures of cheer and comfort, what has been remarkable—despite all the turmoil, tension, and turbulence of 2020—is that the efforts to sustain and support these essential institutions have come not from those who actually have the power to extend the industry a lifeline, but from those who care about it the most.
Sign up here for our daily NYC email and be the first to get all the food/drink/fun New York has to offer.
Swathi Reddy is a Louisiana-born, NYC-based freelance writer and marketer. Formerly a Food & Wine staffer for over a decade, she can't think of anything better to do in life than talking about food while eating food. Except maybe discussing cocktails (or wine).