Clover Hill

| Photo by Ezra Pollard
Clover Hill

| Photo by Ezra Pollard
After a two-year pandemic hiatus, Clover Hill in Brooklyn Heights has made its comeback with a grand reopening this week. Named after the neighborhood's original 1800s moniker, this 34-seat eatery features fare that melds New American and French cooking.
Helmed by partners Clay Castillo, Gabriel Merino, and executive chef Charlie Mitchell (Eleven Park Madison, One White Street), the restaurant first briefly opened in December 2019 but closed shortly after due to the pandemic. The revamped concept kicks off with a new daytime program open from 9 am-3 pm, with an a la carte menu that features an emphasis on comfort foods that are artfully- and delicately-curated.
"I aimed to balance what's comforting with what is considered to be a fine or more of an elevated style of cooking," says chef Mitchell. "Our goal is to have thoughtful sourcing—to which I apply my more classic training without losing the integrity of the product."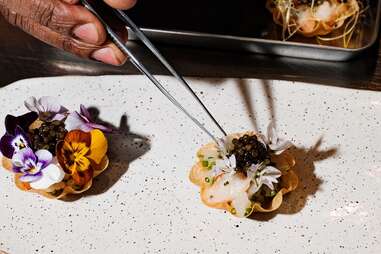 Highlight offerings include Croque Fromage (brown butter, truffle, brioche); Smoked Ricotta Agnolotti (spinach, viola, whey); and Wagyu Chuck Flap (umami paste, green peppercorn, turnip).
The beverage menu consists of a range of globally sourced natural wines as well as beer from local breweries like Finback in Queens. In addition, the signature cocktail list includes the Not a Mezcal Negroni (campari, fernet, sweet vermouth, bitters) and A Pair of Two (rum, tangelo, apricots, chamomile syrup).
Designed to emanate a lived-in feel, the space is decorated with vintage photographs and paintings that showcase scenes of Brooklyn's past. White, brick walls contrast with the deep-wood floors, hanging ivy plants, and stacks of antique books to create a snug, intimate ambiance.
Clover Hill is now open Wednesday to Sunday from 9 am-3 pm, and will launch their seafood-centric dinner tasting menu in March. Reservations for the dinner program are available via Resy.