Editor's Note: Lobster rolls are the king of all summer foods (shut up, watermelon slices), which is why we sent our very own Andrew Zimmer to try and figure out what the Perfect Lobster Roll is, where it is, or if it's totally a figment of our nostalgia-soaked collective unconscious. Catch up on previous legs of The Quest here, and follow along on Facebook, or by using #LobsterRollQuest over the course of the summer to see each step of The Quest unfold.
You're dockside. The sun is shining on your face. The waves break easy against the hulls of nearby boats as a brisk New England breeze jostles your beach hair. You've got a perfectly red whole lobster on your plate; you crack into its well-shaped claw and draw out a whole piece of meat -- it's a master class in how to summer, basically. You go to put the finishing touches on your prize, you dunk it with gusto into a warm side dish of drawn... mayo?
This is how exactly 0% of people fantasize about their lobster experiences. Which is why the logic behind the Connecticut-style butter lobster roll is so sound. Bun, lobster, butter -- that's it. It compresses the whole experience into one glorious sandwich. But for whatever reason, when it comes to rolls, the mayo-laced Maine style is king.
But there's still a place where the goopy mixture of eggs and oil is scorned in favor of everyone's favorite popcorn topping. And that place is Connecticut, the Nutmeg State, and the birthplace of the hot-butter style. And since no true Quest for the Perfect Lobster Roll would be complete without it, I took a quick road trip up the coast and educated myself on all things hot and buttered and lobster.
As always, for those of you who hate reading but love planning sweet, sweet, butter-soaked lobster roll road trips, check out the current Perfect Lobster Roll Power Rankings right here.

First stop: Milford, CT, probable birthplace of the hot buttered lobster roll
I wanted to start my quest into butter country at the place where it all began, the wellspring from which the butter roll burst, and unlike the Maine style (which has several origin stories), all the accounts I could find (The Encyclopedia of American Food and Drink, Connecticut Magazine, and Connecticut Icons: 50 Symbols of the Nutmeg State to name a few) pointed toward the coastal town of Milford, and a restaurant named Perry's as ground zero.
I emailed the Milford Historical Society to see if they could confirm their own OG status, and while they weren't positive, they confirmed insofar as a place called Perry's "on Boston Post Road (US No. 1) and Meadows End Road" claimed to have invented it and had a large, well-known sign declaring "Home of the Famous Lobster Roll." I also spoke with "Lobster Gal" Sally Lerman who wrote the book Lobster Rolls of New England: Seeking Sweet Summer Delight, in which she spoke to Wendy Weir, a granddaughter of Harry Perry -- the proprietor of Perry's and inventor of the sandwich -- who confirmed the story.
The abridged story goes like this: sometime between 1929 and 1934, a liquor salesman walked into Perry's and asked them to whip him up a lobster sandwich -- they put together what was more or less a grilled lobster and butter sandwich. Eventually they wised up to the fact that white bread wasn't substantial enough and had nearby (and now closed) French's Bakery create a special roll just for them. They devised a method where they cut a V-shaped canyon in the bun, buttered it, filled it with lobster, buttered the top piece, and pressed the whole thing on the grill (this is, surprisingly, still a novel approach). The sign went up, a patent was sought but never acquired, and the hot buttered style proliferated along the coast.
Perry's eventually shut down in 1976. So, unfortunately I couldn't try the original (I attempted to create it myself, though), but I did make up for that by stuffing my head with six great lobster rolls in one day (don't worry, I did like 15ish pushups, too, so...).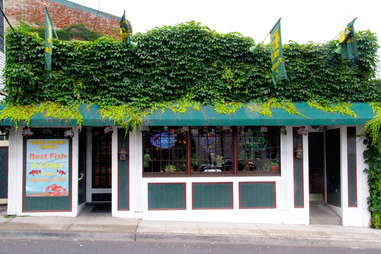 Seven Seas
Milford, CT
Current rank: No. 4
This spot is very much a hybrid of an old dive bar and a quaint New England tavern, with a wall separating a seating section with vintage photos and taxidermy from the bar where there was one other person drinking and reading the paper when I came in slightly past 11am. This spot is the local favorite, it took top place in a recent reader survey taken by the CT Post, and claims to be the unofficial hangout of the The Dan Patrick Show. At press time, the Dan Patrick Show hadn't responded to my email attempting to confirm. But, what I can confirm is this is a delicious lobster roll.
This place knows how to stuff a lobster roll to the gills and still make it a manageable sandwich. There's just a ton of meat in this guy. And almost no spillage from plate to mouth.
I have to admit I was a little disappointed when "The Double," which I briefly fantasized as a giant, double-long, double-stuffed roll that would make my Instagram light up like a damn Xmas tree turned out to just be two lobster rolls. Two lobster rolls is still pretty fucking great though.
The meat is all claw and knuckle, which when executed properly (i.e., not skimpily) is still the frontrunner for meat execution in my eyes. There's one drawback, and this is a phenomenon I assume you'll be familiar with once I say it (and I have to credit The Lobster Gal for articulating this), and that's the "spongies." The spongies are the slightly differently textured, less-sweet finger of a claw. Besides that, though, this was a top-level roll. The butter was rich, the meat was sweet, and it had the disintegrating bread sensation that I would become extremely familiar with as the day went on. This is when the inside of the bun becomes almost liquid under the heat and saturation of the butter. Here it is balanced excellently by the crispness of the toasted bun's exterior.
The Lobster Hut
Milford, CT
Current rank: No. 8
Located conveniently under a billboard on the side of the road, where I'm sure many lobster-craving motorists find themselves on their way to somewhere, this trailer was the next stop on The Quest.
There are picnic tables outside the trailer and I was prepared to love this place (I'm a sucker for quick 'n' dirty roadside eats). I also noticed this when I glanced at the menu: it also had an option for "Twin Lobster Rolls" and "Extra Large Lobster Roll" -- I would see this many more times on the trip through the home of the Huskies, and any state that anticipates one of my main issues with the lobster roll (that it's often too small and too quickly eaten, and offers solutions) gets an A+ in my book.
Unfortunately, this roll wasn't everything I dreamed it would be. I chickened out of both of the larger options, mostly due to my ambitious rolling schedule, and got the single. It seemed to be entirely made of knuckle meat and uniformly chopped claw meat, which gave it the feeling of eating a mass of lobster nuggets in a bun that was too large for just that.
Lobster Landing
Clinton, CT
Current rank: No. 1
We've got a new frontrunner here. This spot leap frogged Red Hook because A) it's got an excellent lobster roll, and B) it's the whole package. Close your eyes. Picture what you think a great lobster shack should look like.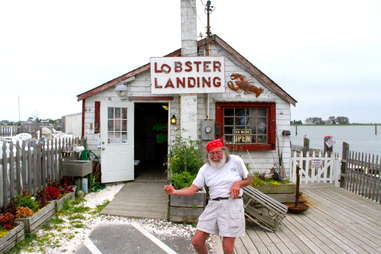 This place has everything you just imagined: a dockside location with groups rolling right off their boats to score sandos; a ramshackle physicality from a 100-year-old, hurricane-battered past; active lobster tanks and laundry baskets filled with lobsters caught and brought in that day; and Bacci -- the charming, white-bearded air-guitar lover who holds court behind the counter, bundling freshly picked lobster meat into tight mesh bags that get emptied into grilled buns later.
After eating the roll on a picnic table overlooking the boats coming in and finding it completely balanced (a tad smaller than hoped), and beautifully buttered with a hint of citrus, I took a quick tour of how they put this bad boy together.
The first step is obviously the freshly picked lobster, which the owner's children get every morning. Then, after a roll is ordered, the previously mentioned bundles of fresh lobster meat get a very quick bath in a warm pot of lobster brine. With every bag dunked, the brine gets richer and richer and imparts the lobster flavors back into the tender chunks. If you're planning on eating here, make sure you come a little later in the day (about two hours after opening), when it's prime time for the brine.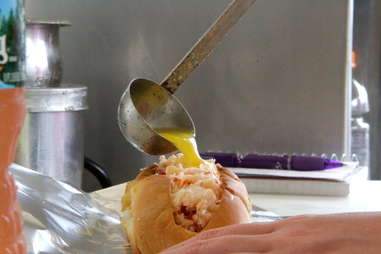 The bun is actually a grinder roll, which they get only from a bakery in Vermont called Koffee Kup. Their method is closest to the original method I saw. They cut a crevasse into the roll though and don't replace the top. Then they throw it on the grill briefly before filling it with the lobster meat and squirting it with lemon.
Butter comes last. It's melted in a giant pot and then ladled over the contents of the roll, wrapped in a foil package, and delivered to the diner.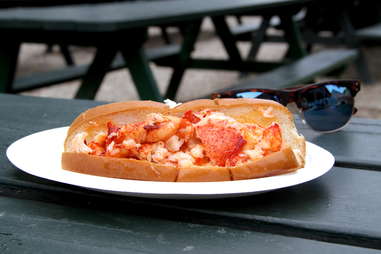 Lenny & Joe's Fish Tale
Madison, CT
Current rank: No. 6
I can imagine that this is the kind of place a ton of people grew up going to. It seems like it's engineered to be a nostalgia factory. There's a carousel with a lobster children were fighting to ride, a nearby ice cream stand, and a massive outdoor garden with rows and rows of picnic tables. All of that probably enhances its lobster roll too, if you grew up with it.
For me, though, this was just a solid, if not spectacular roll. Everything about it was pretty good. The bread was my favorite part: it was light, fluffy, and slightly oversized to contain all the lobster with a superb feeling of disintegrating bread.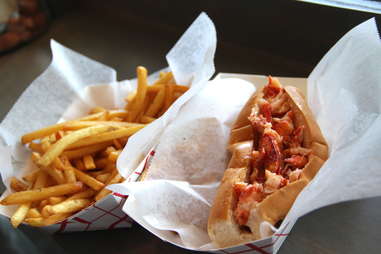 LobsterCraft
Stamford, CT
Current rank: No. 5
So, yeah, I didn't have to go to Connecticut to eat at this mini chain, they have a location at 1 Penn Plaza too. But people I talked to love this place so I gave it a shot. This is another not spectacular, but solid roll. The one thing that stood out is the seasoning they use. None of the other spots on this trek used anything nearly as strong as this. And, after eating pretty much nothing but butter, lobster, and bread it tasted somewhat alien, out of place, and like they were cheating in some way. I kept eating though, and my initial confused and slightly turned off reaction subsided and I came around on it. It waaaaas pretty tasty I thought. You can't cheat while making a lobster roll, I reasoned. In the end it was tasty, the meat was on point, and it managed to distinguish itself from the pack.
Are we closer to the perfect lobster roll? Can we even rank the different style on the same scale?
We are closer. This trip was my first taste of actual seaside rolling during The Quest, and it's evident that the character and the environment is going to play a role. It will always be secondary to taste, but it's important.
Thanks to the Lobster Gal, we also learned about "spongies." Get that shit out of our rolls.
The trip also helped reveal my preference for a hint of citrus, whether on the Maine style or the Connecticut style -- it seems to be a welcome addition to just about any roll.
I have a whole new appreciation for the hot buttered version that I was way too ignorant of before this trip. In the end, though, the CT style is a very different thing than a Maine-style roll. It's a bit like comparing a fried chicken sandwich to a chicken salad sandwich. They've got most of the same ingredients, but they're pretty fundamentally different. But like I said before, we don't live in a perfect world, so for now, they're all in The Quest for the Perfect Lobster Roll.
Sign up here for our daily NYC email and be the first to get all the food/drink/fun New York has to offer.
Andrew Zimmer is Thrillist's NYC editor and he's pretty sure he's about 35% butter right now. Follow him on Instagram and Twitter.