Some people love things you don't, like Anne Hathaway. Or Spam. Really though, Anne Hathaway Spam is pretty awesome, so much so that it's been popping up at some of the hottest (and newest) places around the city, and being used in everything from sushi to paella. Here're four dishes we're totally endorsing.
Recommended Video
Make This Apple Brandy Elderflower Sparkler for Your Next Fancy Party
Spam Musubi
Huge in Hawaii, this Spam-and-sushi combination has familiar sushi characteristics but obviously one major hot dog-esque difference. Onomea serves it with a teriyaki dipping glaze "for the newbies", whereas ramen and Asian-fusion spot Suzume does it with scallions, pickled pineapple, and teriyaki sauce.
Spam Fried Rice
The mad geniuses behind Dorito Kimchee Carbonara at King Noodle in Bushwick have also put together this relatively simple take on fried rice that combines "generous chunks of Spam" (never be stingy with Spam) with julienned carrots, Chinese cabbage, and green scallions.
Spam Fries
Filipino hotspot Maharlika actually has a few Spam options on the menu, including a Spam egg 'n cheese lunch sandwich, a Spam "fresh from the can" side dish, and the best for introductory Spam-o-philes: the spam fries, which're essentially just deep-fried sticks of the meat, that come with banana ketchup and taste remarkably similar to a better version of McNuggets.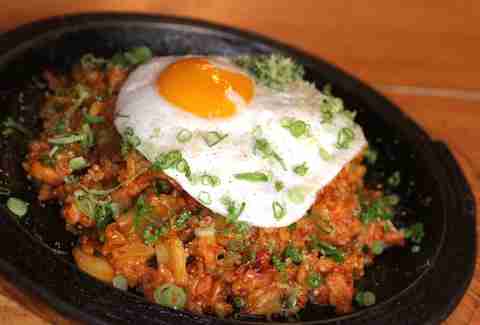 Spam Paella
Perhaps the most high-end Spam may ever get, this Spanish meets Korean fusiony version over at Danji in Hell's Kitchen has gone through 20 or so iterations before settling on the current one, which's stocked with bacon, Spam, and kimchee ("Spam and kimchee is a natural pairing"), all topped with an egg and left to sizzle in a cast iron platter. Not unlike Love & Other Drugs, this one could really turn some people on to the canniest delicacy.