All Photos: Cassie Hepler
Put that super-catchy Michael Jackson song on repeat this morning, because insane Philadelphia burger shop PYT just announced it's coming to NYC this year, and will be bringing with it a bevy of boozed-up milkshakes, Krispy Kreme sliders, and mostly limited-edition Franken-burgers, the most epic of which we've gathered below.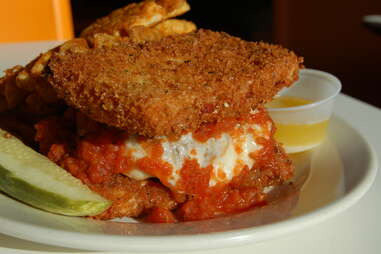 The Deep-Fried Ellio's Pizza Burger
Their latest creation boasts two slices of Ellio's pepperoni pizza that're breaded in Italian breadcrumbs, deep-fried, then wrapped around a marinara-, Provolone- & mozzarella-coated meatball patty. But not a Meatballs Patti, since she was too busy... um, doing something in that Bill Murray classic, according to IMDB.
The Double Bacon-Wrapped Cheddar Burger
The fact that this guy's beef-wrapped in Hatfield bacon, deep-fried to crispy perfection, then topped w/ backyard slaw & cheddar cheese (all on Martin's potato buns), make this the kinda burger that stays on the menu. The fact people like it so much that one dude ordered it with seven patties recently, doesn't hurt either.
The PB&J Burger
It starts with two peanut butter and jelly Crustables that're dipped in funnel cake batter, dredged in kettle chips, and... waitforit!... deep-fried. A banana- and Sriracha-marinated beef patty with applewood-smoked bacon on top round out this monster, which when assembled, stands as many inches tall as you're probably adding to your waist right now: five.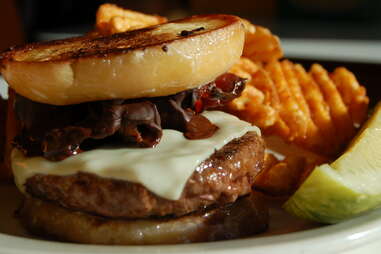 The Doh! Nut Burger
Homer Simpson's favorite includes beef, American cheese, chocolate-covered bacon, and comes on a certain brand's creamy, glazed donut. Doh! You got us, it's Krispy Kreme.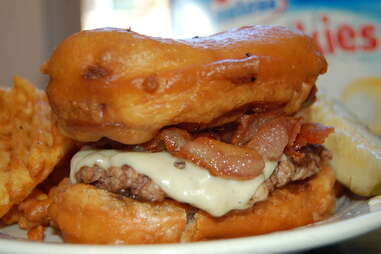 The Deep-Fried Twinkie Burger
This abominably awesome creation made state fairs weep tears of processed cheese last Summer, 'cause who can top two smashed-and-deep-fried Twinkies around pork belly, American cheese & applewood bacon?
The Deep-Fried PBR Burger
You've gotta be 21 or older to imbibe this guy, 'cause frozen PBR is trapped with cheddar cheese between two wontons, then deep-fried. When you take that first bite, the suds run out over the patty, buttered buns, pickles, and house-made aioli.
The Spaghetti Burger
Combining the only two things you know how to make besides reservations, PYT's Spaghetti Burger has turned a bowl of mozz-stuffed, Parm-showered, spicy grilled meatballs and herbaceous baked pasta into a red sauce-ladled cheeseburger, all sandwiched between crunchable noodle pinwheels that're toasted to order.
The Lasagna-Bun Burger
PYT took your Italian Grandmother's favorite Sunday supper to new depths (of their deep-fryer) with this sucker: 5oz of cheesy-spicy meatballs sandwiched between two quarter-pound wedges of breadcrumb-battered, beef-gravied noodle pie.