Dom DeMarco at Di Fara

| Cole Saladino/Thrillist
Dom DeMarco at Di Fara

| Cole Saladino/Thrillist
Pizza and the subway are among the top five things we celebrate and denigrate in New York. When they are good, they are very, very good, and when they are bad, better whine about it on Twitter. The Pizza Principle -- an ironclad law of physics, sort of -- marries these alternately loved and loathed city staples.
Writing in the Times in 1980, a local posited that New Yorkers for decades had been spending the same amount of dough on a typical slice (aka regular; aka cheese) as they had been on a single subway ride. "The transit token has no relationship to capital costs, union contracts, passenger miles, or depreciation schedules," a follow-up reads. "Forget all that. The critical variables are flour, tomato sauce and mozzarella cheese.''
For years, the Pizza Principle bounced around on slow news days. Then in 2014, another local published his own independent, labyrinthine analysis of the theory. He found that it still mostly held true with one exception, the immortal unicorn of New York City living: the dollar slice.
Today a single subway ride costs $2.75. A dollar slice costs, well, $1. And 70 venues hawk pizza across the five boroughs for less than the cost of traveling between them. How they manage to defy the Pizza Principle is a matter of derision and perhaps a little affection among New York City's pizza masters. We spoke with six of NYC's most authoritative pizza chefs around this question: How does the most expensive city in the galaxy still manage to feed us for a buck a slice? And -- just as importantly -- do we really want it to?
"My brother and I had no food experience prior to opening 2 Bros.," says Eli Halali, one of the citywide chain's eponymous bros. "Initially, the dollar price point was a promotion to get people in the door -- but from Day 1, the reception was overwhelming."
Dollar pizza is accessible at all hours, to all demographics. "Where else can you wait in line for a slice with a tourist family from Europe, a broke college kid, a Wall Street banker, and Katie Couric?" asks Halali.
But how do venues like 2 Bros. survive in a pizza town abundant with, um, actually good pizza?
The ingredients. To produce the volume of pies necessary to maintain thin-crust profit margins, ingredient quality varies. The cheap stuff is sourced from wholesalers like Restaurant Depot, a massive foodservice supplier with ground-floor price points.
"Where else can you wait in line with Katie Couric?"
"I wouldn't order a pizza at a sit-down restaurant. When I was growing up we called it fast food," says 85-year-old Mary Dean Healey, chewing a plain slice in the back of an East Village 2 Bros. "It's like ordering chicken nuggets at the Palm Court. But it gets the job done."
Stripped of all other ambitions, the product fills an essential need: affordable sustenance. You may be eating bulk-order cash-and-carry Parmesan, but the stuff has become an NYC icon in its own right.
"As long as we can keep our doors open at $1, we will," Halali says.
For Joe Pozzuoli of Joe's Pizza, the art of pizza making is mired in family tradition. Founded in Greenwich Village in 1975 by his Italian immigrant father, the famed eatery has long been a family affair.
"We've been called the quintessential New York slice," Pozzuoli says. "We make pizza exactly how it should be."
For Pozzuoli, this means dough made fresh with ingredients shipped every 48 hours. San Marzano tomatoes arrive from Italy, and parmesan is trucked from Wisconsin. Both come from the same purveyors Pozzuoli Senior used in his day. An old Bakers Pride oven browns each pizza -- the same mammoth appliance the shop opened with.
"It might need a whole lot of repairs, but it makes delicious pizza," Pozzuoli says. "Consistency is important: We want people to have the same slice they enjoyed 20 years ago."
"Dollar pizza is a bad thing."
Pozzuoli says he'll never reconfigure his recipe to keep costs down. He'll raise prices to maintain quality. A $2.75 -- or one MTA swipe -- a slice at Joe's is just dense enough to fold without cracking, smothered in fresh sauce and mozzarella.
"To put it simply, dollar pizza is a bad thing. It devalues New York pizza in general," Pozzuoli claims. "You can't serve pizza at that price point without cutting down on the value. Just because you're drunk doesn't mean you need to eat badly.
"To make a dollar slice we'd have to use frozen everything -- probably discount cheese in large quantities from some place like Jetro," he says, referencing another big-box wholesaler. "We'd have to get a new oven and stop making repairs. Or we'd have to cut each pie into like 25 pieces. You'd be eating Costco sample-size pizza. But this is all theoretical -- that's not how we play the game here."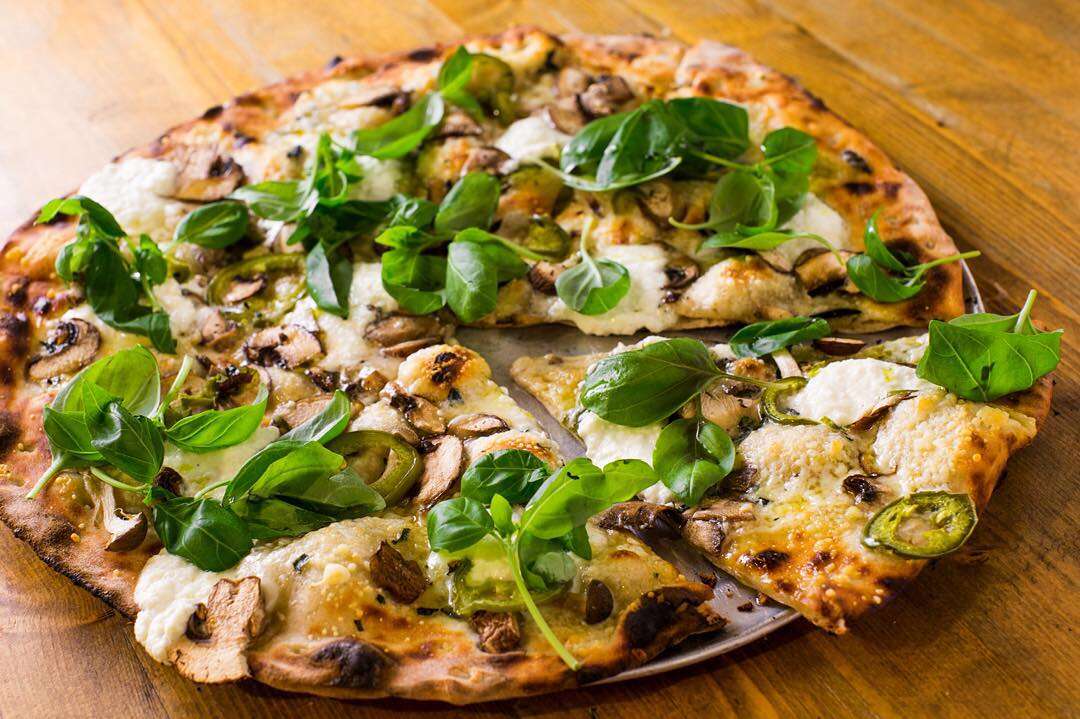 "I wanted to start a restaurant that serves pizza, not a pizza place -- there's a difference," says chef Matt Hyland, who started Emily with his wife, also named Emily. "My goal was pizza that I thought tasted good. I'm not trying to reinvent the wheel here."
Emily in Clinton Hill is a restaurant, cloth napkins and all. Unlike at your slice grab-and-go, diners savor decadent pizzas, scarf up dry-aged beef burgers, and linger over pisco sours.
The thin, slightly charred pizza is ornamented with chorizo, havarti, truffles, artisanal honey, and roasted pistachio, and served on ceramic crockery. You might even be tempted to approach your slice with cutlery.
"New York-style pizza isn't trying to be eclectic or unusual. We just took the same flavor profile and ran with it," Hyland says. "I've actually never had [a dollar slice]. I'll have dollar dumplings any day -- but there's something about pizza. It's just not right." For him, it's less a matter of grease or quality than of respect.
Emily preps its sauce daily with Jersey Fresh Tomatoes. Dough is tossed in King Arthur Flour. Murray's delivers specialty cheeses, and BelGioioso provides the basics. Mozzarella is homemade, and produce comes from local Greenmarkets. Personal pies start at $12 -- and that's the lowest they'll go. Dollar slices are not an option.
"I can tell you how it's probably done," Hyland says. "There's this flour called Trumps. No relation to the president. It's high gluten -- really nasty stuff. When it cooks, it browns the pizza so it looks like its cooked all the way through. Sauce-wise, they're using tomato paste and watering it down. So you see -- I can't make Emily pizza cost a dollar. And obviously, I won't."
Massoni
Celebrity chef Dale Talde (Rice & Gold, Talde) opened his "Italianish" Midtown spot after getting to know his neighbors, the Hylands.
"[They] helped me out a lot," he says. "They know better than anyone how much good ingredients matter. The stuff is good."
He continues: "I came from a family that understood pizza as Pizza Hut. The idea was the adults don't really eat pizza but the kids like it. I grew up eating that. And honestly -- that's a piece of what influenced Massoni's pizzas."
You can't buy individual slices at Massoni. But Talde is familiar with the dollar hustle.
"City pizza is a business -- it's kind of a racket. Dollar slice places can't be ingredient-driven," he says. "I'm not shitting on them, but what do you expect? Fuckin' foie gras? Cheese made in the French Alps? Pepperoni made by some grandma in Sicily from her home-grown black heritage pigs? But you're gonna eat on your way to the next meeting. That's how New York goes."
"When I first came to New York I literally had $20 in my pocket. Probably literally," Talde adds. "Dollar pizza was a lifesaver. That's where my affinity for it comes from. It was like my lifeblood when I came here. I always add pepperoni -- that's how you make it a meal. Without pepperoni, it's just a snack."
"Even Pizza Hut is probably better."
Yet even a simple snack can be hacked. Here's how the two-time Top Chef competitor breaks down the elements of your $1 slice:
"The trick with dollar pizza is that you don't want it right out of the oven -- you want it after the reheat," Talde says. "These slices are thin and crispy, so if you get them after their second round in the oven, the crust is really fine and crackery. I love that. It probably doesn't help the sauce of the cheese to sit in the case, but the texture is worth it for me.
"The sauce is really concentrated in flavor because its made from a paste. That means it's tangy -- it's adding some acidity to the pizza. Even if it doesn't taste so good it still adds that acidity."
"The cheese is just kind of the thing that holds it together. It sits on top, and that's its purpose. Makes things a little richer but there's not much flavor. I'm telling you: it's all in that charred crust. That's the best part.
The guy clearly knows his way around an improbably cheap piece of pie. But ask him how he'd make a slice he could sell for a single buck? "Man, I have no idea," he says. "Some mass-ordered Restaurant Depot sauce from a can. Add some water. Throw it on pre-frozen dough. Damn, I wouldn't do that, though. Eating it and making it are different things. It's comfort food, but it tastes like plastic. Even Pizza Hut is probably better."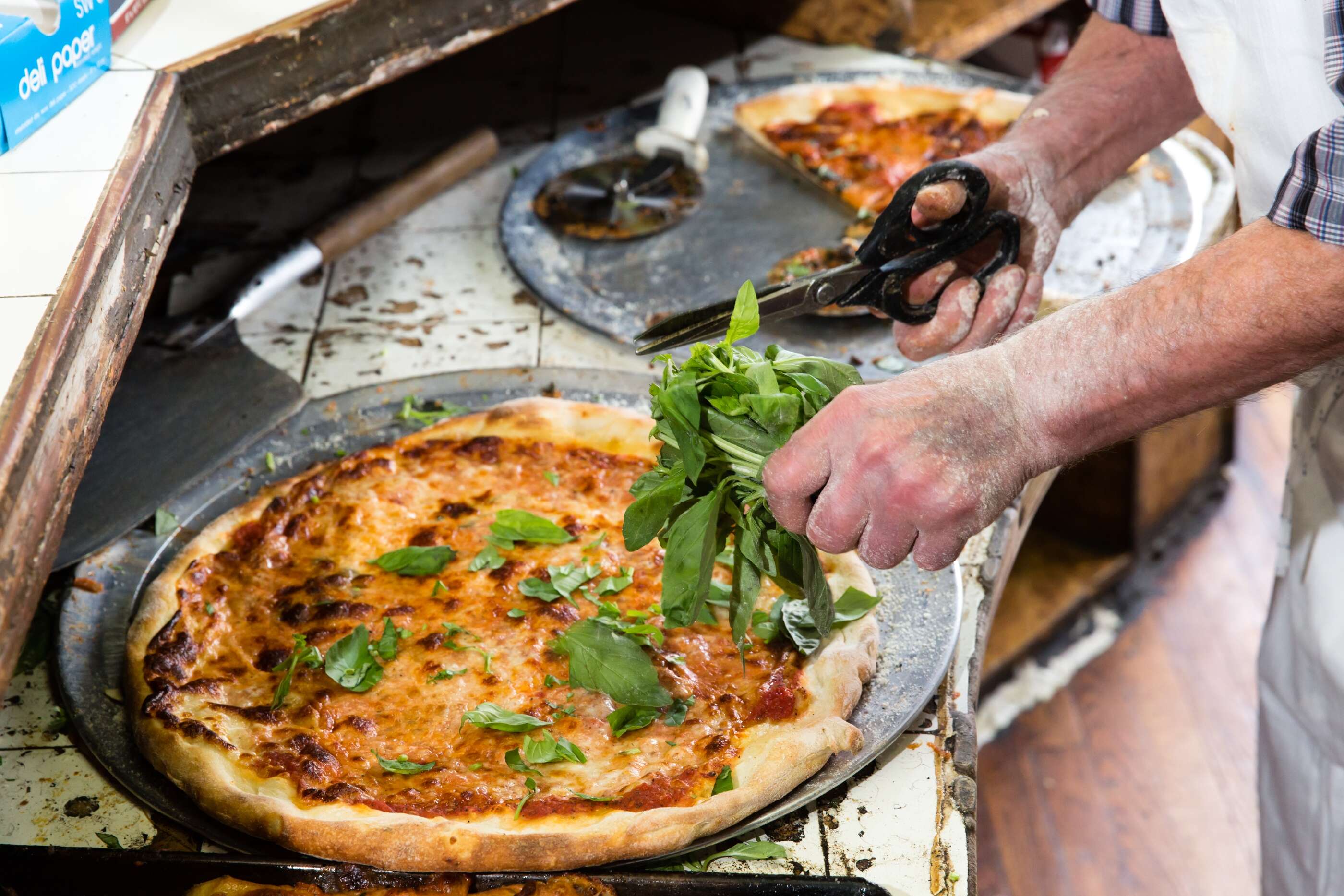 "Enter After Ordering," reads a directive scrawled in ballpoint pen on a pizza box outside of Di Fara in Midwood. Customers order at a filmy window before stepping inside the 54-year-old shop.
At 81, owner Dom De Marco is arched over mounds of dough at least six days a week. After spending more than half his life in New York by way of Italy, his accent is a kind-of Italian/Brooklyn mash-up.
"I been doing this for a long, long time. I got some people in here helping with the prep work," DeMarco says. "But the pizza making? That's my job."
Like at Joe's, consistency is lifeblood at Di Fara. De Marco's oven and recipes are ancient. He samples the pizza each morning to ensure that the day's sauce is just right.
"I sure as hell wouldn't let anything like that go down in my kitchen."
DeMarco orders canned, peeled San Marzano tomatoes from Italy, as well as a secret olive oil that he swears is the best on the market. His mozzarella is pulled locally, and his basil comes from upstate. The result is a slice that gets people lined up around the block each day, one of the truly divine bites of food to can be had anywhere in the city. At $5 for a regular slice, it is absolutely a bargain.
"I just wanted to make pizza that tasted good," DeMarco says. "That means good ingredients. That's why people like it, plain and simple. While I'm still standing, that's not going to change.
"[Dollar pizza] doesn't make sense to me. Every time you have one of those slices it'll taste different. You don't know who touched it, you don't know what's in it. I wouldn't eat it, and I sure as hell wouldn't let anything like that go down in my kitchen."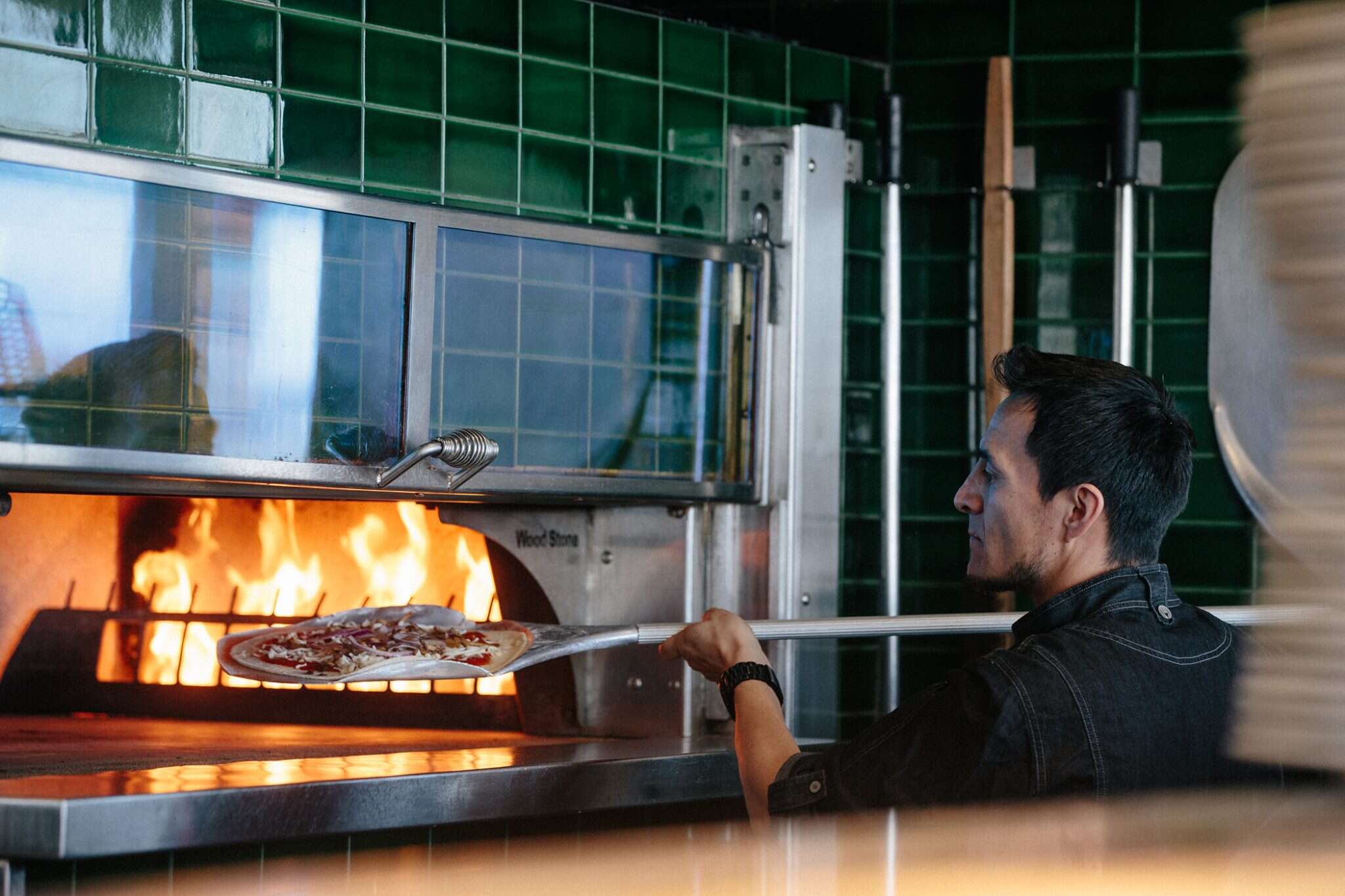 Braulio Bunay's Industry Kitchen serves the anti-dollar-slice pie. The $2,000 novelty pies (that's a $250 slice) at the Seaport restaurant start with a dense crust made of Indian squid ink and Italian flour. The dish is then topped with Stilton cheese from England, foie gras from France, black truffles from Australia, caviar from the Caspian Sea, and the super-luxe ingredient no stunt food would be complete without -- gold leaf. Try finding those at Restaurant Depot.
"I love pizza -- and I wanted to make something fancy. I figured why not," Bunay explains. Novelty sells.
"People pay two grand to eat my stuff. It better be good."
It will not shock you to learn that Bunay balks at the dollar slice. "The most important thing is always the dough -- it's just flour, water, and olive oil," he says. "If those are bad products, you have bad dough, and that means bad pizza. And I don't make bad pizza. Remember -- people pay two grand to eat my stuff. It better be good."
A city that sets fire to money is bound to gin up the occasional pie loaded with Caspian caviar and gold leaf. In its way, the dollar slice is harder to believe. Yet as surely as Australian truffles are shaved onto melted Stilton, at least a few of the diners seated at Bunay's tables are taking the subway to get there.
For every chef reimagining the New York pizza canon, another kneads dough according to centuries of tradition. With every squid ink crust, comes another tossed in Trumps flour. In spite of inflation -- against all odds -- dollar pizza thrives. And it's one of the most reliable dining experiences in the city.
"I always go to this one place in Park Slope," Talde says. "The girl knows I like two slices of pepperoni re-heated. But not too hot, 'cause I'm gonna eat it as soon as it's handed to me.
"I'll eat a slice before they can even fold that shit up for me. The second one, I'll be eating while I'm running down the sidewalk. I always got somewhere to be."
Sign up here for our daily NYC email and be the first to get all the food/drink/fun New York has to offer.