How Dominican Cuisine Is Evolving in NYC's Washington Heights
Restaurants and craft breweries are taking cues from Santo Domingo.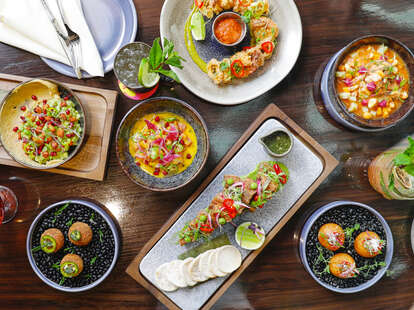 Photo courtesy of Jalao NYC
Photo courtesy of Jalao NYC
"As a Dominican, you always have a relative that lives in Washington Heights," says Antonio Espaillat of the New York City neighborhood. Based in Santo Domingo, Dominican Republic, he is the founder of Jalao Santo Domingo and cofounder of Jalao NYC, two restaurants that specialize in Dominican cooking. "For me, it was my uncle. I would visit him every summer growing up and work in his bodega."
Known as Little Dominican Republic, or "Little D.R.," Washington Heights is home to one of the largest Dominican-American communities in the country. Stretching from 155th to Dyckman Street, and flanked by the Harlem and Hudson Rivers, the area is home to scores of intergenerational restaurants that serve traditional dishes such as mondongo (tripe stew), moro de guandules (rice with pigeon peas), and sancocho, the country's national dish.
In recent years, the food scene in the Heights has evolved to encompass diverse Dominican culinary businesses, including fine dining spots like such as Bocaditos Bistro, a European-style bistro, Sushi Mambo, offering Japanese and Caribbean sushi, and the newest addition Jalao NYC, which Espaillat opened with celebrated restaurateur Richard Sandoval in August. As the culture and community in the Heights evolve, Dominican business owners aim to maintain their culinary traditions while embracing new ones, and explore new ways to honor the flavors of home.
Washington Heights and the Dominican Republic share a long history. In the early 1960s, the D.R. was in the midst of dictator Rafael Trujillo's 30-year reign. As Dominicans looked for more political stability and better opportunities, some emigrated to the U.S., and many settled in the upper Manhattan neighborhood. Still today, this influx of immigrants helps to create the neighborhood's thriving culture.
In 2016, Espaillat and his wife, Monserrat, opened their flagship restaurant, Jalao Santo Domingo, in the Zona Colonial neighborhood of the country's capital. When it came time to work with Sandoval on a New York City outpost, Espaillat knew he wanted it to be in Washington Heights. "It was quite an amazing thing for me to experience as I watched [Sandoval] take these ingredients that I've known my whole life and turn them into dishes that are truly spectacular," he says. Still, he's determined to keep the vibe welcoming. "When I hear 'fine dining,' I think of dress codes and diners eating quietly."
But Jalao NYC—the signature restaurant at The Radio Hotel, the first full-service property in Washington Heights—is the antithesis. The restaurant decor pays tribute to the Dominican Republic, with lush greenery, murals, Carnival masks, and furnishings by Dominican designers.
Chef Noemi Guzman of Jalao SD oversees the culinary program for both restaurants in collaboration with executive chef Harold Breton to interpret popular dishes from the flagship location for the local market. "By elevating our cuisine, we open the way for us to be viewed as more than just a tourist destination of beautiful beaches and mountains," she says.
While certain dishes are popular in both locations, the menus in the Washington Heights and Santo Domingo restaurants vary to suit their clientele, Espaillat says. New Yorkers love the bombones de yuca (fried yuca croquettes filled with cheddar cheese), but the croquetas de chiva (goat croquettes) are the top appetizer in Santo Domingo. "Goats aren't nearly as popular in the U.S. as they are in the D.R., but I recommend trying them," he says.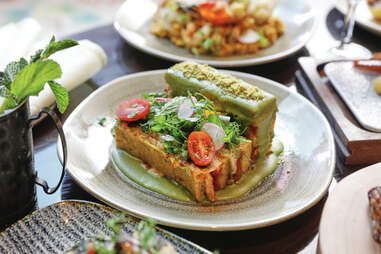 Juan Camilo, owner of Dyckman Beer Co., finds that his neighbors in the Heights are open to new culinary experiences. "A lot is due to a demographic change," he says. "There's a lot of folks like myself that clearly may have a Dominican background and speak English and listen to both kinds of music, so I think we're just more prone to have a more curious palate."
Born in the Dominican Republic, Camilo came to the U.S. when he was five years old. He worked as an investment banker and homebrewed on the side. In 2012, he debuted his craft brewery with beer that feature some Dominican-inspired flavors, like Highbridge Summer Ale, Chiola (passionfruit) Wietbier, and Chocolate con Leche, a cacao stout. Camilo says he wanted to pay homage to his native country and bring something new to his community in The Heights, "infusing those flavors and smells that I've grown up eating and drinking in my Dominican culture."
With its Caribbean roots and traditions and a wide array of cuisines, Dominican food has been an integral part of the culinary landscape in Washington Heights. But as residential and commercial real estate prices soar in New York City, it remains unknown whether the neighborhood's restaurant scene will be able to coexist with its residents. "I've noticed a bit of a shift, as new groups of people are starting to move into the neighborhood," says Cynthia Rivera, who grew up nearby in the Riverdale neighborhood of the Bronx. "But It's definitely still inclusive, which is great. I hope it continues to stay that way."