Dominique Ansel's Crazy New West Village Bakery Just Opened
Courtesy of Dominique Ansel KITCHEN
Dominique Ansel KITCHEN, the latest project from the lord of the cronuts himself, has opened in the West Village. And although you won't be able to find even a crumb of cronut to line up for at the new bakery concept, Ansel has flipped the typical bakery model on its head by operating like a restaurant kitchen so that most of the menu will be made and assembled to order.
The new bakery, with the horsepower of a restaurant, is located at 137 Seventh Avenue South between West 10th St and Charles St, and features an open kitchen so you can see the cooks slicing up the ham for your ham and cheese croissant or your cheese melting on a croque monsieur. The menu offers a pretty big variety of baked goods like Viennoiserie (think puff pastry but sweeter and better), pastries and desserts, savory food, and even vanilla bean ice cream.
Check out the some of the highlights from the menu, then meet us there immediately for that EGG-clipse:
Courtesy of Dominique Ansel KITCHEN
Extra Fluff Mille Feuille
This three-layered mille feuille is made to order every time, which apparently keeps the puff pastry crispy and flaky.
Courtesy of Dominique Ansel KITCHEN
The EGG-clipse
Think toast, but unlike any toast you've ever seen. It's made with a squid ink brioche, two confit egg yolks, garlic mashed potatoes, and mushroom béchamel.
Also worth mentioning is what's dubbed the Edamame Avocado Toast, made with a poppyseed brioche, ricotta, and mint. These are the things Instagram was built for.
Courtesy of Dominique Ansel KITCHEN
Prosciutto & Boursin Croissant
This is Chef Ansel's new spin on the ham and cheese croissant -- made with prosciutto and filled with boursin cheese.
Speaking of croissants, the menu also features garlic bread and almond lavender versions of the twisty pastry.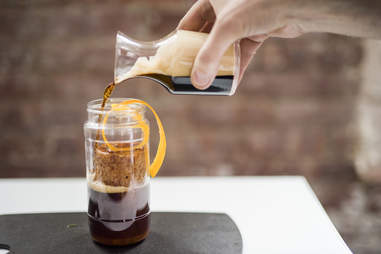 Courtesy of Dominique Ansel KITCHEN
Guinness Baba au Rhum
Say hello to Guinness-soaked brioche, oh and some malt cream.
The cooks will also whip up some made-to-order chocolate mousse, which is all folded right on the spot to avoid losing its light and airiness in the fridge.
Courtesy of Dominique Ansel KITCHEN
1:1 Lemon Yuzu Butter Tart
Have you ever heard of a tart involving a milkshake maker? That's what is used to emulsify the lemon curd and butter just before it is served, made to order. 
The new baked good wonderland has seating for 25 outside and about the same amount outside and is open from 8am to 7pm Monday through Saturday and from 9am to 7pm on Sunday.
Tony Merevick is Cities News Editor at Thrillist and walks passed the line outside Ansel's SoHo location almost every day. Send news tips to tony@thrillist.com and follow him on Twitter @tonymerevick.