Welcome to Feast, home of taxidermied grit like Tommy the Bobcat, and tasting-menu "regional American" banquets supplied by former Veritas chefs and the owner of uptown's Savoy Bakery.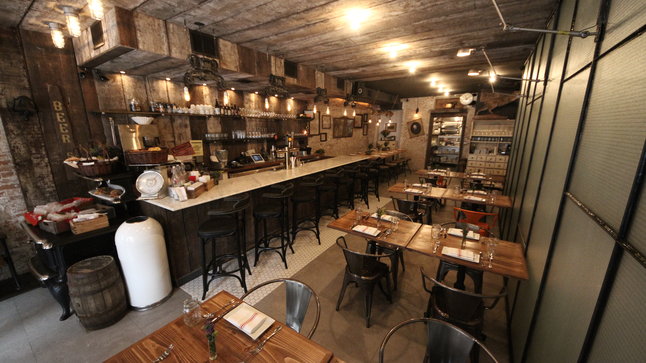 Thanks to an asymmetrically sectioned chicken wire glass wall, the space's reminiscent of an upstate general store that was taken over by fans of modern architecture, who nonetheless turned typewriters into lamps and dangled Edison bulbs from pulleys.

This communal table in the back used to be part of a lane in a bowling alley in Ohio, making it the perfect place to strike up a conversation over some lovely turkey, before you split the check. Ball return!!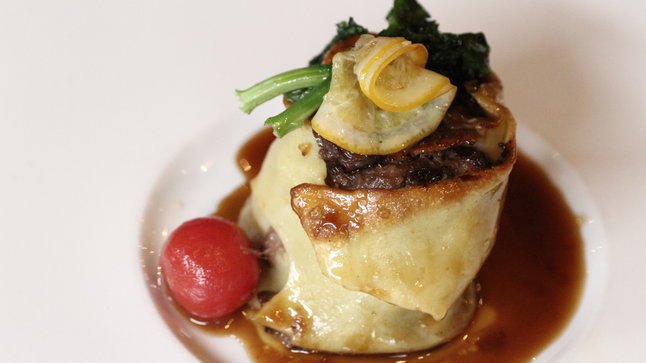 The tasting menus come at you with nine plates over three courses (four apps, four entrees, one dessert). The first and meatiest is a nose-to-tail lamb feast that features this "lasagna", which is actually a roulade of lamb shank, goat cheese, broccoli rabe, and preserved lemon, and should 100% be called "lambsagna". That comes after you've already housed the merguez stew, and right before you tuck in to the herb-crusted rack of lamb.

The other option is the Farmer's Market Feast, which is vegetarian, but is actually kinda legit thanks to this test-tubey "baby vegetable garden" in "olive soil" (essentially tiny, chopped-up olives) and creme fraiche.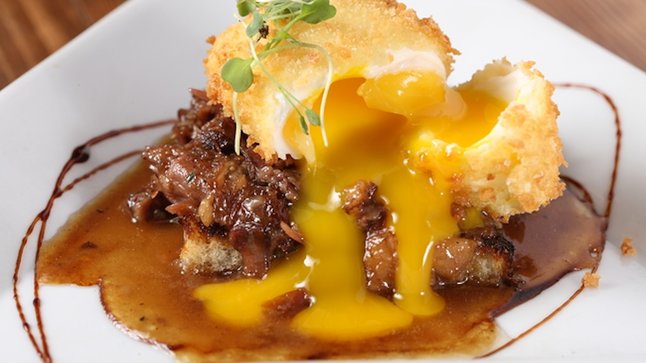 If you can't commit to a full tasting menu, assure your date that it's not her, it's the tasting menu, and then sample a la carte eats like this "steak n' egg": oxtail topped w/ a slow-poached egg that's deep fried, then injected with Bearnaise sauce.

Here're some more vegetables, but stay with us -- they're also injected with things! The "beet ravioli" is actually just beets sliced and filled with goat cheese, then topped with the aforementioned olive soil.

Homemade soda concoctions include this one combining peach, strawberry, and thyme.

Tap root beer: the future base of many a root beer float.

They also have beer-beer, including this Founders All Day IPA, which is just about the only sessionable IPA on the market, and, much more importantly, "smells like a bag of weed".

Or grab some of the best brews you'll ever see in bucketed form, like Tripel Karmeliet and Weihenstephaner Vitus.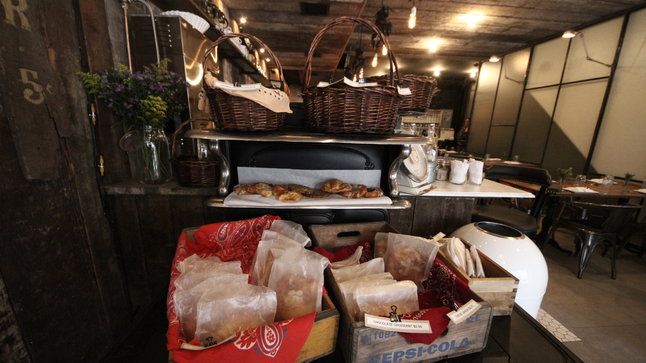 Come morning, they've got pastries and coffee from Longo. Welcome to Feast, for the second time in eight hours.