Wylie Dufresne turns pastrami sandwiches into pasta in the East Village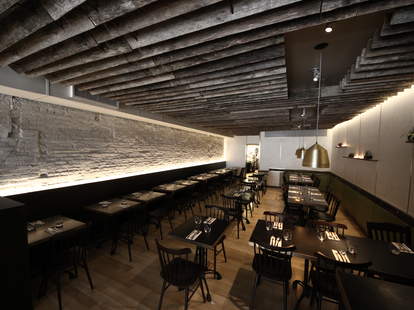 Fact: Wylie Dufresne has been turning out taste-bud-bending gastronomic creations in wd~50 since long before Taco Bell even thought up Doritos Locos. Another fact: Now his pub-inspired Alder is funneling that same deliciously unhinged ethos into a more accessible, slightly less-conceptual bar food-inspired menu in a woodsily modern East Village dwelling
The food is hoping to "bridge the gap between what a neighborhood place is and what it could be" with shareable casual eats that escape the "tyranny of the entree". Plates fighting the good fight include this seemingly ordinary bowl of pasta, which is actually their take on a pastrami sandwich: rye pasta, pastrami jerky dust (yep, jerky dust is getting big) sprinkled on top, and a couple of pastrami chunks from the "fatty end"

This colorful plate is their fried quail number, which gets a heavy Middle Eastern/ Indian influence thanks to turmeric, banana curry, and Chinese broccoli

You could also just get after some snacks, like pigs in a blanket with Chinese sausage, a "straight up" New England clam chowder with oyster crackers made from actual oysters and sporting a "Funyun" texture, and this port pub cheese with pistachio & white fig brittle

The drink program headed up by Kevin Denton delivers draft cocktails as well as made-to-order tipples that fall into the "three C's" of cocktails: "celebratory, conversational, and contemplative". They're worked up behind this bar that protrudes slightly beyond the serving station so you can actually sit across from the people you're celebrating having contemplative conversations with

This one is the "obligatory vodka cocktail" that strives to be "culinarily interesting but still crushable", which here means the apparently classic Scandinavian flavor combo of green apple and radish

The Love Oolong Time is packed with five-spice, grapefruit, the namesake tea, and tequila that "lends itself to the spice"

While a lot of the cocktails are going to rotate, one they hope to offer year-round is a version of the Pimm's Cup, because, as it turns out, no one could tell Kevin where to score a good one when the question came up. This Piney Pimm's utilizes pine that was "blitzed with rum" last Spring, then clarified in a centrifuge. And those "needles"? Those're Chartreuse and pine liqueur, dehydrated and gelled

The non-cocktail program is heavy on local beer, cheap beers ('Gansett!), ciders, and "something exemplary from all the heady states", meaning you no longer have to drive to California to find either a Ballast Point Sculpin IPA, or a Taco Bell.