Expanding from his other spot Hecho en Dumbo deeper into the East Village, Chef Danny Mena is holding court over this 42-seat "mezcaleria" (complete not with a mixologist, but a mezcologist) whose small concrete bar pours booze and serves tacos from a Meatball Shop-style checklist menu.
It's cozy for sure, so the move is to grab a stool right in front of the hand-made tiles at the bar, or up front by the windows that open up to 13th St.
Al pastor tacos are the specialty, and they make them in a way only a handful of other NY places do: by putting 200lbs of pork that's been marinated in things like chilis, pineapples, and Fanta onto a vertical spit shawarma-style, then shaving off bits to plop onto their house-made corn tortillas. Order it "gringo"-style with cheese if you must, but just make sure you order it.
The menu is deep with grilled goodness aside from the al pastor, like this chopped-up ribeye that's simply dusted with salt & pepper, or Champinones -- mushrooms marinated in Mexico's favorite soy sauce called Maggi, then covered in cheese.
What in spit-grilled hell is this? Just a super-up-close of chicharron de queso, which is basically grilled cheese without all that bread getting in the way. Order it on it's own and it'll come made with Edam cheese, but order any taco costra-syle (if you don't know, probably don't ask what this translates too) and it'll comes with a grilled cheese crisp under your meat.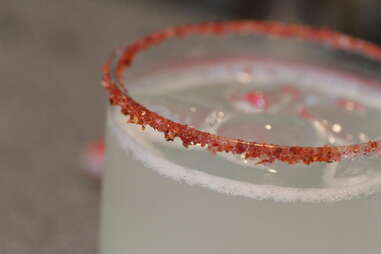 Hope you're not planning on riding a Citi Bike anywhere, because they've got an excellent mezcal selection, and aren't afraid to use it in cocktails like this margarita with a spicy chili piquin rim. Or you can always opt for something mellow-er like their Michelada with just beer, lime, and a salt rim.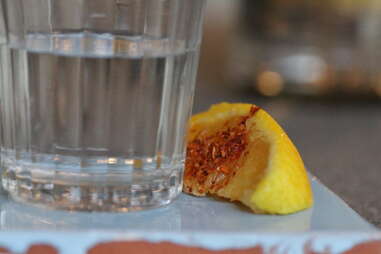 And if you just want the mezcal straight (nice), they've got that as well in 1 or 2oz pours. Order it "uno e uno" for a Coronita chaser, but, either way, it'll come with an orange dusted with Sal de Gusano, aka worm salt. Yeahhhh, worm salt.