Welcome to Cheap Eats NYC, where every week, we'll be highlighting an incredible NYC meal for less than $10. Know of a great all-you-can eat Indian buffet, under-the-radar burger, or other cheap eat in the five boroughs? Let us know in the comments!
Recommended Video
Sriracha Bacon Onion Rings Bring the Heat Like Never Before

The first thing you'll notice when you enter the original Taqueria Diana location in the East Village is the intense heat emanating from the vertical rotisserie behind the counter. Spinning in slow motion are sizzling strips of pork, well on their way to becoming carnitas. The taqueria is a mecca for Mexican street food, with tacos, burritos, and quesadillas, but it's best known for its massive trays of nachos -- the queso version of which rings up at just $7.58.
This is far from your average plate of nachos. Taqueria Diana's nachos arrive in a full-size foil steam table pan with no fewer than 50 crispy tortilla chips, blanketed with an impermeable layer of melted white queso that has a smooth texture and rich, milky flavor. With singed fingertips (it's inevitable), you'll unearth mildly hot poblanos and fresh, burnt-orange beans that hold their own; no need for mashed black beans or soupy pinto bean stew here. The salsa provides an extra bit of color and flavor to each bite, complementing the earthy beans with juicy tomatoes. A tray could easily be shared among two or more people; if you try and conquer it on your own, be prepared for leftovers to last you a second meal.
If you find yourself wondering where all the crema or guacamole is, know that at Taqueria Diana, you're getting simplicity at its finest. Your nachos don't automatically come with such superfluous add-ons, but for good reason: The chips, cheese, and beans don't need to be doused in other flavors. Still, if you insist, you can always get extra toppings on the side.
Sign up here for our daily NYC email and be the first to get all the food/drink/fun New York has to offer.
Previous Venue
Next Venue
Venue Description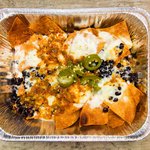 1. Taqueria Diana
129 2nd Ave, New York, NY 10003
The East Village location of this cheap Mexican food mecca is a bit of a misnomer: sure there are carne asada, al pastor, and pollo tacos, but the non-taco items are the true lure. Opened by Californians, Taqueria Diana makes a fat, guac-loaded burrito and show-stealing nachos, the latter of which are served in a foil pan instead of on a flimsy paper plate. The huge portion has 50 or so tortilla chips and a heap of white queso, beans, and hot poblanos -- but don't be afraid to add a giant dollop of guacamole and crema. You can load them with tender carnitas (you can actually see the pork spinning on a spit roaster when you walk in), but the cheese tastes great on its own.