The only slight problem with Red Hook Lobster Pound -- the whole Red Hook part -- is over. RHLP's new East Village shop tucked away on Extra Place is here to provide the crustacean-craving masses with one of the best rolls in the city, plus something else that studies show people enjoy, but the Red Hook locale and RHLP truck don't have: booze.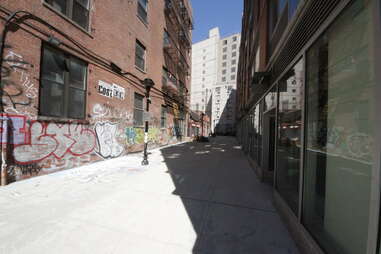 In no time, Extra Place Alley will be lined with tables where you can get your outdoor-seafood on. But for now, just walk almost to the end of it to locate the new spot.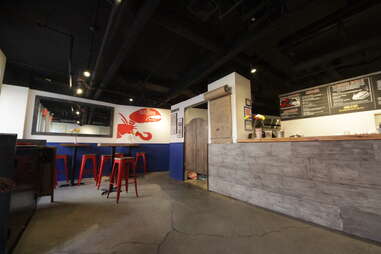 The charming, no-frills seafood shack interior is stocked with red stools and a bright, urban beach steez. It's also all counter-service, so don't be shy.
There she is. Hello, you magnificent 1/4lb of fresh Maine lobster, you. It's mixed lightly with homemade mayo, and placed on a grilled, split-top bun filled with shredded lettuce and scallion. Perfect.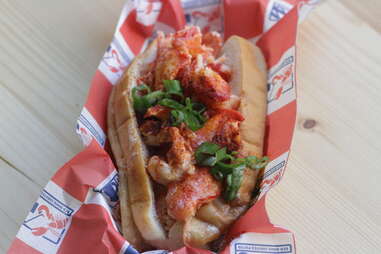 Also up for consumption: this hot-and-buttered Connecticut roll, and the Tuscan-style, which Jerry Seinfeld will never be able to rent, and is quite interestingly tossed in a basil vinaigrette.
If you prefer your lobster dripping in a funky four-cheese sauce (you do), go for the... lobster mac 'n cheese.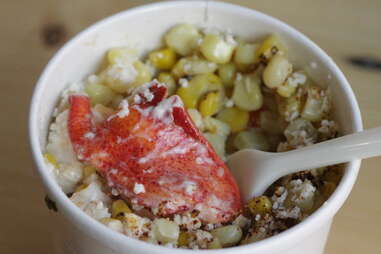 If you prefer your lobster in that, but also in a mix of the Mexican street corn that's served in a cup with hunks of their fresh lobster, get the Elote con Langosta, Smart person move: get both, eat 'em half-way down, then mix them together.
As for that booze, they've got Sweet'tauk lemonade, which you can spike with soju if you're feeling frisky/really into Korean liquor, plus Narragansett and Bronx Pale Ale. Summer is coming.
Andrew Zimmer is Thrilist's NYC Editor and he could probably eat 10 lobster rolls before realizing he was full. Follow him on Facebook, Twitter, and Instagram.