Bringing a glitzy, old-school, power-meal vibe to 1st St, Bowery Meat Co is the East Village's latest add, courtesy of Chef Josh Capon (consistent winner of NYCWFF's Burger Bash) and the team behind neighborhood favorites Lure, B&B Winepub, and El Toro Blanco.
Recommended Video
Make Cheeseburgers in a Muffin Tin, Because More Is Always Better
This is the main dining room -- note the big, luxurious booths on one side, the gorgeous man cave of a private dining room, and the wine room at the end.
Kick things off with some of the broiled oysters (w/ garlic, breadcrumbs, and Romano), which are modeled after Chef Capon' s favorite New Orleans broiled oysters at Drago's.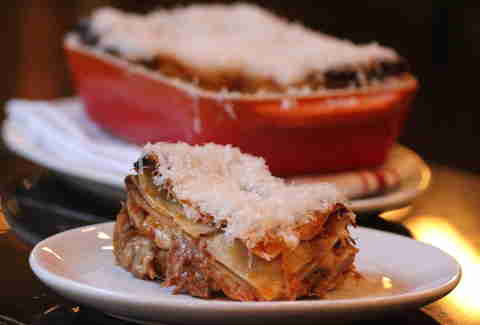 There are actually a ton of non-beef things on the menu, including lobsters and other seafood, but your attention will likely be drawn to this beast of a pasta dish -- the duck lasagna for two, with braised duck, caciocavallo, and Parmesan.
And then there's the beef. The burger came late to the party, but is actually in the running for best burger of 2014. It's simple enough, but the dry-aged beef is deliciously funky and the raclette, red onion jam, and tomato garlic aioli are excellent complements.
And, of course, there's the steak, which includes a bone-in filet, a dry-aged NY strip, a "Bowery Steak" with salsa verde, and this cote du boeuf for two that's served with Parisian potatoes.
Sign up here for our daily NYC email and be the first to get all the food/drink/fun New York has to offer.
Andrew Zimmer is the New York Editor at Thrillist and his goal is to eat beef at least once a day for the rest of his life. Follow him on Twitter and Instagram.
Previous Venue
Next Venue
Venue Description
1. Bowery Meat Company
9 E 1st St, New York, NY 10003
From Chef Josh Capon and the group behind Lure, Burger & Barrel, and El Toro Blanco, this glitzy modern steakhouse in the East Village takes traditional steak and chops up a notch. The menu offers a nice mix of usual steakhouse mains (the meat comes from butcher Pat LaFrieda) and next-level starters and sides (patatas bravas, crispy polenta, salmon sashimi, to name a few), with pasta dishes and oysters rounding out the sophisticated menu.