Everyone knows Crif Dogs, everyone loves Crif Dogs, but rarely are any of those anyones clear-headed enough to determine which dog is actually the best at Crif Dogs. Because you deserve to know, we did all the delicious sober work for you, and ate/ranked all 19 of the dogs they've got on hand, from the corn, to all things bacon-wrapped, to the veggie, just because we had to.
#18: The Veggie Special
If you're a vegetarian, perhaps you should consider, like, not going to places that exclusively sell hot dogs. Though, if you are one and have an overwhelming need to hit on Ms. Pac-Man, the Special is topped with a less tomato-y salsa creation that would likely be pretty tasty on an actual hot dog.
#17: The New Yorker
Nothing fancy here, just a skinny plain dog (which is different from their base dog for everything else) with lots of snap. If you roll with this, definitely get some toppings.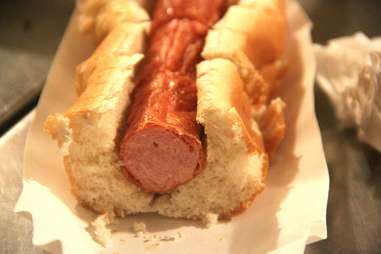 #16: The Crif Dog
The foundation upon which all the other dogs are made. It's a great start, but you're not here for a plain dog.
#15: The Veggie Corn Dog
So it's veggie -- sue us. Seriously, we probably deserve to be sued for this. But it's also deep-fried, making it stand as the lone vegetarian option a meat eater could still possibly enjoy.
#14: The BLT
It's just like it sounds. Zero originality points here.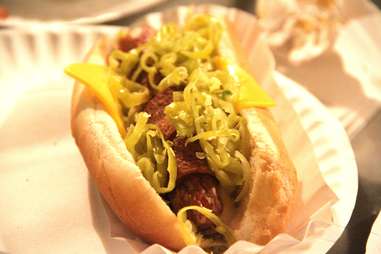 #13: The Garden State
The lowest dog on the list that's been wrapped in another meat (Taylor ham), this will probably gain ground with big mustard fans. It's topped with the yellow, American, and a ton of pepperoncini, and it's got 100% more flavor than Zach Braff.
#12: The Chihuahua
It's tasty, but we'd rather be eating a plate of nachos, or hot dog-covered nachos (note to Crif Dogs: hot dog-covered nachos).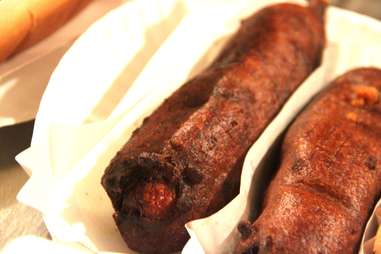 #11: The Corn Dog
The thing about corn dogs is that you need to be into corn dogs to really appreciate them. They're also kinda meant to be eaten certain places. This is definitely a good one, but there weren't any Tilt-A-Whirls in sight, so it doesn't crack the top 10.
#10: The Chili Dog
This is when things really start getting Crif Dog-y. It's wrapped in bacon, topped with chili, and will never disappoint.
#9: The Temptee Dog
There's something special about this one that's hard to explain. A hot dog with a smear of whipped cream cheese. Simple, unexpected deliciousness.
#8: The Sour Cheese Dog
The first dog with serious cheese action is another relatively simple concept (cheese and half a sour pickle) done well.
#7: The Philly TubesteakIt's topped with cheese and sauteed onions, it's messy, it's tasty. Loses a couple spots for not being as satisfying as what it's modeled after.
#6: Morning Jersey
Taylor ham, egg, cheese. Like actually waking up in Jersey, you know what just happened was awesome, but maybe just a little off.
#5: Jersey's Finest
Not only is it actually the best Jersey-steezed dog on the menu, it actually trumps the chili dog, as the Taylor ham's increased saltiness makes it jive better than the bacon.
#4: Good Morning
It takes the timeless perfection that is the breakfast sandwich, and adds a hot dog. Pure genius.
#3: Jon-Jon Deragon
This thing is so New York it hurts, in the best possible way: a hot dog topped with cream cheese, scallions, and everything bagel seeds. You could probably eat about a million of these and never get sick of them. Only non-meat-wrapped dog in the top 5.
#2: The Spicy Redneck
Chili, coleslaw, jalapenos, and a bacon-wrapped dog. This is basically like putting an entire backyard cookout on your plate, and it's every bit as good.
#1: The Tsunami
Not only is this hot dog almost the perfect mish-mash of flavors thanks to bacon, pineapples, teriyaki sauce, and scallions, it also happens to be actually refreshing, which is something that should probably not be possible for a hot dog wrapped in bacon. Order one in any state, and you'll want another. Unless you just ate 19 hot dogs.