You Can Now Bid For a Reservation at Momofuku Ko
We all want to go to the hottest, newest, best restaurants in the city. Even people who say they don't actually do. Stop it, LIARS! But there're almost always a 7000 hoops to jump through that make it more of a pain in the ass than it's sometimes worth. Well, if you've got a little money and don't despise charity, you can bypass some of said hoops at the new and improved Momofuku Ko on Extra Place.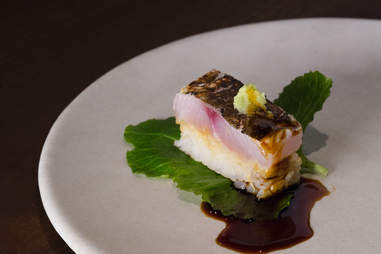 Gabriele Stabile
Starting on Monday (1/12), Momofuku is teaming up with new app Reserve (which helps you make reservations around town, not usually by bidding on them) so that a reservation for two, at the counter, on 8:45 on Saturdays (starting 1/17 and continuing for the foreseeable future) goes to the highest bidder. Before you get too bent out of shape about the fact that reservations are now going to the richest of us, keep in mind that this is all for charity and you're clearly heartless -- every dollar above market price goes to Edible Schoolyard. People have done much worse things to score a reservation.
Andrew Zimmer is Thrillist's NYC editor and he's also auctioning off a Hot Pockets dinner at his apartment to the highest bidder. Follow him on Twitter and Instagram.