OddFellows Ice Cream Co. out in Williamsburg has always been sorta like Charlie and the Chocolate Factory (see: foie gras and miso-cherry flavors), minus all the karmic fate traps aimed at children (man, that movie was kind of messed up). Well, now you can get in on all the Golden Ticket-not-required awesomeness in Manhattan, too, thanks to their second spot down in the East Village. Must-try flavors include...
The Peanut Butter and Jelly, wherein they froze Concord jelly with liquid nitrogen and then shattered the block before folding those slivers into a peanut butter-base ice cream. The result has a soft, slightly creamy peanut butter taste, where the frequent, melted globs of jelly are welcome pockets of flavor.
The Extra-Virgin Olive Oil tastes sorta like what happens when you eat pasta and then reuse the bowl for dessert. So, awesome.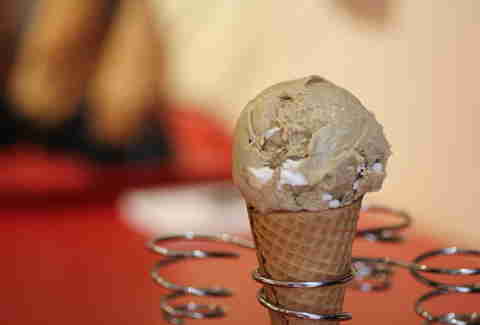 Burnt Marshmallow has a smoky flavor that lingers on the tongue. They use a blow torch to burn the marshmallows before folding them into an ice cream base of (whoa) the same flavor.
Chorizo Caramel Swirl is a classic for a reason -- the flavor hits the right amount of sweet and savory, and the chorizo ends up reminding you a bit of bacon, which is all you could really ever hope for when it comes to food.
In the future, they hope to unveil a commissary with booze, as well as a bunch of new flavors and one-off toppings... hopefully all mixed together at some point.
Mikelle Street is a Thrillist Editorial Intern who happily is not lactose intolerant. Follow him on Twitter and Instagram.