Named in part for the owner Roh (whose nickname is Peter Pan, for fairly complicated reasons) and in greater part for Korean "playground/marketplace" bazaars, PAN relocated itself from K-Town to Saint Marks to serve some of the most intense and adventurous eats this side of the outer boroughs: Korean pub food that's very heavy on the pork.
A super-clean design means there's nothing to get in the way of you getting your pork on, except for the chalk they insist you use to write on the walls.
This is their specialty, the Pork Feet (it's really more like pork leg, though). Delivering a much more massive serving than it appears here, it's braised then sliced hog served with spicy pickled radishes and shrimp sauce that supposedly aids in digestion, grappa-style.
This stew throws about every part of the pig into a spicy pork broth: tripe, tongue, stomach, liver, ear, and "head meat".
The pork skin is adorned with sesame and delivers a nice chewy consistency.
Pork belly confit comes with fresh oysters, sauces, and spicy pickled radish, all of which is meant to be wrapped up in the cabbage (white kimchi) and devoured. They say it's basically a "more authentic version of the bo ssäm you'd get at Momofuku".
Grilled intestine. Before you're like, "Ewwww, intestine!", keep in mind that sausage is also intestine -- this one's just not stuffed with anything extra...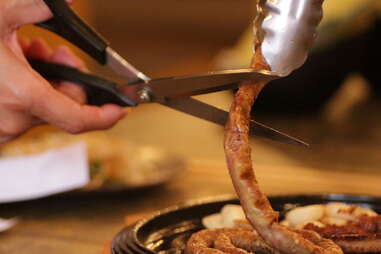 ... and they have a cool way of serving it: sizzling, then snipped.
Wash it all down with their house special makgeolli, a Korean rice wine, which gets infused with everything from pineapple, to apple, to "mojito" like this one. Get 'em by the liter.
Pork's not your thing? Sea snail noodles to the rescue! Also, they have pork.