First, this place serves ants. Second, it's also a bright, airy, below-street level sleeve of a restaurant doling out proper cantina fare from the team behind West Village favorite Ofrenda. Third, THIS PLACE SERVES ANTS.
The Black Ant's front doors open out to a below-ground patio, so you can sit outside surrounded by nature, or sit inside also surrounded by nature, thanks to its "green" walls.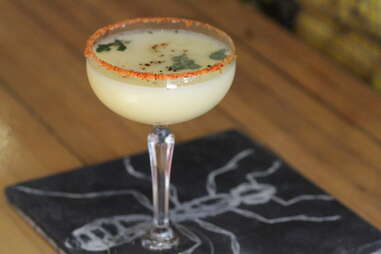 Jump into the insect-eating in an entry-level way with a Yum Kaax, which is made with tequila, wild Mexican herbs, homemade corn juice, and sal de hormiga (ant salt).
Did you chicken out? Instead, enjoy a not-insect-laden and somewhat ironically named Climbing Ant with tequila, Aperol, mole bitters, blood orange, and a regular salt rim.
Get things started with the signature Black Ant guacamole, which is topped with that previously mentioned ant salt, and made with pasilla peppers, charred baby corn, and grilled scallions served with a warm basket of tortillas you can use for your side order of...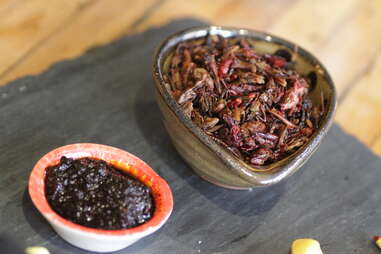 ... crickets. Make yourself a nice little Jiminy taco, and top it with the accompanying sweet and spicy mole jam.
Most of the dishes are actually sans-insects, including tacos loaded with shrimp or cod and these goat barbacoa numbers, topped with a savory chili paste and yogurt salsa.
Or entrees, which include a beautiful scallop and oxtail dish, and this Summery plate made up of roasted suckling pig, green Oaxacan mole, and seasonal veggies.
Andrew Zimmer is Thrillist's NYC Editor and he is not afraid to eat ants anymore. Follow him on Twitter and Instagram.