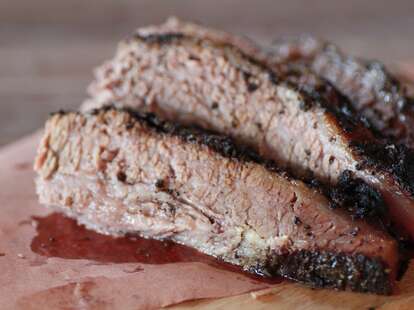 The Brisket King of NYC was just announced, and the ruler of them all is Duck's Eatery in the East Village. Even though we've been up on their sandwich for a while, we thought we'd check back in for a taste-test on their Brisket Tuesday's (the only time it's available!) to see 1) if it held up, and 2) if they had any tricks up their sleeve, which 1) it did, and 2) they did.
The brisket on its own is amazing: it's injected with chili paste, fish sauce, and other spices, then smoked for about 18hrs. Get the Fatty -- it falls apart perfectly and packs a killer smoky flavor. But...
... they had something really special going on, too: an aged brisket that's been dry-aged for close to a year, and injected with cold smoke. Imagine mixing brisket and prosciutto together to form a smoky, beefy, silky plate of deliciousness. You better hope they've got some of this left.
The sandwich is still a must-get, too, as it's loaded to towering heights with that brisket, topped with house-made smoked ricotta, red cabbage, and served on an English muffin that's spread with master fat... or what you'll demand people call you after putting down a couple of these.