For many of us, the beginning of a new year means two things: resolving to work out more than once a week (fine print: once a month) and stashing away the booze and butter in favor of kale and coconut oil. Of course, this isn't always an easy task in NYC, where delivery apps reign and gyros, ramen, and pizza are just footsteps away at any given moment. Luckily for us, the city's best chefs have a few ideas for how to make healthy eating a lot less terrible than it seems. From the veggie-forward to the seafood-centric, here are seven recipes from the city's top chefs that you'll actually want to make.
Oysters with cauliflower mousseline, apple jelly, and trout roe
"I'm from Marseille, so I love to use seafood in my cooking. This is the perfect dish for after the holidays when everyone wants something light. My favorite part is the cauliflower mousseline -- it's creamy and smooth and a great match with the saltiness of the oyster. All the other ingredients -- the shaved cauliflower, apple jelly, trout roe, olive oil, and microgreens -- add freshness and texture." -- Frédéric Duca, Racines NY
INGREDIENTS:
10 raw oysters, shucked
¼ cauliflower
1 ½ tablespoons heavy cream
½ teaspoon horseradish
Salt to taste
1 granny smith apple (unpeeled)
½ sheet of gelatin
2 ounces purple colored cauliflower, shaved thin with a mandoline
1 slice white bread, toasted and cut into small rings
½ teaspoon olive oil
½ teaspoon trout roe (optional)
Microgreens
DIRECTIONS:
For the cauliflower mousseline
Blanch the cauliflower until fork tender and then blend in a blender until smooth.
When the cauliflower cools down, incorporate in the heavy cream.
Season with grated horseradish and salt.
For the apple jelly
Pass an apple through the juicer and then heat up the juice in a pot.
Add the gelatin sheet and stir until it dissolves.
Let the mixture cool until it thickens.
To plate
Place the cauliflower purée over the plates, then place the oysters on top.
Add in a couple spoonfuls of apple jelly, shaved cauliflower, and toast rings.
Drizzle a bit of olive oil and top with some trout roe (if using) and a few sprigs of microgreens.
Citrus and fennel salad with Champagne vinaigrette
"After months of eating heavy holiday food I like to start the new year by focusing on refreshing, clean salads. I love using the specialty citrus available in the winter to brighten this mixture of crisp fennel and salty olives. I use sweet pink cara cara oranges, but you can add or sub in blood oranges. It's flavorful, but it's light -- a nice lunch option." -- Melia Marden, The Smile
INGREDIENTS:
For the salad
2 fennel bulbs with green fronds intact
1 cara cara or blood orange
¼ small red onion, finely sliced crosswise
¼ cup Kalamata olives, halved lengthwise
Leaves from ½ small bunch of parsley, picked
Sea salt, to taste
Freshly ground black pepper
For the Champagne vinaigrette
3 tablespoons Champagne vinegar
¼ teaspoon salt
¼ teaspoon sugar
¼ cup extra virgin olive oil
DIRECTIONS:
In a small bowl combine vinegar, salt, and sugar and mix well. Add olive oil and whisk with a fork until combined.
Pick about ¼ cup of the green fennel fronds and set aside. Cut off the tops, halve fennel bulbs lengthwise, remove tough outside layer, and discard.
Using a mandoline, slice fennel lengthwise as thinly as possible into a large salad bowl. 
Using a sharp paring knife, remove the skin and pith from the orange. Cut out segments and add to the bowl.
Add the onion, olives, and half of the parsley and fennel fronds. 
Drizzle with the vinaigrette and toss lightly to combine. Season with salt and pepper and garnish with the remaining herbs.
Shira Ae (smashed tofu salad)
"Shira Ae is a traditional dish that is very commonly known in Japan. It's simple and homey, which is why I love it. The basic ingredients are tofu and vegetables, so it's very light on calories, and you can feel good about eating it at any time." -- Masaharu Morimoto, Morimoto
INGREDIENTS:
4 cups loosely packed trimmed spinach
4 medium dried shiitake mushroom caps, rehydrated and thinly sliced
1/2 cup carrot matchsticks
1 1/2 cups Dashi or kombu dashi
1 1/2 tablespoons plus about 1 teaspoon mirin
3 teaspoons Japanese soy sauce
generous pinch kosher salt
14-ounce package firm tofu, drained
DIRECTIONS:
Bring a small pot of water to a boil.
Prepare a bowl of icy water.
Add spinach to boiling water, stir well, and cook for 20 seconds.
Use a slotted spoon to transfer the spinach to icy water.
Stir well, drain, firmly squeeze the spinach to remove as much water as you can, and set aside.
Combine shiitake, carrots, dashi, 1 1/2 tablespoons mirin, two teaspoons soy, and the salt in a small pot and bring to a boil over high heat.
Reduce heat to maintain a simmer and cook for 10 minutes, so the dashi flavor begins to infuse vegetables.
Take the pot off the heat and let cool slightly. Add spinach, stir well to loosen the clumps, and let the mixture sit at room temperature for at least 30 minutes or up to 2 hours. 
Kale avocado salad
"This dish was actually inspired by my wife -- she's been making it for me for a decade! It has everything you want in a salad: It's sweet, creamy, salty, crunchy, and most importantly, substantial and hearty enough to make a complete meal. It's been one of the top three dishes ordered at Seamore's since we opened, and since it's made of all of the superfoods, it can't get much healthier. I pretty much eat it every day at the restaurant, usually topped off with a piece of fish for added protein." -- Michael Chernow, Seamore's
INGREDIENTS:
For the salad
2 bunches of kale
1 whole green apple
½ cup raw walnuts
1 cup of golden quinoa
2 whole avocados
2 whole sweet potatoes
For the dressing
16 ounces apple cider vinegar
1 cup honey
2 tablespoons Dijon mustard
16 ounces olive oil
Salt (to taste)
DIRECTIONS:
For the salad
Preheat oven to 350°F (175°C).
Take 2 whole sweet potatoes. Wash thoroughly and cut lengthwise into 1/2 inch cubes.
Lightly toss potatoes in olive oil, salt, and pepper. Spread cubed potatoes as one even layer on a large baking sheet. Roast, tossing occasionally, for about 1 hour. Remove from oven and allow to cool.
Place walnuts onto separate baking sheet and roast for 5 minutes at 350°F (175°C) . When ready, walnuts will smell toasty and be a shade darker. Remove from oven and set aside to cool.
On a stovetop, bring 2 cups of water to boil, then add golden quinoa, turn off heat, cover for 15 minutes. Allow to cool.
Slice each avocado into 2 halves. Remove the pit and slice the halves once more, creating 4 quarters of avocado. Gently pull the peel of each quarter and continue to slice avocado into half-moon shapes.
Repeat same method using the green apple, slicing apple into half-moon shapes.
Take both bunches of kale. Use your fingers to remove kale leaves from the stem. Once all kale leaves have been removed from the stem, rinse kale with water to ensure leaves are thoroughly washed.
Chop kale into bite-size pieces then place kale into a mixing bowl.
In a large mixing bowl combine, kale, quinoa, sweet potato, and dressing to taste and garnish with slices of avocado, toasted walnuts, and sliced apple.
For the dressing
Combine vinegar, honey, and Dijon mustard into a blender.
Blend ingredients on medium speed, slowly adding in olive oil to emulsify the dressing.
Season with salt to taste.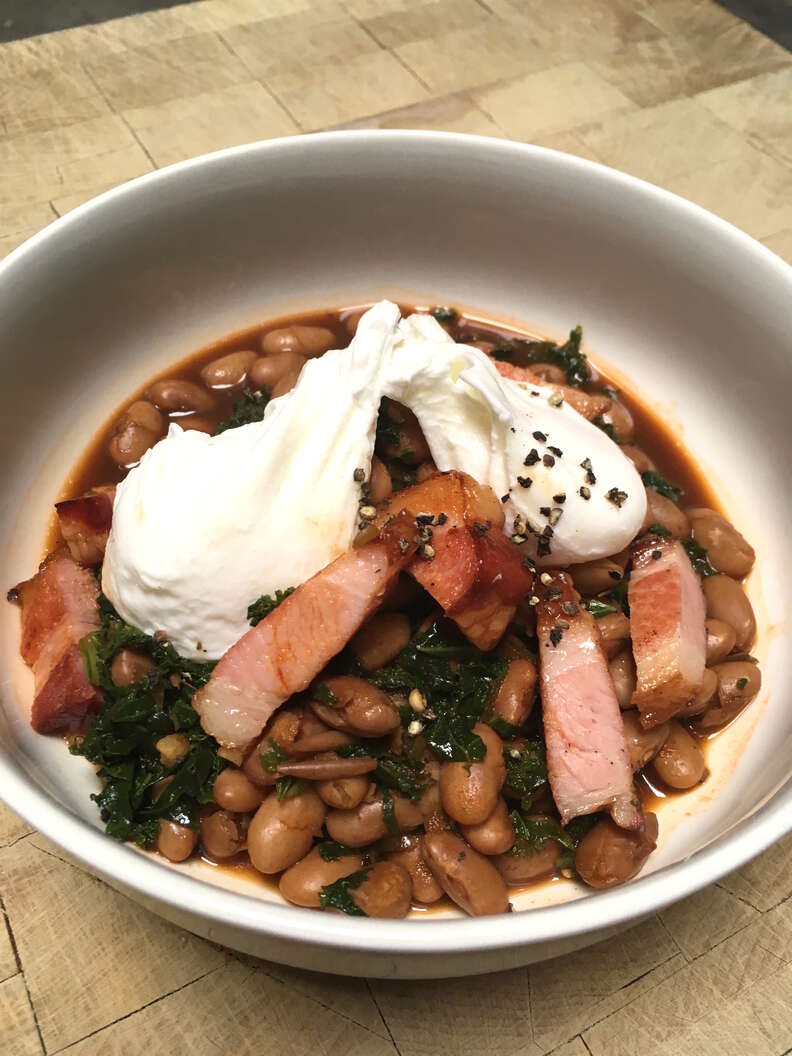 Black eyed peas with Tuscan kale
"My favorite New Year's recipe is a take on a Southern tradition -- only not quite as bad for you as what Mama used to make. I stew black eyed peas with jalapeño, garlic, and a touch of molasses, and stir in chopped Tuscan kale before topping it all with a poached egg, of course. This is my go-to New Year's day breakfast at home, and depending on my resolution, I enjoy it with an IPA shandy or a bourbon and honey soda." -- Nick Korbee, Egg Shop
INGREDIENTS:
2 10-ounce cans cooked black eyed peas drained
2 tablespoons molasses
1 clove garlic minced
1 jalapeño minced
2 pieces thick cut slab bacon (optional)
1 bunch Tuscan kale de-stemmed and chopped
3 cups chicken stock
2 tablespoons tomato paste
½ cup apple cider vinegar
1 tablespoon sea salt
As many poached eggs as you want
DIRECTIONS:
In a medium pot over medium heat render the fat from the bacon then add jalapeños and garlic.  
Cook about three minutes, until softened and very fragrant.
Add tomato paste and cook another few minutes before adding the beans and molasses.
Cook stirring about 5 minutes, then deglaze with chicken stock.
Add cider vinegar and salt, then turn the heat to low and simmer until the liquid is reduced by three quarters.
Either remove the bacon and discard, or remove the bacon, cut into thick lardons and reserve for garnish.
Stir in the kale and allow it to wilt until you are ready to serve. 
Top with poached eggs and bacon, if desired.
The Kitchen Sink Salad
"This is my favorite dish when I'm in the mood for something healthy but flavorful and hearty. [At The Meatball Shop] our 'sink sides' rotate, so you can never get sick of it. Right now we're serving up honey roasted carrots, cauliflower salad, white beans, and couscous. We like to keep it seasonal and fresh, and when topped with your choice of meatballs, it makes for a heartier meal option." -- Daniel Holzman, The Meatball Shop
INGREDIENTS:
8 large carrots cut into (3) 1-inch pieces (like thick-cut french fries)
1/4 cup olive oil
1 teaspoon salt
1/2 cup honey
1/3 cup mustard dressing
4 teaspoon scallions, sliced
3 tablespoon parsley, chopped
1 head cauliflower, shaved
1 ½ tablespoons sunflower seeds, toasted

1/3 cup Dijon mustard
1 cup lemon juice
2 1/2 tablespoons red wine vinegar
1 1/2 tablespoons salt
1 1/3 olive oil
3/4 cup Couscous, cooked (1/4 cup couscous dry)
1/8 cup shallots sliced, lemoned
2 teaspoons parsley, chopped
1 tablespoon roasted almonds, chopped
3 tablespoons Fuji apples, small dice
1 tablespoon cranberries, dried
1 teaspoon orange, zest and juice
2 teaspoons oil
1/2 teaspoon salt
3 1/2 cup white beans, cooked
1 1/2 cup olive sofrito
1.5 tablespoons parsley, chopped
1/2 cup olive oil
1/2 cup yellow onion, finely minced
1/4 cup carrot, finely minced
1/4 cup celery, finely minced
1 teaspoon garlic cloves
2 teaspoons salt
1/4 teaspoon chili flakes
1/2 teaspoons oregano, chopped
1/2 cup tomato paste
4 teaspoons red wine vinegar
1/4 cup kalamata olives, chopped
DIRECTIONS:
For the honey roasted carrots
Preheat the oven to 450°F. 
Toss the carrots with the olive oil in a large bowl, and coat thoroughly. Add the salt and toss to coat.
Combine the honey and 1/2 cup warm water in a small bowl and stir until thoroughly mixed.
Lay the carrots out on a large rimmed baking sheet or roasting pan so that they are evenly spaced and do not touch one another. Drizzle with the honey mixture and put the carrots in the oven to roast.
Roast until all of the water has evaporated and the carrots are soft and beginning to brown, 35 to 40 minutes.
For the cauliflower salad
1/3 cup mustard dressing
4 teaspoon scallions, sliced
3 tablespoon parsley, chopped
1 head cauliflower, shaved
1 ½ tablespoons sunflower seeds, toasted
For the dressing
Blend all ingredients except oil.
While blending, add oil slowly to emulsify.
Stir well before using.
For the couscous salad
Zest the orange, then halve and juice.
Combine all ingredients in a mixing bowl, sprinkling in the salt and mix well to combine.
For the white bean salad
Mix together all ingredients.
Let sit minimum 4 hours before serving to let beans absorb flavors.
For the olive sofrito
Add oil, minced vegetables, salt, chili flakes, and oregano to pan and cook over high heat stirring often.
Turn down heat to medium once the veggies give off their liquid and boil, cook for about 30-45 minutes.
Once oil and liquid have separated and veggies are starting to stick, add the tomato paste.
Cook another 10-15 minutes until brick red, scraping bottom to prevent mixture from burning.
Add vinegar and chopped olives, and cook for 2 minutes. Then remove from heat and cool. Stir well before using.
Brassica bowl
"I tend to eat with my eyes first, and this dish is truly beautiful -- even without fancy plating. Lots of color looks great on any plate, plus, the more color you eat, the more nutrients you get. The charred vegetables are full of flavor, and the chermoula and beet tahini lend the perfect amount of herbs and creaminess." -- Suzanna Beall, Blake Lane
INGREDIENTS:
1 cup cauliflower florets
1 cup broccoli florets
1 cup steamed kale
1 cup finely chopped cilantro
1 cup finely chopped parsley
1 cup finely chopped mint
1 shallot fine mince
1 clove garlic fine mince
1 tablespoon smoked paprika
1 quart roasted beets, cut into large dice
3 tablespoons blended tahini
1 cup lime juice
1 tablespoon smoked paprika
DIRECTIONS:
In a large sauté pan over medium heat, roast vegetables until soft throughout and slightly caramelized.
Season with salt and lime juice to taste. 
Toss with two tablespoons of chermoula, or more if desired.   
Plate with a generous dollop of beet tahini and drape the roasted vegetables over the plate as they fall.
Sign up here for our daily NYC email and be the first to get all the food/drink/fun New York has to offer.