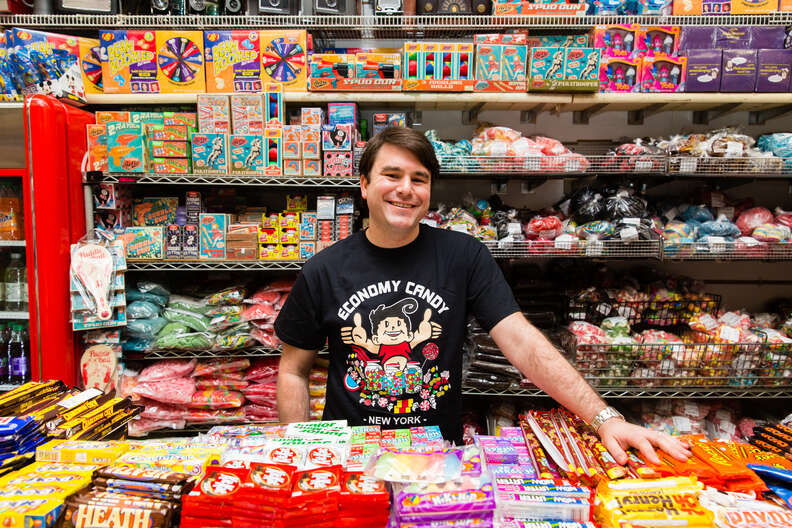 Cole Saladino/Thrillist
Cole Saladino/Thrillist
The mood is giddy two weeks before Halloween at Economy Candy on New York City's Lower East Side. The place is a total throwback, with its printed tin ceiling and walls lined with old-timey memorabilia, but the hordes of animated children don't seem to notice. Candy never goes out of fashion. The air smells distinctly of sugar and appears to have delivered a potent contact high to these kids, who wildly zig and zag through the store's towering metal racks like they're in an amusement park. I imagine their pupils are down to pin pricks.
Not that I blame them. There are more than 2,000 varieties of candy here. The shelves reach up more than halfway to the nearly 20ft-high ceiling and overflow with chunky Payday bars, ruby-hued Red Vines, and milky wax bottles filled with saccharine neon liquid. There are fudgy Oh Henry! bars and chewy Now & Laters, obscure Abba-Zaba bars riddled with creamy peanut butter filling, and tough Turkish Taffy that implores you to "smack it" and "crack it." There are novelty candies like bacon-flavored Pop Rocks, imported Israeli Elite chocolate bars, Jolt caffeinated gum, and more than a dozen different Pez dispensers. It's a dizzying sight, and not even adults are immune. I just turned 30 and I can hardly stop myself from breaking every parent's candy store rules and reaching elbows deep into a display of Baby Ruths to shovel them all towards me.
Mitchell Cohen runs the show these days, having taken over the reins from parents Jerry and Ilene in 2013. Mitchell is a boyish 31, and when I see him one Monday morning in mid-October, he's uniformed in a powder-blue Economy Candy shirt like the rest of the harried staff, plainly at home pacing at a fast clip between young customers. It's not even yet the store's busiest time of year. That's the day before Halloween and the holiday itself, the culmination of a staggering holiday season during which Cohen will sell a minimum of 20,000lbs of mixed candy and chocolate. To help out with the rush today, Jerry has emerged from semi-retirement to man the register.
"We've been prepping for two months," a breathless Mitchell told me over the phone days earlier. "It really picks up the two weeks before Halloween -- we'll sell 1,000 5lb bags of mixed chocolate [for $18 each] and 1,000 8lb bags of assorted old-fashioned candy [for $20 each]" on top of regular business. He clearly revels in the pandemonium. A graduate of the University of Pennsylvania's Wharton School, Mitchell didn't hesitate to abandon a career in investment banking when the family business beckoned. That was the plan all along. In previous decades, the surrounding neighborhood was home to as many as 10 similar candy stores. But urban decay in the 1980s drove many away, while others were bought out in the 1990s and early 2000s when the area gentrified and turned over into restaurants and bars.
"We're really the only ones left," said Mitchell, who credits the store's longevity to a number of factors, ranging from long-standing relationships with customers to the power of television. (The shop was prominently featured on the Food Network program Unwrapped.) But perhaps the biggest reason is its unrivaled selection.
"We're the only place that has everything," he said. "If they still make it, we have it."
Now the lone holdout, Economy Candy's genesis is the stuff of Lower East Side lore: Founded by Mitchell's grandfather, Morris Cohen, Economy Candy began as Economy Shoes in 1937. Morris peddled candy over the counter as a side hustle, but with the country in the throes of the Great Depression, wallet-friendly candy sold better than shoes. Morris soon flipped the business model and the rest is history. For half a century before his retirement in 1985, Morris held court over the storefront's outdoor candy display, even in the depths of winter. "He used to be outside selling in a fur hat and big coat!" Mitchell recalled. And how did a lifetime of this -- not to mention unchecked candy consumption -- affect him? "He passed away just last year," Mitchell said. "He was 97."
Economy Candy is run in much the same way as it was when Mitchell's parents and grandfather were in charge. Mitchell makes a point to stock older, vintage candies -- "everything from Abba-Zaba to Zagnut" and "all the old stuff that people don't realize is still made" -- and keep the prices down. Way down. As they've done for years, the front windows house a sprawling display of self-scooped "Pick N' Mix" candies -- think peanut butter-and-molasses Mary Jane chews, nutty Joyva Sesame Honey Crunch candies, Jolly Ranchers, Tootsie Rolls, and so on -- on sale for just $2.99/lb. That's a pretty big price difference from big-business candy stores like Dylan's Candy Bar, where half a pound of Dum Dums can run you $10. Hauls are still weighed on a vintage hanging scale that's been with the store since the 1950s "and is still pretty spot-on."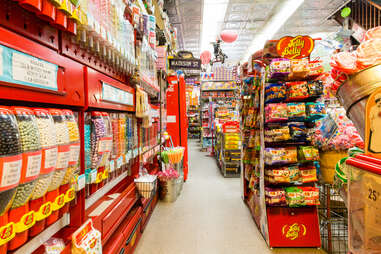 So how does Mitchell keep the inventory cheap? "I'd rather buy a lot of candy for a little than a little candy for a lot," he said. It helps, too, that Mitchell inherited a rich network of suppliers. "It's the family business," he stressed again and again. "They remember buying from my grandfather and father. We buy direct [from some of them] going back 50, 60, 80 years. You have to have these relationships." In all, Economy Candy sources from as many as 100 suppliers at a time, many of whom Mitchell met at candy trade shows he attended as a child with his parents. Does he have a ledger with their names to keep them all straight? "It's all in my head," he said.
Though the long-standing retail location remains his primary focus, Mitchell said the business also sells a great deal of candy through its website, shipping out between 20 to 50 packages daily and up to 100 per day during the holidays. On the site, you can even shop for treats by their color -- a nice perk since so many events, like weddings and bar mitzvahs, have a color theme.
This Halloween will go much as it has in years past at Economy Candy. After selling sugary goodies hand over fist in the run-up to the holiday, Mitchell will give out pounds to trick-or-treaters for free. It's been a tradition for as long as he can remember.
"It's a changing neighborhood," Mitchell concedes, but one thing always remains the same: People love candy. "We wind up having lines all around the block," he said.
Sign up here for our daily NYC email and be the first to get all the food/drink/fun New York has to offer.
Rachel Tepper Paley is a food & travel writer and editor in New York City. She'll take a Baby Ruth over a Twix anyday.