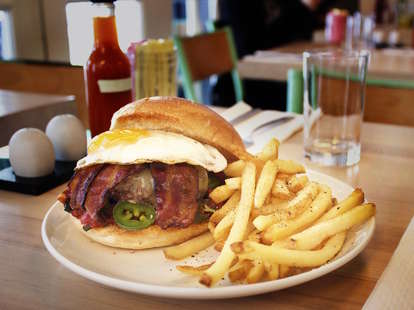 Courtesy of Egg Shop
Courtesy of Egg Shop
Egg Shop, the brilliant spot that blessed us with a menu of all-things-egg last year, has unveiled a full dinner menu and, unsurprisingly, it's pretty damn egg-centric. Now, if for whatever reason you can't get out of bed in time for breakfast, brunch, or lunch, you'll still be able to get your hands on a pulled pork carnitas egg sandwich for dinner.
The dinner menu, available at 5pm, also sports some new exclusive items, like a bacon, egg, and cheese burger or a handful of "drunken egg" dishes, one of which is a bucket of fried boneless chicken with sea salt, herbs, and hot honey. There's a bunch of other options in the way of egg sandwiches, big bowl egg dishes, some breakfast-y sides, and desserts, too. And of course they'll still have bloodies for you -- the drink menu includes that bacon salt-rimmed Bloody Mary.
Tony Merevick is Cities News Editor at Thrillist and is dreaming of delicious breakfast sandwiches right now. Send news tips to him at tony@thrillist.com and follow him on Twitter @tonymerevick.