Two important facts you probably weren't aware of: 1) Ants stretch when they wake up in the morning, and 2) December 21st is the longest night of the year (we're talking 15hrs of straight darkness), which also makes it the perfect chance to celebrate what should be the "Best Night of Your Life", assuming you spend it hitting the city's best Thrillist-approved happy hour spots, cocktail bars, and dives, 'til the sun pops back up. Check out our picks for NYC's best party dinner spots below, and make sure to fully map out a perfect evening with our itinerary builder.
TAO Downtown
Chelsea
The Downtown location of this mega-resto features one of the most striking interiors in the city (two giant Buddhas!!!!), hand-pulled noodles, and private skyboxes where you could seriously blow-out your night.
Catch
Meatpacking
From EMM Group and Chef Hung Huynh, this multi-level, Asian-influenced seafood spot sports a rooftop that's basically a club already -- it's perfect for a rowdy encounter with a crispy white snapper or king crab spaghetti.
Sammy's Roumanian
Lower East Side
Old-school and kitschy in the best possible way, there's often a grownup-bar-mitzvah vibe at this Best Steakhouse in NYC, thanks to a live keyboard player and bottles of vodka that're delivered to your table frozen inside of giant blocks of ice.
Lavo
Midtown East
With a partying option already built in downstairs and fortifying options like lobster pizza, this a great place to start or end a night. Also: if you don't order it, you'll probably be the only person there not drinking Champagne.
Pulqueria
Chinatown
Venture into this subterranean joint and be prepared to be schooled in the ways of house-specialty pulque. Be sure to down flights of mescal, or make your way through their epic list of tequilas. Oh right, also, there's dinner.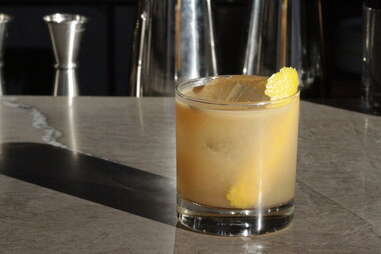 Toro
Chelsea
Toro's lively without being over-the-top, marrying a "big communal" feel with truly next-level tapas -- the perfect ramp-up for the insanity that lurks nearby in the Meatpacking District.
Maison O
Little Italy
With small plates and sushi abounding (lamb gyoza! Black edamame! Lobster rolls!), you can graze before filling up with more essential beverages later in the night. Bonus: they've got the in-house Stardust Lounge, where you can karaoke "All I Want For Christmas Is You"! man songs.
Beauty & Essex
Lower East Side
Hidden behind an actual pawn shop, this consistently mobbed LES bi-level-er plies you with enough food/drink-fuel to match the energy levels it maintains. This's kinda the perfect staging area for heading elsewhere once you've had your fill.