Evi's Bäckerei

| Photo by Noah Fecks
Evi's Bäckerei

| Photo by Noah Fecks
The team behind Olmsted, a hip Prospect Heights restaurant known for dishes inspired by its backyard garden, is adding another sibling to its family of restaurants this week with the opening of Evi's Bäckerei.
Greg Baxtrom, chef and owner of Olmsted and nearby Maison Yaki, is opening this new concept with Alex Grunert, who helmed the pastry program at Olmsted, and the all-day bakery and cafe's breakfast, lunch, and pastry menus will highlight Grunert's Austrian heritage.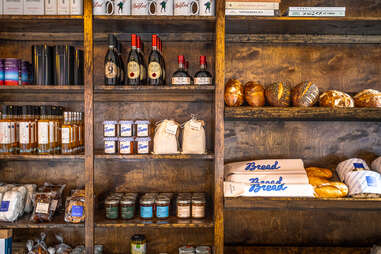 Evi's Bäckerei will offer fresh-baked bread, buns, and rolls daily, including milk bread, everything pretzel rolls, and ruby red sauerkraut loaves. The shop will also stay stocked with rotating baked goods like krapfen (Austrian donuts filled with Grunert's popular milk jam and seasonal jellies), cinnamon rolls, chocolate creme fraiche brownies, and cookies in flavors like oatmeal and rum raisin.
On the savory front, expect items like broccoli and raclette croissants; and bacon and Jasper Hill Farm cheddar schnecke (a type of sweet bun), plus a full breakfast and lunch menu. Mealtime offerings include a duck confit and heirloom cauliflower quiche, breakfast sandwiches, and avocado with pickled ramps and lemon aioli on a nori and furikake roll.
With an opening just in time for the holidays, Grunert is offering stollen, a classic Austrian Christmas fruit bread coated with icing, that originally debuted at Olmsted and was met with huge acclaim, along with eggnog bundt cake and gingerbread tea cookies.
The corner bakery will also offer packaged items made in-house like granola and jellies, as well as items from local vendors like Brooklyn's Parlor Coffee, flower bouquets from Allison Manne of BW&P Floral, and seasonal produce from Norwich Meadows Farm.
The bakery is the first of two projects that the duo is planning to roll out in the coming months. In the new year, they'll open another restaurant, Patti Ann's, right next door to Evi's Bäckerei.
Evi's Bäckerei opens Saturday. The cafe will be open Wednesday through Sunday from 7 am to 4 pm.