The bright blue, orange, and yellow signage of the short-lived Cyclone Cafe has been wiped from the crowded corner of Surf Avenue and West 10th Street in Coney Island. In its place is a softer red-and-white scheme and a giant marquee bearing a forgotten name: Feltman's.
Though Nathan's Famous is the most iconic Coney Island hot dog joint, Feltman's was actually there first. Before closing over 60 years ago, Feltman's stood at that very same corner of Surf Avenue and West 10th Street as the original purveyor of franks in the beachside Brooklyn neighborhood. And now, it's ready to bring a little lost history back to the borough.
In 1916, Polish immigrant Nathan Handwerker got a job slicing buns and grilling franks at Coney Island hot dog joint Feltman's. The shop was owned by Charles Feltman, a German immigrant who had invented the American hot dog in the late 19th century when he put pork sausages on buns so beachgoers could eat them without plates and cutlery. By the time Handwerker came on board, Feltman's creation -- dubbed the Coney Island Red Hot -- had gone from a lone business to a local empire: Feltman's Ocean Pavilion spanned a full city block with nine different restaurants serving everything from Red Hots to seafood, as well as a beer garden, an outdoor movie theater, a hotel, a carousel, a ballroom, and a roller coaster. It was the most popular place in the neighborhood, frequented by the likes of President Taft and infamous gangster Al 'Scarface' Capone.
[Nathan's was] the beginning of the end for Brooklyn's reigning sausage king.
With a plan of his own in mind, Handwerker mooched off his employer for an entire year, eating free hot dogs and even sleeping on the floor of Feltman's kitchen so he could save his $11 weekly paychecks. Once he saved up $300, he opened his own business, called Nathan's, just a few blocks away from Feltman's (he would rename it Nathan's Famous two years later as a marketing ploy). Nathan's sold nearly identical hot dogs for the same price as Feltman's -- but after making only $60 in his first days of business, the entrepreneur had an idea: If he lowered his prices, he'd move more meat and make more money. The following week, Nathan's hot dogs dropped to 5 cents compared to Feltman's 10, and Nathan's brought in $260. It was a promising start for Handwerker, and the beginning of the end for Brooklyn's reigning sausage king.
The new competition didn't immediately cause Feltman's to shutter -- the original frankfurter kingdom remained open until 1954, largely thanks to the beer garden, amusement park, and movie theater, which continued to draw in customers. But Handwerker's business savviness gave Nathan's an advantage in the hot dog game; he didn't increase the price of his dogs again until 1944, and even then, they only cost 7 cents a piece -- still less than Feltman's. In another stealthy move, Handwerker differentiated his all-beef hot dogs from Feltman's by marketing them as healthy and kosher-style. He reportedly had nearby college students pose as doctors and eat (and effectively endorse) Nathan's Famous on their lunch breaks.
Feltman's fate was sealed in 1955, when real estate developer Dewey Albert and his son bought the land that the original hot dog purveyor once called home and began tearing down The Pavilion to build Astroland -- a 3.1-acre amusement park that opened in 1962. In 2010, the last bit of Feltman's -- its abandoned kitchen (where the plan for Nathan's Famous was devised) -- was finally demolished and the name was largely forgotten.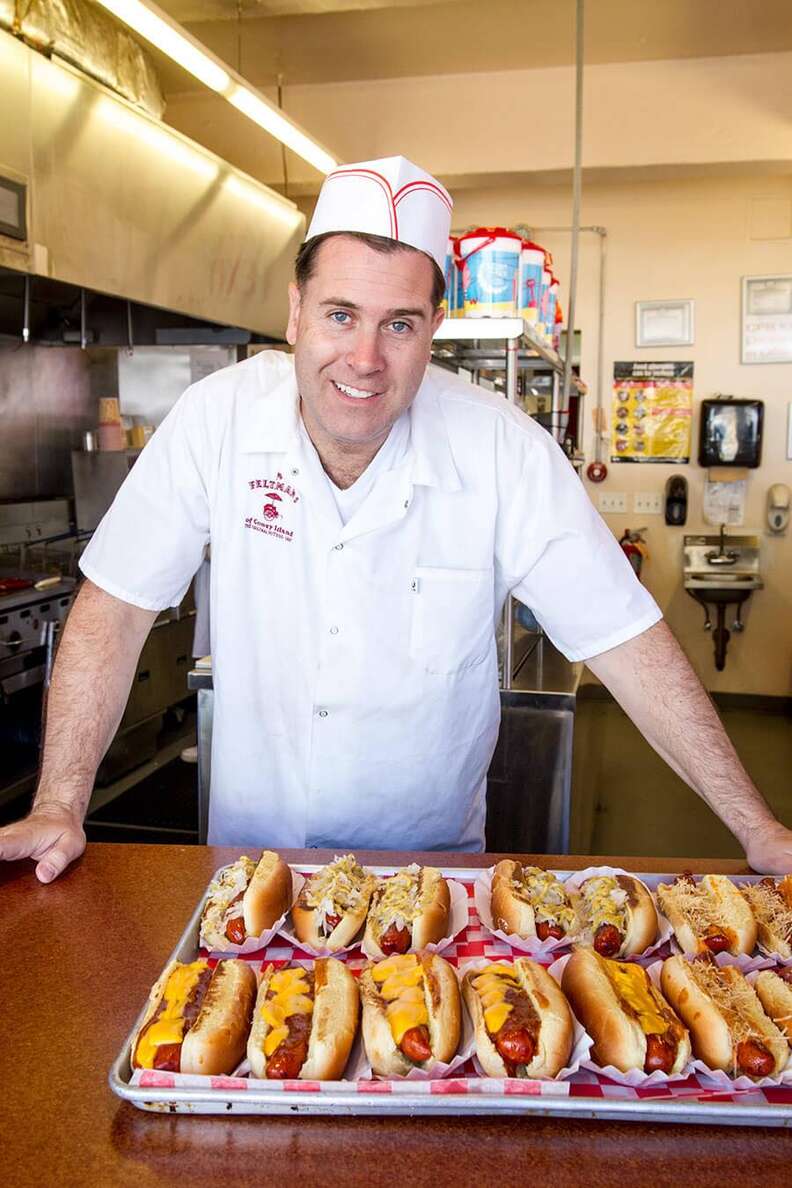 That is, until about three years ago, when 41-year-old Coney Island Tours founder Michael Quinn and his brother made the decision to revive the Feltman's brand. The Quinns, who were raised in nearby Sheepshead Bay, have a strong nostalgia tied to the original hot dog joint. Their grandfather, who worked as a truck driver and food supplier back in the 1930s "was a big fan," according to Michael. "I remember him taking me for breakfast on Fort Hamilton Parkway and pointing [to where Feltman is buried] in Greenwood Cemetery like, 'See that guy over there? That's the guy who invented the hot dog.'"
Quinn had been studying Feltman's recipes and spice blends since opening his touring business back in 2007. Gleaning some info from his grandfather (he knew that the franks were last produced in 1954 in the Bronx, and were made in an "old world, German-style way," among other facts), the tour guide did his research. (He won't say any more to ensure the recipe stays under wraps.)
"I told [my brother], 'I know exactly how to make those hot dogs,'" he recalls. The duo quickly started producing Feltman's Red Hots (they claim to use the exact same recipe as the original), bought the rights to the name, and held pop-up hot dog shops -- including a weekly summer rotation at Sycamore in Ditmas Park and the William Barnacle Tavern in the East Village -- in 2015 and 2016. Last March, Quinn started a crowdfunding campaign to get the packaged Feltman's dogs into restaurants and, ultimately, to bring them back to Surf Avenue. Though he was only able to raise $1,500 (just a fraction of his goal), the online business was growing so steadily that it quickly deemed the crowdfunding unnecessary.
For Quinn, bringing Feltman's back means restoring a part of Brooklyn's past. "It's a part of [the borough's] history that's lost," Quinn says. "You know, we're losing so much of our history with high-rises being built and landmarks [being torn down]. Something like this is very important to me."
The new Feltman's -- located at the shop's original location at 1000 Surf Avenue -- is operating under a licensing agreement with Luna Park, Coney Island's current amusement park, which replaced Astroland in 2010. "We wanted to make it part of the park instead of a separate entity, because that's really what Feltman's was," Quinn says. On top of new offerings like fries, chicken fingers, and pizza, it's serving the original Feltman's dog with onions, sauerkraut, and a spicy German mustard that Quinn often mixes up himself, as well as his own creation, the Al Capone, a hot dog topped with Michael's of Brooklyn vodka sauce and freshly grated parmesan.
While the new space looks a little more modern than the original, old postcards and photos on every wall serve as a reminder of the restaurant's deep-rooted history. As for Nathan's (which still operates from its original home a few blocks away), Quinn isn't worried. "Wahlburgers [on nearby Stillwell Ave] also has an incredible hot dog that may rival ours," he says, but "this is the holy land of the hot dog -- this is where the hot dog was invented."
Sign up here for our daily NYC email and be the first to get all the food/drink/fun New York has to offer.
Rebecca Strassberg is a staff writer at Thrillist/Brooklyn native who loves all hot dogs equally and doesn't discriminate. Follow her on Twitter @strassbooger.