Big-swinging restaurateur Stephen Starr just opened his latest spot in NYC, down in the Financial District. It's called El Vez, named for the Mexican Elvis (like your first-born son, hopefully) and modeled off of his Philly spot of the same name. It's got all the cantina stylings, like lights strung from the ceiling, booths settled in mosaics, and velvet luchador paintings throughout.
Snag one of those massive booths along the wall in the main dining room.
Then order this massive plate of nachos, 1) because we told you to, and 2) because they're topped with jalapeño, cheese, and chorizo that's spread out on a pan -- instead of piled up -- to maximize each chips toppings. Even badass-er? They're made with a special chip that's slightly stronger than regular ones, so that it can withhold being piled high with awesome.
They've got a bunch of tacos on hand, as well, including these mahi mahi tacos (w/ red cabbage, avocado, and chipotle remoulade), carnitas tacos, and brisket-stuffers with roasted poblanos.
The Tacos Al Carbon is the move (but only after the nachos, dude!). It's a stone pig filled with chicken, beef, shrimp, "sizzling cheese", and veggies, served with tortillas and salsa. It's basically perfect.
You'll actually have to pass through this massive bar to get to the dining rooms, so try not to get distracted by the massive list of tequilas, mezcals, and other agave-based spirits on hand. Or do, we're not the boss of you.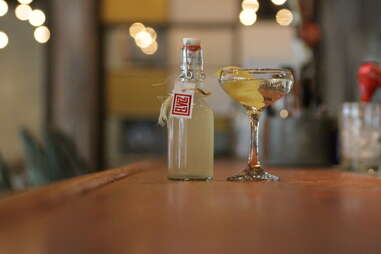 If the bar does snare you in it's beautiful trap, grab a bottled and carbonated margarita(s), or the Martini de Mezcal, a smooth and "subtly smoky" hybrid between a margarita and a martini with Fidencio Unico, vermouth, and grapefruit bitters.
Andrew Zimmer is Thrillist's NYC Editor and he would certainly be snared by any bar's trap. Follow him on Facebook, Twitter, and Instagram.